Dale Rogers, Vals Fortune Inducted Into LQHBA Hall of Fame
Dale Rogers is inducted into the LQHBA Hall of Fame's class of 2020.

© Susan Bachelor / Speedhorse Magazine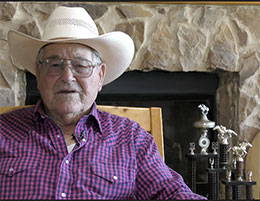 ALEXANDRIA, LA—APRIL 9, 2020—
Outstanding Louisiana Quarter Horse breeder and owner, Dale Rogers and exceptional racing champion Vals Fortune will be inducted into this year's Louisiana Quarter Horse Breeders Association (LQHBA) Hall of Fame. This is the fifth year that LQHBA has named its recipients, who add their names to an illustrious group of past honorees.
Dale Rogers
Dale Rogers has been a prominent Louisiana Quarter Horse breeder and racehorse owner for 50 years. Born in Knobel, Arkansas, he faced some very tough challenges as a child, losing his mother when he was just four and his father nine years later. As he grew up, he worked at the sawmill and on the family cotton farm.
In 1968, Rogers came to Louisiana on a coon and hog hunting trip. He immediately fell in love with the land and felt that its richer soil content would be ideal for bean, corn and wheat farming. But something else caught his eye: the beautiful horses! The hunting property he visited in Concordia Parish was up for lease, so with little hesitation, he moved his family to "the Davis place".
He ended up settling down in Lettsworth Louisiana and met Curtis Bordelon, who trained for Jumonville Farms. Bordelon was instrumental in helping Rogers explore Louisiana breeding and racing. One of Rogers first horses was Jet Meyers, an accomplished 870-yard runner, but many stakes winners followed, including Above the Clouds and Sayin Adios, winner of the 1988 Firecracker Derby and Adios Movin On. Each were Superior Racehorse honorees from AQHA. He also bred multiple-stakes winner, Clouds Sayin Goodby.
Rogers owned Whathaveigottado, who became a successful stallion producing Igotarampage and Rogers' top earner, Im For Real. The striking gray filly, trained by Josue Huitron, won the 2018 Lassie Futurity (RG2) and has banked $262,912 in 12 career starts.
Rogers daughter, Della Godfrey, shared a story of traveling to Ruidoso Downs with Rogers, his wife Sharon, and another daughter, Kelly Dupont, to attend the Ruidoso Select Yearling Sale.
"Daddy was an incredible judge of horseflesh," she said. "He always believed, that in addition to their breeding, they had to have heart. There was a horse he really wanted to bid on and visited him in the barn before the sale; looked him up very carefully and grabbed his seat hoping to make a winning bid. The yearling sold for $450,000, which was way over what he was prepared to spend, but that just gives an example of his eye for great horses!"
Rogers is a lifetime member of the American Angus Association and the Duroc Hog Association. He will celebrate his 90th birthday on December 11 and is the proud father of 12 children, including LQHBA board member, Tim Rogers.
Although not born here, Dale Rogers, with love for life and his passion for breeding and racing horses is a true Louisiana treasure!
Vals Fortune
Vals Fortune was one of the most accomplished Louisiana-bred racing champions with durability that may never be matched.
The son of Dashing Val out of the Six Fortunes mare Somthinlikabreeze was bred in Louisiana by JoBaya Foreman and Joseph P. Irvine. Foaled on January 14, 2001, he was owned by Teddy Abrams, Jr. and trained by M. Heath Taylor.
Champion Vals Fortune is inducted into the LQBA Hall of Fame.
© Courtesy Speedhorse Archives
The chestnut gelding made his racing debut on March 3, 2003 in the 13th Mardi Gras Futurity trial. Maybe "13" was an unlucky number as he ran second that day under rider Gilbert Ortiz but showed speed and perhaps a glimpse of what was to come in his exceptional career.
He went on to win the Mardi Gras Futurity (RG2) on March 20, which began a ten-race win streak. And not just any streak! In his 2-year-old season, he won each Futurity in Louisiana: the Mardi Gras, Laddie (RG3), Lee Berwick (RG3), LQHBA Sale (RG1) and LQHBA Breeders (RG1) (now called the LQHBA Louisiana Million). Not surprisingly, he capped his year with a victory in the Louisiana Champions Day Juvenile.
"He was completely dominant on the racetrack," stated Taylor. "We hauled him in for each race and had plenty of quirks. Either me or his groom had to stand beside him in the trailer; he was so aggressive, but once he got to the paddock, a peace came over him and he was ready to do his job. He was always good in the gates and just destroyed the field!"
He was named Champion 2-year old Gelding and Champion 2-year-old by AQHA.
Vals Fortune began his 3-year-old campaign in similar fashion, running second in the Louisiana Purchase Stakes at Delta Downs before reeling off six stakes wins, most notably, the Delta Downs Derby and the Louisiana Champions Day Derby.
"He had phenomenal durability and consistency," added Taylor. "It didn't matter if it was raining, he got a bad post position or didn't break well; he always found a way to win."
His racing career continued in 2005 with victories in the John Alleman Memorial Stakes(G3), MBNA America East Challenge (G2), LQHBA Classic (G3) and Refrigerator Handicap (G1) at Lone Star Park. His last start in the United Stakes came at Sunland Park, when he ran fourth in the Championship at Sunland Park on December 30, 2005.
Vals Fortune set track records at Fair Grounds (300; 350 and 400 yards); Louisiana Downs (350 yards) and Delta Downs (400 and 440 yards). He became the first Louisiana-bred millionaire, winning 20 of 23 career starts and earning $1,111,591 in his illustrious career.
Sadly, Teddy Abrams lost his battle with cancer and passed away on December 26, 2019. Taylor will certainly pay tribute to both Vals Fortune and Abrams on April 3.
"Teddy was always involved and so easy to train for," acknowledged Taylor. "He always allowed me to do what was right for the horse. Vals Fortune took me, Teddy and a whole group of people on a ride of a lifetime."
Bruce Salard, LQHBA executive director, looks forward to this year's induction ceremony.
"We are pleased to inducting Mr. Dale Rogers and Vals Fortune into the LQHBA Hall of Fame," stated Bruce Salard, LQHBA executive director. "Our association takes tremendous pride in the selection of both the individuals and equine champions who have contributed to the excellence of Louisiana breeding and racing. These inductees will forever be recognized for what they have accomplished, both in our state and on a national level."
LQHBA Hall of Fame History
This will be the fifth class inducted into the Louisiana Quarter Horse Breeders Association (LQHBA) Hall of Fame, which was launched in 2016 in celebration of the association's 50th anniversary. Here are the distinguished past honorees:
LQHBA Hall of Fame Honorees
INDIVIDUALS
Claude & Bessie Jeane
Leverne Perry
Lee Berwick
W.A. Darling
John L. Soileau, Sr.
J. E. Jumonville, Jr.
HORSES
Oh Black Magic
Rockets Magic
Royal Bushwhacker
Go Vicki Meyers
Hesajoy
Streakin La Jolla
About the Louisiana Quarter Horse Breeders Association (LQHBA)
The Louisiana Quarter Horse Breeders Association (LQHBA) is the state racing affiliate of the American Quarter Horse Association. It is also the official registry for accredited Louisiana-bred racing Quarter Horses and is recognized by the Louisiana Legislature and the Louisiana State Racing Commission. Since its inception in 1966, the association has developed many programs to further breeding and racing in Louisiana. Last year in Louisiana horsemen competed for over $21 million in purses, and breeders' incentives for mares and stallions of accredited Louisiana-bred foals totaled approximately $4.7 million. LQHBA oversees the annual LQHBA Yearling Sale and Fall Mixed Sale and has raised and donated over $620,000 to support its Louisiana youth scholarship program.
For additional information on LQHBA Hall of Fame members CLICK HERE.