News
- Sales
October 24, 2021
---
The 2019 LQHBA Fall Mixed Sale Offers One More Chance to Find Quality Racing Prospects
LQHBA will host their 2019 Fall Mixed Sale on Saturday, November 16.

© LQHBA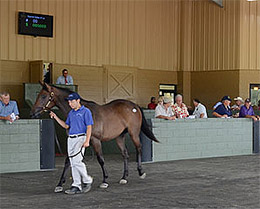 By Martha Claussen
OPELOUSAS, LA—OCTOBER 31, 2019—It's never too late to seek out an additional future racing champion or two! The Louisiana Quarter Horse Breeders Association (LQHBA) will present its 2019 Fall Mixed Sale on Saturday, November 16. The action begins at 10:00 am at the Equine Sales of Louisiana, LLC sale pavilion in Opelousas, Louisiana.
This marks the fifth year that the event will be held in Opelousas, just minutes away from Evangeline Downs, which hosts its annual 46-day Quarter Horse racing season.
The catalog lists 168 head and gives prospective buyers a wide selection from weanlings and yearlings, to broodmares and horses of racing age. Since 1986, the sale has offered consignors an opportunity to close out their year with a boost in sales and buyers one more opportunity to purchase a broodmare, weanling, yearling or racehorse in training.
Catalog Features Quality Prospects
Louisiana consignors are making final preparations to send their horses to Opelousas. Blanchet Farms, Delta Equine Center LLC, Hart Farms, Jumonville Farms, Robicheaux Ranch, Tate Farms and Damian Trahan are among the larger consignors and agents.
Progeny of noted stallions Freighttrain B, Jet Black Patriot, Heza Fast Dash, Jess Louisiana Blue, Game Patriot, Five Bar Cartel, Mr Piloto, Sir Runaway Dash, Sizzlin Cartel, One Sweet Jess, Fast Prize Jordan and Tee Cos will be well-represented.
Butch Stevens, is the sale committee chairman this year and shares his thoughts on the offerings for the LQHBA Fall Mixed Sale.
"It gives breeders one more opportunity to sell yearlings that needed more time to mature," he explained. "The late babies sometimes are not ready for the LQHBA Yearling Sale, but with year-round racing in Louisiana and two $1 million dollar futurities in 2020, why not try to find one more Louisiana-bred racing prospect?"
The sale also offers broodmares and older racehorses that might have potential for barrel racing or the show ring.
Yearlings Eligible for Two Million Dollar Louisiana Futurities
For those looking to purchase a yearling at the Fall Mixed Sale, there is an extra incentive in store.
Last month, Boyd Gaming announced today their premier Quarter Horse race at Delta Downs, the Lee Berwick Futurity(RG1), will offer a $1 million-est. purse in 2020. That championship, held in early July, will give horsemen an opportunity to win the first seven-figure futurity of the year. For 2-year-olds that need additional time to train and develop, the LQHBA Louisiana Million(RG1) is held in December.
"We are very proud to offer not one, but two million dollar futurities in Louisiana," said LQHBA Executive Director Bruce Salard. "The majority of the yearlings in the Fall Mixed Sale are paid into these lucrative races. We have seen so many yearlings sell for a modest price and reward their owners substantially with the stakes offerings in Louisiana."
Solid Results Noted in the 2018 LQHBA Mixed Sale
The 2018 LQHBA Mixed Sale showcased 133 Quarter Horses with a median average sale price of $3,700.
Dennis Winn paid $16,500 for the high-seller, Hip 11 Alicats Black Chic, a daughter of multiple stakes sire Jet Black Patriot from the Stoli mare Solit Allicat. Robicheaux Ranch Inc. agent consigned the full-sister to Mardi Gras Futurity(RG2) winner Magic Black Jack.
Jumonville Farms consigned the co-second high-seller, Hip 114, a daughter of multiple stakes sire Jess Louisiana Blue. Charles Boudreaux paid $15,000 for the half-sister to stakes winner JD Wagon Boss from the Fishers Dash mare Elly Mae.
Tony Palermo, Sr. also paid $15,000 for co-second high-seller Hip 101, another Jess Louisiana Blue yearling from the Mr Eye Opener mare Never Neutral. Consigned by Palermo and Preston Jourdan, the sale dissolved a partnership for the half-brother to 2018 stakes winner Mr Coronado Cash.
Tate Farms, Agent for J & J Stables, LLC was the sale's leading consignor and/or agent with 17 head grossing $38,750. Robicheaux Ranch Inc. Agent sold five head for $23,500 and Jumonville Farms had two lots bring $27,000.
Jet Black Patriot was the leading yearling sale sire (by average with two or more sold) with four yearlings averaging $10,125. Leading first-crop sire of money earners Five Bar Cartel had two
head average $10,000 and Jess Louisiana Blue sold five for a $9,500 average.
Freighttrain B was the sales leading covering sire with two in-foal mares averaging $5,100.
Sale and Trials for the LQHBA Louisiana Million Anchor an Action-Packed Weekend
Since 2014, the Equine Sales of Louisiana, LLC sale pavilion in Opelousas, Louisiana, has been the site for the LQHBA Mixed Sale. Located minutes from Evangeline Downs, it offers sale attendees an opportunity to attend a very exciting weekend of racing. Trials for the LQHBA Louisiana Million will be contested on Friday, November 15 and 3-year-olds will take center stage the following evening in trials for the LQHBA Breeders Derby.
"We look forward to this year's Fall Mixed Sale," said Stevens. "So many horsemen are in Opelousas for the trials on Friday and Saturday night. With the sale location so close to Evangeline Downs, it generates interest from the many horsemen, owners and prospective buyers in town for the weekend."
FACT BOX
2019 LQHBA Fall Mixed Sale
Saturday, November 16 - 10:00 am
Equine Sales of Louisiana, LLC
372 Harry Guilbeau Road
Opelousas, Louisiana 70570
Free and open to the public
CLICK HERE for an online catalog or call (318) 487-9506 to request a printed copy.
There will be NO Live streaming of the Fall Mixed Sale. The full results will be posted on the Louisiana Quarter Horse Breeders Association website: lqhba.com.
* * * * * * * * * * * * *
Martha Claussen served as publicity director at Sam Houston Race Park for ten years. She continues to be active in writing, fan education and Quarter Horse racing publicity in Texas, Louisiana, Indiana and other regions in North America.