News
- Sales
October 17, 2021
---
2017 LQHBA Yearling Sale, The First Step on the Road to the Million!
Final preparations on yearlings consigned to the August 3-5 LQHBA Yearling Sale in Kinder have begun.

© Amanda Glidden / Plugged-In Equine Marketing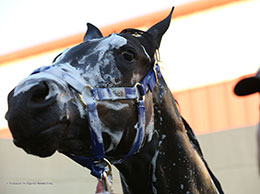 By Martha Claussen
KINDER, LAóJULY 27, 201óThe Louisiana Quarter Horse Breeders Association (LQHBA) is in final preparation for its 41st annual Louisiana Bred Yearling Sale. For the second time in its history, the sale has been expanded to a three-day format.
On May 25, the LQHBA board of directors approved a major change for the annual event which is held at the Coushatta Casino Resort Pavilion in Kinder, Louisiana. Due to a record 625 yearlings consigned, a decision was made to expand the sale with 120 yearlings entering the sale ring on Thursday, August 3, beginning at 5:00 pm. The remaining horses will be sold on Friday, August 4 and Saturday, August 5, beginning at 10:00 am.
The stage is set, preparations are well underway and the anticipation to find the next Louisiana racing champion is on!
Sale Prepping and Catalog Studying
Farms across Louisiana have been working at full throttle to prepare their yearlings for sale weekend. Tate Farms, Blanchet Farms, Robicheaux Ranch, Jumonville Farms, S & E Prepping and Grant Farms are among the many consignors in the sale. All hands are on deck in ensuring that each of their yearlings are ready to enter the ring looking their best.
"Itís been crazy, but all our horses are looking really good," said Stephen Tate of Tate Farms, who will send 65 yearlings to Kinder this year. "We have had a lot of interest already and many owners have come to the farm to look over our babies."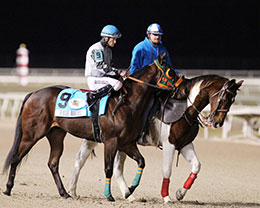 An $8,000 LQHBA Yearling Sale repurchase in 2015 Tf Racee Runaway won the 2016 $1 million LQHBA Breeders' Futurity.
© Coady Photography
Tate Farms homebred TF Racee Runaway won the 2016 LQHBA Breeders Futurity. The son of the
First Down Dash
stallion
Sir Runaway Dash
, by the Streakin La Jolla mare Racee Rainbows, was offered last year at the LQHBA Yearling Sale. Wisely, Tate Farms bought back their colt
for $8,000. With John Hamilton in the irons, TF Racee Runaway scored a neck victory in the richest Quarter Horse race in the state last November at Evangeline Downs, winning $456,410!
The jubilation in the winner's circle encompassed much more than the money.
"My dad and I worked our whole lives for a win like this," said Stephen. "It didnít sink in that night, but even eight months later, itís something I think about every day!"
With 625 yearlings in the sale catalog, it becomes a team effort to evaluate the range of prospects and be prepared come sale time. Trainer Trey Ellis explains that trainers play a significant role in evaluating sale prospects for their owners.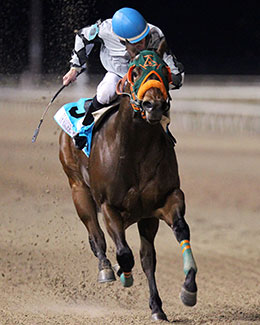 TF Racee Runaway, under jockey John Hamilton, winning the $1 million LQHBA Breeders' Futurity at Evangeline Downs.
© Coady Photography
"At the first of July, I began studying the catalog to provide my owners a list of the horses they might be interested in buying," said Ellis. "I have 15-20 owners who will be looking to buy a yearling; they look to me to find the right ones. Itís a fun time of the year, spending time with owners and picking babies that I look forward to training."
In last yearís sale, prices ran the gamut from $1,000 to $105,000 with the median sale price around $7,000 and the average at $11,000.
"I like horses in the $5,000-$20,000 range, so my owners can make their money back when they run the following year," added Ellis.
First Step on the Way to the LQHBA Million Futurity
Each of the yearlings are paid to date and eligible to compete in the 2018 LQHBA Louisiana Million (RG1) at Evangeline Downs. The big news for 2017 is that the $1 million LQHBA Breeders Futurity has been renamed and will now be called the LQHBA Louisiana Million. Trials will be contested on Friday, November 17 with the final set for Saturday, December 16.
Tony Patterson, executive director of LQHBA, explains the decision-making process from the board of directors on renaming the prestigious championship.
"Our board wanted more of an impact for the name of our richest race of the year," said Patterson. "To win a million-dollar futurity is a dream come true for any breeder, owner, trainer and jockey. This is a race that means so much to our association, and we feel that its new name, the LQHBA Louisiana Million perfectly reflects that."
Furthermore, all yearlings that pass through the sale ring are entitled to compete in the 2018 LQHBA Sale Futurity (RG1), with an estimated purse of $400,000 which traditionally runs in September at Fair Grounds.
Dashnunder Afullmoon is the Latest Success Story
Every year there is always a compelling story about a young horse, purchased at the LQHBA Yearling Sale, who surpasses expectations and yields a huge return on investments for their connections.
A $44,500 LQHBA Sale graduate last year, Dashnunder Afullmoon in the leading money earning 2-year-old Quarter Horse filly in the nation with a perfect 4-for-4 record and over $527,000 in the bank.
© Coady Photography
The "Cinderella Story" of last yearís sale is Dashnunder Afullmoon, a filly purchased for $44,500 by 23-year-old Rogelio Marquez, Jr. of Rosenberg, Texas. Bred in Louisiana by D & S Racing LLC, the daughter of
Heza Fast Dash
out of the
Dash Ta Fame
mare Full Moon Dasher heads into August with a perfect record of four wins from four starts and impressive career earnings of $527,089.
Trained by Jose Sanchez, she won both the $322,282 Lassie Futurity (RG2) as well as the $705,495 Lee Berwick Memorial Futurity (RG1) at Delta Downs. Dashnunder Afullmoon became just the fourth filly since 1981 to win both futurities. Flashy Hemp (1985); Miss Go Avenger (1992) and Jessa Louisiana Zoom (2015) are the previous dual champions.
In the rich Lee Berwick Futurity, seven of the ten finalists were LQHBA Yearling Sale graduates. You Drive I Fly; Heza Cat; Eye Am Sizzlin; Fabulously Black; Angiesprizedpatriot as well as TF El Whiskey, who ran third for Marquez. He signed the sale ticket for the son of Sir Runaway Dash for $42,000. With two wins to date, Tf El Whiskey has already earned $110,363.
Marquez and his father have been avid supporters of Quarter Horse racing in Texas and Louisiana for the past two years. They are planning on spending five days in Louisiana next week to preview yearlings and attend the sale.
"We will be arriving Tuesday and looking at quite a few yearlings with our trainers, Jose Sanchez and Martin Trejo," said Marquez. "Iíve gone through the entire catalog and pay close attention to the mares. Her dam is what really caught my attention last year with Dashnunder Afullmoon."
Marquez admits he is learning more each year about breeding, yearling sales and racing. He loves to study pedigree, but places a high premium on looking at his prospective purchases in person.
"Walking the stalls with our trainers is very important," added Marquez. "We are checking conformation and looking for a horse with a good temperament. Last year, we must have asked to take Dashnunder Afullmoon out of her stall five times and she was always relaxed and settled. We thought that was a very good quality. Finally, as much as we might like a horse, itís important for our trainer to like them too."
Sale to Benefit the LQHBA Scholarship Program
The†LQHBA is the official registry of accredited Louisiana-bred Quarter Horses. They run two sales each year, the LQHBA Yearling Sale as well as the LQHBA Fall Mixed Sale. Louisiana continues to be the leading state-bred program in the country and while LQHBA is committed to breeding and racing in the state, the association also remains dedicated to offering higher education for Louisiana youth. Since its inception in 2001, the LQHBA scholarship program has earmarked over $500,000 for Louisiana students to attend a higher education institution.
As a fundraiser for the scholarship fund, a breeding to Jess Louisiana Blue will be auctioned live on Friday, August 4, immediately after the sale of Hip number 150. Jess Louisiana Blue stands at Jumonville Farms in Ventress, Louisiana. He has sired winners of over $14 million, including 2015 LQHBA Breeders Futurity champion Jess A Saint.
"We are grateful to Jumonville Farms for their generosity in offering a breeding to Jess Louisiana Blue," said Tony Patterson, LQHBA executive director. "He is an amazing stallion and will attract a spirited bidding competition. We know that the stallion auction will be a success in supporting our LQHBA Scholarship program."
LQHBA Yearling Showcases
On Thursday, August 3, prospective buyers are invited to attend yearling previews. The following farms will host Yearling Showcases in the Coushatta Casino Resort Pavilion:
S & E Prepping 11:20 am-12:25 pm
Oak Hill Farms 12:30-12:40 pm
Triple Lynn Farms 12:45-12:50 pm
Robicheaux Ranch Inc. 1:00-3:00 pm

"It's a sneak preview at all of the yearlings in the catalog," said Ryan Robicheaux, sale coordinator for Robicheaux Ranch. "It gives some horses a better chance to be seen. Of course, hospitality is very important as well."

On Thursday†evening the LQHBA is sponsoring drink specials during the sale, offering $1.00 beer, wine and cocktails from the portable bars in the sale area.

† Another noteworthy event is scheduled for Thursday, August 3. Immediately after bidding closes on Hip 80, there will be a live auction for a breeding to leading Louisiana, and nationally ranked sire, Heza Fast Dash. All net proceeds from the Heza Fast Dash stallion breeding auction will assist valued LQHBA employee Michelle Hatwig with her medical expenses from a recent hospitalization.

Coushatta Casino Resort Pavilion continues to be an exceptional venue for the sale. Attendees enjoy the ambiance, comfortable hotel accommodations, dining and gaming. Improvements in recent years include live online coverage as well as a booth with interpreters for Spanish-speaking buyers. Purchases can be made with approved checks, cash or credit cards.

History in the Making

The first LQHBA Yearling Sale began in 1977 with just 39 yearlings. As the sale continues to grow, each year new connections travel from all regions in the United States as well as Canada and Mexico to bid on their future racing champion.

And of course, there are some incredible sale graduates, including Jet Black Patriot, owned and bred by Richard and Janelle Simon. He won the 2008 LQHBA Breeders Futurity after finishing second to Stolis Winner in the $2 million All American Futurity (G1).

Jls Mr Bigtime, bred and owned by JLS Speedhorse Ranch, ran second in the 2010 All American Futurity (G1) and eclipsed the $1 million mark in career earnings. Open Me A Corona, a son of Coronas Leaving You, bred by Natalie Montgomery, DVM, and owned by Charles Forbes, Jr. and Tommy Hays DVM, was honored as 2015 AQHA Aged Stallion.

Judging from the number of catalog requests this year, the 2017 LQHBA Yearling Sale looks to attract serious buyers. And with 625 youngsters passing through the sale ring, it's no secret that several will emerge as noteworthy Louisiana champions.

"My adrenaline is already running," stated Marquez. "Attending a sale is like being at a sporting event. We love coming to Louisiana and feel confident that we will find several yearlings that we really like."

* * * * * * * * * * * * *

Martha Claussen served as publicity director at Sam Houston Race Park for ten years and continues to be active in writing, fan education and Quarter Horse racing publicity in Texas, Louisiana and other regions in North America.

2017 LQHBA Yearling Sale Information

Thursday, August 3: 5:00 pm
Friday, August 4: 10:00 am
Saturday, August 5: 10:00 am

Coushatta Casino Resort Pavilion, Kinder, Louisiana
Free and open to the public
Sale catalog available online at LQHBA.com or by calling (318) 487-9506

lqhba.com.