News
- Sales
October 27, 2021
---
LQHBA Fall Mixed Sale Gets Underway Today (Saturday)
LQHBA will kick off their "Fall Mixed Sale" at 10 a.m. in Opelousas, Louisiana.

© Cover photos by Coady Photography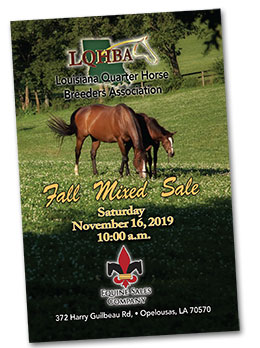 OPELOUSAS, LA—NOVEMBER16, 2018—The Louisiana Quarter Horse Breeders Association (LQHBA) will present its 2019 Fall Mixed Sale today (Saturday, November 16). The action begins at 10:00 am at the Equine Sales of Louisiana, LLC sale pavilion in Opelousas, Louisiana.
This marks the fifth year that the event will be held in Opelousas, just minutes away from Evangeline Downs, which hosts its annual 46-day Quarter Horse racing season.
The catalog lists 168 head and gives prospective buyers a wide selection from weanlings and yearlings, to broodmares and horses of racing age. Since 1986, the sale has offered consignors an opportunity to close out their year with a boost in sales and buyers one more opportunity to purchase a broodmare, weanling, yearling or racehorse in training.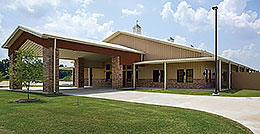 The LQHBA Fall Mixed Sale will be held in the Equine Sales of Louisiana, LLC sale pavilion in Opelousas.
© Equine Sales of Louisiana
Many consignors point out that due to a variety of reasons, some yearlings are not ready in August, when the three-day LQHBA Yearling Sale takes place in Kinder, Louisiana. Horsemen appreciate an additional three-month window to evaluate some of the late developing babies for the sale ring.
Ryan Robicheaux is the current LQHBA president and looks forward to showcasing a selection of Robicheaux Farms yearlings at the Opelousas sale.
"The Mixed Sale gives breeders an opportunity to sell some late foals, who would be overlooked in the LQHBA Yearling Sale where 600 babies pass through the sale ring," he said.
Many sale attendees are looking for a quality broodmare, and buyers can potentially reap future benefits by purchasing a mare in foal this November.
"In Louisiana, if you own the mare at the time she foals, you are entitled to breeders' awards, as long as the horse is an accredited Louisiana-bred," added Robicheaux.
For the past five years, the Equine Sales of Louisiana, LLC sale pavilion in Opelousas, Louisiana, has been the site for the LQHBA Mixed Sale. Located minutes from Evangeline Downs, attendees have the opportunity to attend a very exciting weekend of racing. Trials for the LQHBA Louisiana Million were contested on last night (Friday) and 3-year-olds will take center stage the tonight (Saturday) in trials for the fifth annual LQHBA Breeders Derby.
CLICK HERE for an online catalog.