News
- Sales
October 27, 2021
---
41st Annual LQHBA Yearling Sale Set August 3-5
The 41st annual LQHBA Yearling Sale will be held August 3-5 at the Coushatta Casino Resort in Kinder, Louisiana.

© Coady Photography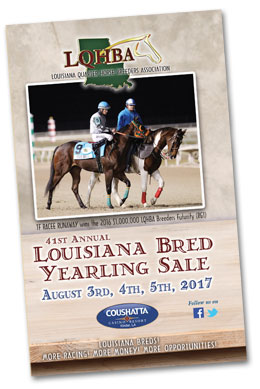 ALEXANDER, LA—JULY 17, 2017—
The Louisiana Quarter Horse Breeders' Association is set to hold their 41st annual Yearling Sale August 3 thru 5.
The annual sale will feature a record 625 state-bred yearlings to be offered at The Pavilion at Coushatta Casino Resort in Kinder. A third session has been added this year and the sale will get underway on Thursday evening August 3rd.
Session 1 will begin at 5 pm (August 3) featuring hips 1 thru 120. Session 2 kicks off promptly at 10 a.m. Friday (August 4) with hips 121 thru 373. The remainder of the catalog, hips 374 thru 625 will be offered Saturday (August 5) beginning at 10 a.m.
All yearlings cataloged are currently eligible for the 2018 $1 million Louisiana Million Futurity(RG1) to be contested at Evangeline Downs.
"Louisiana-breds have a guaranteed minimum of 148 race days annually and more than $21 million in purse money available," Tony Patterson LQBA Executive Director said. "Accredited Louisiana-bred yearlings have six futurities to pick from each year with more than $2.8 million in purses."
Seven of the 10 qualifiers for the recent $705,495 Lee Berwick Futurity(RG1) passed thru the 2016 LQHBA Yearling Sale ring.
Dashnunder Afullmoon, a $44,500 sale graduate, has won two futurities this season is currently the #1 earning Quarter Horse in the nation with $527,089 banked after only four starts.
Buyers needing a 2017 LQHBA Yearling Sale catalog mailed to them can CLICK HERE to request a catalog or call 318-487-9506.
To download a PDF copy of the catalog CLICK HERE.
LQHBA urges sale goers to make their plans to attend as soon as possible.
The Coushatta Casino Resort in the host-hotel and can be reached at 800-584-7263.
Additional lodging in the Kinder area can be found at Best Western (377-738-4800), Blackjack Inn (337-738-7979), Quality Inn (377-738-3240) Extended Stay Inn (377-738-3123), Greatwood Cabins (377-738-4740), Oberlin Inn (377-639-9777), American Inn (377-738-2011), Smart Rooms (377-738-2550), Super 8 (377-738-4040) and Days Inn & Suites (377-738-3381).
Camper reservations can be made at 800-5584-7263, extension 7167.
For additional information visit the association's website at lqhba.com.