News
- Sales
October 17, 2021
---
44th Annual LQHBA Yearling Sale Moves To Opelousas For 2020
LQHBA will hold its 44th annual Yearling Sale, scheduled August 7 and 8, at the Equine Sales Company facility at 372 Harry Guilbeau Road in Opelousas, Louisiana.

© Equine Sale Company of Louisiana


ALEXANDRIA, LA—JULY 9, 2020—
LQHBA announced today its 44th annual Yearling Sale, scheduled August 7 and 8, has been moved to the Equine Sales Company facility at 372 Harry Guilbeau Road in Opelousas, Louisiana.
"The LQHBA board has made the decision to hold the annual yearling sale at the site in Opelousas where the LQHBA Fall Mixed Sale is conducted," LQHBA Executive Director Bruce Salard said today.
The 44th Annual LQHBA Yearling sale will still be conducted over two days this year with the opening session getting under way at 10:00 a.m. (CDT) on Friday, August 7, featuring Hips 1 thru 273. Saturday's closing session, featuring Hips 274 thru 545, will begin at 10:00 a.m. (CDT).
The sale will feature 545 yearlings eligible to participate in the nations #1 state bred program. Louisiana-bred horses run for more than $20 million in purse money each year. All yearlings passing through the ring have been nominated to the $1 million 2021 LQHBA Louisiana Million Futurity(RG1).
To access an online version of the catalog (horses only) CLICK HERE. Hard copies of the catalog were dropped in the mail this week.
About Equine Sales Facility
Equine Sales Company completed construction of their first-class facility in 2013. The main brick and metal building houses a large reception area, restrooms, staff offices, media room, repository, restaurant, kitchen, bar, sales pavilion and indoor sales area.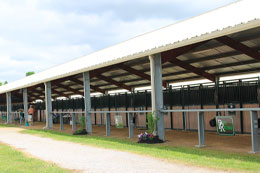 The airy sales barns feature comfortable 12x12 stalls to accommodate the sales yearlings.
The air-conditioned indoor sales ring has ample viewing and seating with full video live-streaming coverage throughout the facility. The sale barns are airy, spacious and comfortable for sale horses and consignors. Stalls are 12x12 and manicured paths connect the barns to the sales pavilion and show ring areas.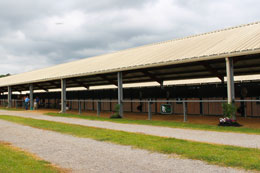 The outdoor show rings allow prospective buyers ample space to view yearlings prior to going into the indoor sale arena.
The outdoor show rings are located beyond the sales pavilion and are large enough to allow prospective buyers ample space to view sale. Horses prior to going into the indoor sale area. A full kitchen and air-conditioned restaurant and staffed bar are located next to the sales ring with a full view of the auction arena.
* * * * * * * * * *
For additional information contact the LQHBA at 318-487-9506 or go to their website at www.lqhba.com.
Complete sale results will be available following each session in the Auction Leaders section of Stallionesearch.com.