News
- Sales
October 24, 2021
---
LQHBA Yearling Sale Annual Hip Draw Set June 4
LQHBA will conduct their "Hip Drawing" for the 2020 LQHBA Yearling Sale on Thursday, June 4.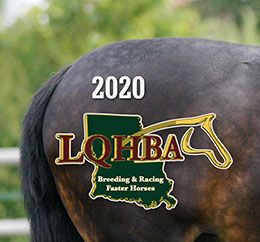 ALEXANDRIA, LAŚMAY 27, 2020Ś
LQHBA will conduct their "hip-drawing" for the 2020 LQHBA Yearling Sale on Thursday, June 4th at the association office in Alexandria.
Due to the COVID-19 restrictions this year's drawing will be conducted under the oversight of by LQHBA Board Members only.
"We regret the protocol, but we want to ensure the safety of our members and office staff as the yearling sale date approaches," LQHBA Executive Director Bruce Salard said.
The annual drawing will get underway at 10 a.m. Thursday, June 4th. Hip number 1 thru 282 will sell on Friday, August 7th and Hips 283 thru 563 will sell on Saturday, August 8th.
The hip-draw process consists of ping-pong balls labeled A thru Z. One will be drawn from a box and the Hip Numbers will be assigned accordingly by the DAM's name in Alphabetical Order beginning the letter drawn.
Any "same owner" who owns two or more yearlings may swap "one" of their hip numbers. These changes must be made in writing to the LQHBA Office no later than 2:00 p.m. (CDT) Monday, June 8th. Changes must be made by via email to bsalard@lqhba.com or by fax to (318) 487-6033.
Stall assignments will be set at a later date for consignors to attend.
Coggins and health papers for all yearlings consigned are due in the LQHBA office on or before July 10th along with other any other outstanding paperwork that may be due prior to the sale.
For additional information visit the association's website at lqhba.com or call (318) 487-9506.
Again consignors are reminded due to the COVID-19 pandemic, LQHBA Board of Directors and LQHBA Staff are the only persons allowed to attend this year's "Hip-Draw". They will be notified of their hip numbers after the draw.