News
- Sales
October 27, 2021
---
2015 LQHBA Yearling Sale: The Racing Champions Keep Coming!
$1,000,000 LQHBA Breeders' Futurity Champion Jls Dashin And Zoomin was a $7,500 LQHBA Sale graduate in 2013.

© Coady Photography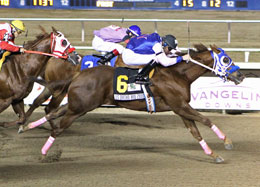 By Martha Claussen
KINDER, LA—JULY 28, 2015—The Louisiana Quarter Horse Breeders Association (LQHBA) is gearing up for its 39th annual Louisiana Bred Yearling Sale on Friday, August 7 and Saturday, August 8 at the Coushatta Casino Resort Pavilion in Kinder, Louisiana.
The sale catalog lists 599 yearlings, an increase of 14% over last year, but clearly, this is not a matter of quantity over quality. The talent of Louisiana-bred racehorses is no secret and horsemen from all regions of the United States, plus Mexico and Canada, have marked this sale on their calendars.
In addition to buying a well-bred yearling, there are solid financial incentives to racing in Louisiana. Each of the sale grads is eligible to compete in the $1 million LQHBA Breeders Futurity (RG1) at Evangeline Downs in late November, as well as the $300,000-estimated LQHBA Sale Futurity (RG1), which traditionally runs in September at Fair Grounds.
Double Digit Increases Across the Board for the 2014 Sale
Last year's LQHBA Yearling Sale recorded major across-the-board increases with 383 yearlings selling for a total of $4,943,400; a 30% increase from 2013. The sale average rose by 24% to $12,907 compared to $10,383 in the previous year. A Heza Fast Dash colt was the sale topper, selling for $130,000 on the sale's first day. The following day, a Stoli filly sold for $120,000.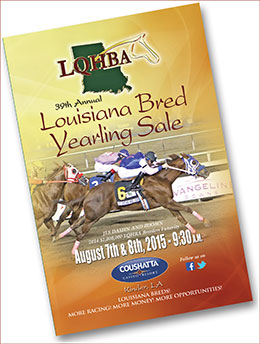 A record 599 yearlings have been consigned to the 2015 LQHBA Yearling Sale.
Cover Photo by © Coady Photography
Robicheaux Ranch, LLC has been one of the biggest consignors for the LQHBA Yearling Sale. Last year, they were the leading consignor with 23 head grossing $530,110. Their impressive stallion roster includes
Heza Fast Dash
,
Game Patriot
,
Jet Black Patriot
,
Toast to Dash
,
First Down Illusion
and
Fast Prize Jordan
. This year they are also standing
Five Bar Cartel
, who eclipsed the million-dollar earnings mark.
Ryan Robicheaux serves as sale coordinator for the farm, and is in high gear with final preparations for the big weekend.
"We spend long hours the last two weeks before the sale shoeing, clipping and getting these babies ready for Kinder," said Robicheaux. "Quite a few trainers have already come by to get a sneak peek. Now we just have to hope every horse stays healthy and things go well."
Robicheaux, reports that 97 Robicheaux Ranch yearlings will be shipped to Kinder, the second-highest number in the family's 15-year association with the LQHBA Yearling Sale.
"The quality of the yearlings that have sold at our sale has been impressive," states Robicheaux. "Every year we are attracting new owners and horsemen from all over the country are sending their mares to benefit in our breed incentives."
He points out that while it is always a goal to win a seven-figure futurity, Louisiana continues to offer financial rewards to breeders.
"With 25% of purses as incentives, breeders can earn nice checks, even if they don't win the Lee Berwick or LQHBA Futurity," said Robicheaux. "You can run in a maiden here in Louisiana and get a solid return on your investment."
Yearling Sale Success Stories Abound
Jls Dashin And Zoomin, a $7,500 purchase at the 2013 LQHBA Yearling Sale, provided a very nice return on that investment when he scored a half-length victory in the $1 million LQHBA Breeders Futurity (RG1) at Evangeline Downs. Owned by Jose Guzman and trained by Brenda Foster, the gelded son of Sir Runaway Dash covered 400 yards in :19.726 under jockey Raul Ramirez Jr. to earn a first-place check for $445,000. Bred by JLS Speed Horse Ranch Inc., Jls Dashin And Zoomin has won seven of his 12 starts with career earnings of $529,764.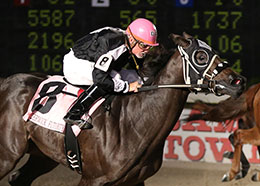 Multiple stakes winner Jessa Louisiana Zoom sold for $32,000 at the 2014 LQHBA Yearling Sale.
© Coady Photography
Jason Richards and Michael J. Leblanc spotted Jessa Louisiana Zoom in the 2014 LQHBA Yearling Sale, and signed the ticket for $22,000. Bred in Louisiana by Lyle Guillory, Jessa Louisiana Zoom is a daughter of
Jess Louisiana Blue
out of the
Azoom
mare Zoomin for Cash.
"We bought this filly because of her pedigree," Richards said. "Mike and I tend to put more emphasis on the pedigree of a yearling over appearance and we tend to gravitate more toward fillies. It's an inexact science for sure, but we liked the fact that her sire and grand dam were both champions and her mother qualified for a grade 1 Derby. The pedigree said she was supposed to run and she definitely did her family proud."
Less than one year later, their prospect had more than proven herself, winning each of her four starts, including the final of the Lassie and Lee Berwick Futurities. Her connections are pointing their filly, who has already earned $473,150, to the $1 million LQHBA Breeders Futurity.
While Jessa Louisiana Zoom impressed in the $634,530 Lee Berwick Futurity, another sale graduate, Open Me a Corona, shone as one of the best older horses in the country on Louisiana Showcase night at Delta Downs on July 11. The 5-year-old son of Coronas Leaving You, bred by Natalie Montgomery, DVM, captured the $100,000 Louisiana Classic (RG2) at 440-yards. A $22,000 purchase at the 2011 LQHBA Yearling Sale, Open Me a Corona is owned by Charles Forbes, Jr. and Tommy Hays. The versatile runner has won 10 of 12 career start, amassing earnings of $666,298.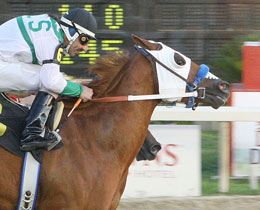 Probably the biggest sale graduate in history was Jls Mr Bigtime who was repurchased for a mere $19,000 in 2009.
© Coady Photography
Another notable Louisiana success story is Jls Mr Bigtime, who quietly passed through the 2009 sale ring as hip number #91 and was re-purchased by JLS Speedhorse for $19,000. The gelding son of
Bigtime Favorite
ran second in the 2010 All American Futurity (G1) and last December, eclipsed the $1 million mark in career earnings.
Jet Black Patriot was another outstanding sale graduate, repurchased by Janelle and Richard Simon for $20,000 at the 2007 LQHBA Yearling Sale. The stunning black colt quickly garnered attention as a 2-year-old, winning the $545,649 LQHBA Breeders' Futurity in 2008 and finishing second to Stolis Winner in the $2 million All American Futurity (G1). He retired with earnings of $876,921 and has followed his success on the racetrack as a highly regarded stud. Jet Black Patriot was the tenth-leading AQHA sire by money earned in 2014 and ranked second, behind One Famous Eagle, as a third-crop producer last year. His progeny have already earned $1.3 million dollars this year.
Spotting the Talent
Frank Cavazos was part of the team that selected Jessa Louisiana Zoom in the 2014 LQHBA Sale. The veteran trainer has tallied big stakes wins in Texas and Louisiana, with victories in the Lee Berwick, Laddie, Lassie Futurity as well as the Louisiana Champions Day Juvenile and Derby. Spotting potential champions at the yearling sale is an important role for a trainer and Cavazos remembers what transpired with Jessa Louisiana Zoom from last year's sale.
"The owners had quite a few horses marked in their catalog," said Cavazos. "We looked them over, but I told them that the filly was the one I really liked."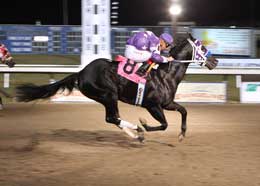 Another All American Futurity(G1) runner-up, multiple stakes winner Jet Black Patriot was repurchased for $20,000 at the 2007 LQHBA Sale.
© Coady Photography
While a combination of factors play into evaluating yearlings and Cavazos relies on pedigree, conformation, disposition and the way the yearling stands and moves.
"I look for good legs; straight and correct and find that the eyes tell you a lot," he added.
Cavazos will be busy at this year's sale as he has several owners looking for potential champions.
Louisiana Quarter Horse Breeders Association Pleased with Response
Tony Patterson is the executive director of the The Louisiana Quarter Horse Breeders Association, (LQHBA) and looks forward to another banner sale.
"With 599 head this year, our board discussed going to the three-day format," said Patterson. "However, we moved the start to 9:30 am, and with our very experienced and well-organized office and auction staff, we have faith that both days will go smoothly."
Patterson credits the past success of the sale and the new LQHBA website in getting the word out about the 599 prospects for the 2015 sale.
"We sent over 3,600 catalogs to prospective buyers in many regions of the United States as well as Canada and Mexico," he said. "A great addition this year was our Facebook page, which we initiated in February. We have fielded hundreds of sale inquiries through social media."
The LQHBA is the official registry of accredited Louisiana-bred Quarter Horses. They run two sales each year, the LQHBA Yearling Sale and a Fall Mixed Sale. Louisiana continues to be the leading state-bred program in the country with over $4.65 million dollars in mare and stallion awards paid in 2014.
"In addition to our breeders' incentives, horsemen are encouraged by the exceptional purse money in Louisiana," added Patterson. "There are 148 guaranteed Quarter Horse race dates at Delta, Evangeline, Louisiana Downs and Fair Grounds with approximately $23 million in purses."
Growth Continues
It's hard to believe that the first LQHBA Yearling Sale began in 1977 with just 39 yearlings.
Lyle Guillory, a respected breeder and horseman, is a longstanding LQHBA board member.
"We are proud of our rich tradition in Louisiana," said Guillory. "Horses are part of our heritage and we are fortunate to have had leaders that have shown a great deal of vision. Our board has worked hard to keep up with the trends, and the growth is very rewarding."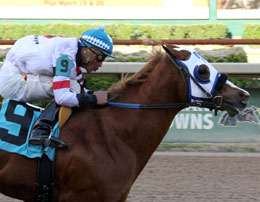 A 2011 LQHBA Yearling Sale graduate, Open Me A Corona is a multiple graded stakes winner and has earned $666,298 from just 12 starts..
© Lou Roberts Photography
"The $1million LQHBA Breeders Futurity has been a home run for us," added Guillory. "We are fortunate in Louisiana to have good race dates and significant purse money."
Of course, the incentives for breeders are significant and been well-received by the horsemen in the state.
"In most states, you sell a horse and that's it," said Guillory. "Our breeder incentives are very solid, and I can tell you that it's nice to open your mailbox and see that check!"
What to Expect August 7-8
The LQHBA board of directors have been extremely pleased with the Coushatta Casino Resort Pavilion as a venue for the sale. Attendees enjoy the ambiance, comfortable hotel accommodations, dining and gaming.
The sale will include online coverage, and a booth with an interpreter for Spanish-speaking buyers.
"We work hard each year to improve our sale and meet the needs of the consignors and prospective buyers," adds Patterson.
Clearly, the hard work and vision is paying off, as Quarter Horse owners earmark the LQHBA Yearling Sale as one of the country's best.
Jason Richards and Michael Leblanc certainly agree.
"This year Mike and I will be back at it looking to find another runner out of the 599 yearlings in the catalog," said Richards. "The LQHBA yearling sale is an event I look forward to every year. Not only does this sale offer a tremendous catalog of prospects but the Cajun cuisine and camaraderie are second to none!"
Louisiana has a proud slogan of " laissez les bons temps rouler" which means "let the good times roll".
With 599 prospective Louisiana champions passing through the sale ring, the good times are just beginning!
* * * * * * * * * * * * * * * * * * * * * * * * * * * * * * * * * * * * * * * *
Martha Claussen served as publicity director at Sam Houston Race Park for ten years and continues to be active in writing, fan education and Quarter Horse racing publicity in Texas, Louisiana and other regions in North America.
2015 LQHBA Yearling Sale Information
Friday, August 7 and Saturday, August 8
9:30 AM
Coushatta Casino Resort Pavilion, Kinder, Louisiana
Free and open to the public
Sale catalog available online at LQHBA.com or by calling (318) 487-9506.