News
- Sales
October 26, 2021
---
LQHBA Yearling Pre-Sale Festivities To Begin Thursday
Robicheaux Ranch will preview 124 yearlings during their annual Cajun cookout Thursday evening in Kinder, Louisiana.

© Amanda Glidden/Plugged In Equine Marketing Solutions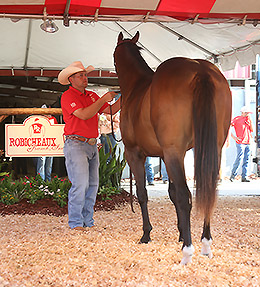 KINDER, LA—AUGUST 9, 2015—
Pre-Sale festivities get under way Thursday evening (Aug 11) for the 40th annual LQHBA Yearling Sale set for Friday and Saturday (Aug 12-13) at the Coushatta Casino Resort in Kinder, Louisiana.
The annual sale featuring 577 head this year will kickoff in the Coushatta Casino Resort Pavilion with a start time of 9:30 am both days. All yearlings cosigned to the sale are currently eligible to the 2017 $1,000,000 RG1 LQHBA Breeders' Futurity.
Prospective buyers are invited to attend two events the day before the sale, Thursday (Aug 11).
S&E Prepping will host a Fish Fry and Yearling Sale preview at noon in barn #1 at the Coushatta Sales Pavilion.
Robicheaux Ranch, who has been one of the biggest consignors for the LQHBA Yearling Sale ever year, will showcase a record 124 yearlings and will host their annual consignment preview and Cajun cookout Thursday evening at 6:30 pm.
"With everything offered here in Louisiana – $22 million in Quarter Horse purses, $4.5 million in breeders awards, $500,000 in stallion awards, the $1,000,000 Breeders' Futurity, a minimum of 148 guaranteed annual Quarter Horse racing days, numerous Louisiana-Bred futurities, LQHBA Breeders' Derby, a proven history of runners and one of the best yearling sales in the country – we are expecting another great sale", LQHBA Executive Director Tony Patterson said today.
To download an online version of the sale catalog CLICK HERE.
Horsemen and women who can not attend this year's sale can watch it on-line by CLICKING HERE.
For additional information visit the association's website lqhba.com or call 318.487.9506.