News
- Sales
October 17, 2021
---
44th Annual LQHBA Yearling Sale To Kick Off Today In Opelousas
Potential buyers were already on site Thursday previewing horses for the LQHBA Yearling Sale. Stephen Deville shown with a yearling from the S&E Prepping consignment.

© CD Photography & Design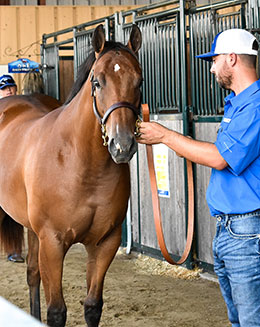 OPELOUSAS, LA—AUGUST 7, 2020—
The 44th annual LQHBA Yearling Sale will get under way todauy (Friday) in Opelousas. Due to the COVID-19 Pandemic the LQHBA Board made the decision last month to move the annual event to the Equine Sales Company facility located at 372 Harry Guilbeau Road in Opelousas.
Last year's record setting sale saw 448 yearlings gross $7,605,200 and average $16,976.
"We have another great catalog this year," LQHBA Executive Director Bruce Salard said. "All the yearling's cataloged a currently paid into the $1 million LQHBA Million Futurity for 2021."
The sale will feature 545 yearlings eligible to participate in the nations #1 state bred racing program. Louisiana-bred horses run for more than $20 million in purse money each year. All yearlings passing through the ring have been nominated to the $1 million 2021 LQHBA Louisiana Million Futurity(RG1).
The opening session will under way at 10:00 a.m. (CDT) today (Friday, Aug 7) featuring Hips 1 thru 273. Saturday's final session, featuring Hips 274 thru 545, will also begin at 10:00 a.m. (CDT).
Potential buyers who have pre-registered can take advantage of "online bidding" on Friday and Saturday by going to the association's website lqhba.com Friday morning and clicking on the "Online Sale" link at the top of the page.
To access an online version of the catalog (horses only) CLICK HERE.
Preliminary results from Friday and Saturday's sessions will be available in the Auction Leaders Section of StallioneSearch.com as soon they become available each day.
* * * * * * * * * *
For additional information contact the LQHBA at the onsite phone # 318-487-9506 or go to their website at www.lqhba.com.
Complete sale results will be available following each session in the Auction Leaders section of Stallionesearch.com.