News
- Sales
October 27, 2021
---
LQHBA Yearling Sale Check Approval Forms Due July 25
Check pre-approvals for the 2019 LQHBA Yearling Sales must be turned in by Friday, July 25.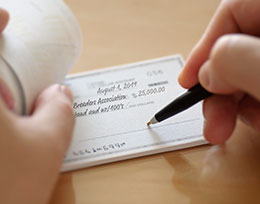 ALEXANDRIA, LA—JULY 18, 2019—
Buyers planning on paying by check at the upcoming LQHBA Yearling Sale, August 1-3, 2019 at the Coushatta Casino Resort in Kinder must get pre-approval.
The annual sale accepts pre-approved personal checks, cash or cashier's checks for payment of yearling purchases.
Check pre-approval forms must be turned in at least one week prior to the sale (no later than Friday, July 25). CLICK HERE to download a "Check Approval" form.
Completed forms can be mailed to LQHBA at 105 Carlyon Lane, Alexandria, LA 71303-7783, faxed to: (318) 487-6033 or email to bsalard@lqhba.com.
For additional information visit the association's website at lqhba.com or call (318) 487-9506.