News
- Sales
December 9, 2022
---
2018 LQHBA Fall Mixed Sale Preview
LQHBA will hold their annual Fal Mixed Sale on Saturday, November 17 in Opelousas, Louisiana.

© Equine Sales of Louisiana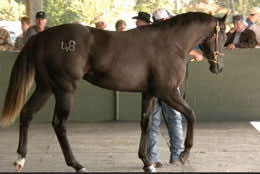 By Martha Claussen
OPELOUSAS, LA—NOVEMBER 5, 2018—The Louisiana Quarter Horse Breeders Association (LQHBA) will present its 2018 Fall Mixed Sale on Saturday, November 17. The action begins at 10:00 am at the Equine Sales of Louisiana, LLC sale pavilion in Opelousas, Louisiana.
This marks the fourth year that the event will be held in Opelousas, just minutes away from Evangeline Downs, which hosts its annual 46-day Quarter Horse racing season.
The catalog lists 212 head and gives prospective buyers a wide selection from weanlings and yearlings, to broodmares and horses of racing age. Since 1986, the sale has offered consignors an opportunity to close out their year with a boost in sales and buyers one more opportunity to purchase a broodmare, weanling, yearling or racehorse in training.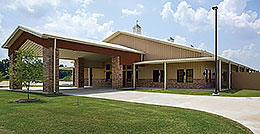 The LQHBA Fall Mixed Sale will be held in the Equine Sales of Louisiana, LLC sale pavilion in Opelousas.
© Equine Sales of Louisiana
Many consignors point out that due to a variety of reasons, some yearlings are not ready in August, when the three-day LQHBA Yearling Sale takes place in Kinder, Louisiana. Horsemen appreciate an additional three-month window to evaluate some of the late developing babies for the sale ring.
Joanie Arabie of JLA Farms in Pineville, Louisiana, has been a strong supporter of the LQHBA Mixed Sale. She is sending 21 horses to the upcoming sale, a mix of mares, weanlings and yearlings and explains the appeal to breeders to sell some of their young horses at the November sale versus the LQHBA Yearling Sale in August.
"Some yearlings just need more time to grow and develop into their full potential," she explained.
Ryan Robicheaux is the current LQHBA president and looks forward to showcasing a selection of Robicheaux Farms yearlings at the Opelousas sale.
"The Mixed Sale gives breeders an opportunity to sell some late foals, who would be overlooked in the LQHBA Yearling Sale where 600 babies pass through the sale ring," he said. "We look at it that now they are the "big fish" in a small pond."
Many sale attendees are looking for a quality broodmare, and buyers can potentially reap future benefits by purchasing a mare in foal this November.
"In Louisiana, if you own the mare at the time she foals, you are entitled to breeders' awards, as long as the horse is an accredited Louisiana-bred," added Robicheaux.
Catalog Features Quality Prospects
Over 100 consignors in Louisiana are making final preparations to send their horses to Opelousas. Tate Farms, Robicheaux Ranch, Blanchet Farms, JLA Ranch, Jumonville Farms and S&E Sales Prepping are among the larger consignors and agents. Progeny of noted stallions Freighttrain B, Highest Fire, Jet Black Patriot, Heza Fast Dash, Jess Louisiana Blue, Mr Piloto, Sir Runaway Dash, Sizzlin Cartel and Tee Cos will be well-represented.
There are 90 yearlings that will pass through the sale ring for the 2018 LQHBA Mixed Sale. Most are up to date in payments for the 2019 LQHBA Louisiana Million. The catalog also has 23 weanlings listed and majority of their current owners have made the first payment to the 2020 LQHBA Louisiana Million. Held in December at Evangeline Downs, it is the only state-bred futurity with a guaranteed final purse of one million dollars
CLICK HERE for online catalog.
Solid Results Noted in the 2017 LQHBA Mixed Sale
The 2017 LQHBA Mixed Sale showcased 185 Quarter Horses with a median average sale price of $3,500. An 8-year-old broodmare Fast Prize Dolly was the sale topper for $22,000 and the leading consignors were Blanchet Farms and Robicheaux Ranch. Jess Louisiana Blue and Tee Cos were the prominent sires, but progeny of Heza Fast Dash, Jet Black Patriot and Stoli were also well-represented.
Freighttrain B Breeding to Benefit the LQHBA Scholarship Program
A breeding to Freighttrain B will be auctioned live at the sale following hip number 100, with the proceeds to benefit the LQHBA Youth Scholarship program. The stallion, owned by noted AQHA champion breeder Bobby D. Cox, stands at Hart Farms in Kaplan, Louisiana.
Freighttrain B, a son of Pyc Paint Your Wagon, was a multiple-stakes winner in both his 2 and 3-year-old campaigns in Oklahoma. He won nine of his 16 lifetime starts, banking $421,761. Since his retirement from racing at the end of 2011, he has embarked on a very successful career as a stallion, producing a noted list of stakes winners, including Bv Midnite Express, who captured the Grade 1, Heritage Place Futurity at Remington Park, Bye Freighttrain and Moonie Blues, recent winner of the Grade 3, PCQHRA Breeders' Derby at Los Alamitos.
Since 2001, the LQHBA scholarship program has provided financial aid for Louisiana high school students to attend a higher education institution. Two years ago, Bobby Touchet stepped up and donated a breeding to Game Patriot, with a bid of $7,000 benefiting the LQHBA Scholarship Fund. Last year, Robicheaux Ranch stepped up to the plate offering a breeding to top Freshman sire, Five Bar Cartel. Over $550,000, has been earmarked for this program since its inception.
"We are extremely grateful to Hart Farms and Mr. Bobby Cox for their support of the LQHBA Scholarship fund," said Patterson. "Freighttrain B was an incredible racing champion and this breeding will be a valuable fundraiser for our scholarship program."
Sale and Trials for the LQHBA Louisiana Million Anchor an Action-Packed Weekend
For the past four years, the Equine Sales of Louisiana, LLC sale pavilion in Opelousas, Louisiana, has been the site for the LQHBA Mixed Sale. Located minutes from Evangeline Downs, it offers sale attendees an opportunity to attend a very exciting weekend of racing. Trials for the LQHBA Louisiana Million will be contested on Friday, November 16 and 3-year-olds will take center stage the following evening in trials for the fourth annual LQHBA Breeders Derby.
Robicheaux is hopeful that both the sale and live racing at Evangeline Downs will attract not just horsemen, but potential newcomers to Louisiana racing.
"There are so many ways to become involved in our business," said Robicheaux. "We pride ourselves on great hospitality and look forward to a successful sale and a very exciting weekend showcasing Louisiana racing!"
* * * * * * * * * * * * * * * * * * *
Martha Claussen served as publicity director at Sam Houston Race Park for ten years. She continues to be active in writing, fan education and Quarter Horse racing publicity in Texas, Louisiana and other regions in North America.
FACT BOX
2018 LQHBA Fall Mixed Sale
Saturday, November 17 - 10:00 am
Equine Sales of Louisiana, LLC
372 Harry Guilbeau Road
Opelousas, Louisiana 70570
Free and open to the public
Sale catalog available online at LQHBA.com or by calling (318) 487-9506=
Live streaming of the 2018 Fall Mixed Sale will be available on the Louisiana Quarter Horse Breeders Association website: LQHBA.com.