News
- Sales
October 24, 2021
---
2021 LQHBA Yearling Sale Consignment Forms Due May 3
Consignment forms are due May 3, 2021 for the 45th annual LQHBA Yearling Sale.

© Plugged In Equine Marketing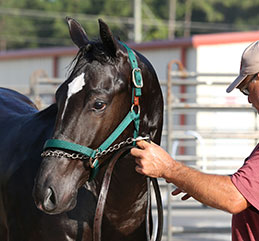 KINDER, LA—APRIL 26, 2021—
Consignment forms for the 45th annual LQHBA Yearling Sale are due in the LQHBA Office in Alexandria by close of business Monday, May 3.
The annual sale will be held Friday, August 6th and Saturday, August 7th at the Coushatta Casino Resort in Kinder, Louisiana.
All yearlings consigned to the sale are nominated the 2022 $1 million-est. Louisiana Million Futurity(G1) contested in the late fall at Evangeline Downs.
Consignment forms have been mailed to owners/breeders of horses eligible for the 2022 LQHBA Louisiana Million.
Late fees will apply to any Consignment form received in the LQHBA office after Monday, May 3. No additional consignments forms will be accepted after close of business Friday, May 7.
Owners of eligible horses should contact the LQHBA Office by phone or email frontdesk@lqhba.com if they need a Consignment Form.
For additional information visit the association's website at lqhba.com.