News
- Sales
October 24, 2021
---
LQHBA Yearling Sale Annual Hip Draw Set June 1
LQHBA will conduct their "Hip Drawing" for the 2020 LQHBA Yearling Sale on Tuesday, June 1.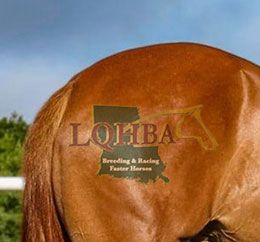 ALEXANDRIA, LA—MAY 12, 2021—
LQHBA will conduct their "hip-drawing" and "stall-assignment drawing" for the 2021 LQHBA Yearling Sale on Tuesday, June 1st at the EQUINE Sales Company, 372 Harry Guilbeau Road in Opelousas.
A burger and hot dog cookout will be held prior to the draw.
"RJS Transport will provide lunch and has funded the venue location," LQHBA Executive Director Bruce Salard said.
The draw will begin at 2:00 p.m. (CDT). Consignors are invited but not required to attend. Results of the draw will be posted on the association's website on June 2nd.
Yearling owners with multiple consignments may swap ONE HIP number with another yearling in their consignment, if the ownership is an exact match. Hip changes must be into the LQHBA office by 4:00 p.m. Thursday, June 03, 2021.
Changes must be made by via email to frontdesk@lqhba.com smelder@lqhba.com.
"We do not accept HIP changes by phone or mail," Salard said.
Coggins and health papers for all yearlings consigned are due in the LQHBA office on or before July 23rd along with other any other outstanding paperwork that may be due prior to the sale.
To avoid a $500 Consignment fee, any previously entered yearlings must be withdrawn from the sale on or before Thursday, May 27, 2021.
For additional information visit the association's website at lqhba.com or call (318) 487-9506. Consignors or persons with sale questions should contact LQHBA Executive Director Bruce Salard at 318.487.9506.