News
- Sales
October 27, 2021
---
Consignments Due September 6 For LQHBA Fall Mixed Sale
Consignment forms for the LQHBA Fall Mixed Sale are due Friady, September 6.

© Equine Sale Company of Louisiana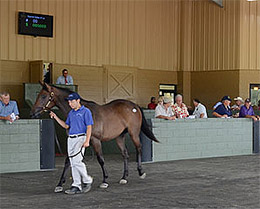 OPELOUSAS, LA—AUGUST 19, 2019—
Consignments are due Friday, September 6 for the LQHBA Fall Mixed Sale.
The annual sale featuring weanlings, yearlings, broodmares, stallions, horses-of-racing age and barrel prospects will be held Saturday, November 16 at the Equine Sale Company of Louisiana sales pavilion in Opelousas.
The consignment fee is $375 and any consignment form postmarked after September 1 will incur an additional $100 late consignment fee.
CLICK HERE to download a 2019 LQHBA Fall Mixed Consignment Form.
For Fall Mixed sales rules CLICK HERE.
A maximum of 228 horses will be accepted. Yearlings will have first preference then by order of consignment form received.
For additional information visit the association's website at lqhba.com or call 318-487-9506.