News
- Sales
October 24, 2021
---
LQHBA Yearling Sale Stall Draw
LQHBA will conduct their annual "Yearling Sale Stall Draw" on Thursday, June 11th.

© Amanda Glidden / Plugged In Marketing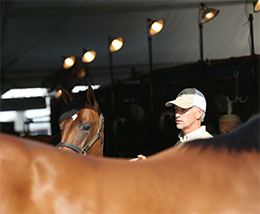 ALEXANDRIA, LA—JUNE 5, 2020—
LQHBA will conduct their annual "Yearling Sale Stall Draw" on Thursday, June 11th.
Due to the COVID-19 pandemic participants for the 2020 draw will be restricted to "Agents" and LQHBA Board Members.
The draw will take place in the LQHBA office in Alexandria at 10 a.m. on Thursday. All attendees will be "asked" to wear a MASK. Please be cognizant that we have staff with small children.
Results of the drawing will be posted following the meeting.
For additional information visit the association's website at lqhba.com or call (318) 487-9506. Consignors or persons with sale questions should contact LQHBA Executive Director Bruce Salard at 318.487.9506.