News
- Sales
October 27, 2021
---
Records Tumble at LQHBA Yearling Sale With Record-Breaking $182,0000 Colt - CORRECTED
Ryan Robicheaux with the all-time high selling LQHBA yearling On Point who brought a final bid of $182,000 on Saturday from TM Ranch.

© Amanda Glidden / Plugged-In Equine Marketing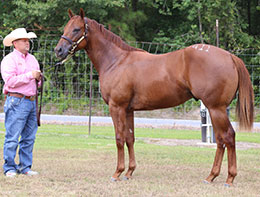 Editor's note: AUGUST 8, 2017—Several typos in the sales data reported caused some horses not be listed correctly under their consignors. This has been corrected and is now reflected in the story below. We apologize for any inconvenience this may have caused).
KINDER, LA——AUGUST 5, 2017—Records tumbled in Kinder, Louisiana on Saturday after a record setting $182,000 colt by first crop sire Five Bar Cartel sold in the closing session of the LQHBA Yearling Sale.
The three-day event kicked off Thursday evening and closed on Saturday with 404 of the 536-head passing through the sales ring grossing $5,183,800. In 2016 404 yearlings brought $4,458,400. The average rose 8% to $11,917 compared to $11,036 in 2016. The median enjoyed an 11% jump to $7,200 this year compared to $6,500 last year.
All yearlings selling are currently paid-to-date in the 2018 $1 million Louisiana Million Futurity at Evangeline Downs.
"This is the very best sale in the history of our association," LQHBA Executive Director Tony Patterson said Saturday evening. "Our consignors and agents were definitely due a break after last year's devastating weather, and I couldn't be happier for them. We sincerely appreciate all of our buyers and wish them the very best of luck with their purchases."
TM Ranch purchased the high seller, Hip 411 On Point, from Ryan and Jude Robicheaux. The $182,000 figure was all-time record in the 41-year history of the Louisiana-bred sale.
On Point, from the first crop of champion Five Bar Cartel and out of the Streakin La Jolla mare La Jollan Queen, is a half-brother to 2016 LQHBA Sale Futurity(RG1) winner RDD Lajollanfastdash (6 wins, $403,398 at 2). This is the family of champions One More Habit, Hateful Hanna and Hardly Hateful.
Ryan and Jude own the highly successful Robicheaux Ranch, Inc. near Breaux Bridge.
Jerry Deville paid $150,000 for Hip 550 TF Runaway Feature, a colt by multiple stakes sire Sir Runaway Dash, from the consignment of Tate Farms. The gray colt is out of the Feature Me Jess mare JLS Featurethisdance, a half-sister to stakes winners Jls Party Wagon, Jls Streak Of Snow and Ms Pilot Point. This is the family of All American Futurity winner Mr Piloto ($1,002,240).
On Friday Deville paid $120,00 for the second session sale-topper and third high-seller, Hip 181 Tf Lil Black Runaway. The daughter of multiple stakes sire Sir Runaway Dash is the first foal of the Grade 3-placed Oak Tree Special mare Tf Lil Black Oak. Tate Farms was also the consignor.
TM Ranch also signed a $110,000 ticket on Friday for the fourth high-seller, Hip 167 Eyejessdashfast, a daughter of leading sire Heza Fast Dash consigned by Jumonville Farms. The sorrel filly, out of Eyejesslovelouisiana by Mr Jess Perry, is a sister to RG2-winner Heza Louisiana Dash ($417,641 to 5, 2017). This is the family of Jess Louisiana Blue.
The final six-figure yearling, Hip 401 Rogue One, sold Saturday for $100,000. Barbara Nunneley and Bruce Salard purchased the daughter of Heza Fast Dash from the consignment of Robicheaux Ranch, Inc., Agent for Triple M Farms LLC. The sorrel filly is a sister to multiple stakes winner Heza Fast Rouge ($323,950), Jess A Rogue ($123,173) and half-sister to RG1 winner Jet Black Rogue ($423,101), etc. The dam is the stakes winning Mr Jess Perry mare Miss Jess Rogue.
TM Ranch led all buyers through the three days with six purchases totaling $440,000. Jerry Deville signed the ticket on 10 head for $391,400 and Heath Taylor, Agent paid $289,500 for seven yearlings.
Robicheaux Ranch, Inc., Agent was the sale's leading consignor or agent with 17 head selling $507,800. Tate Farms was second with 18 yearlings grossing $473,800 and Jumonville Farms saw 16 head bring $425,800. Robicheaux Ranch, Inc. was also Agent for three other consignors who made the "top ten" list for another $375,500.
First crop-sale sire Five Bar Cartel lead all yearling sale sires, by average with two or more sold, with 26 yearlings averaging $29,223. Leading sire Heza Fast Dash finished second with 36 yearlings for $28,822 and Sir Runaway Dash was third with 41 yearlings averaging $17,979. First sale-crop sire Point Break Dash was fourth with two yearlings for $15,000.
For preliminary results from all three sessions, including hip-by-hip results, CLICK HERE.