News
- Sales
October 17, 2021
---
Update On 2020 LQHBA Yearling Sale
LQHBA released updates for the upcoming 2020 LQHBA Yearling Sale scheduled August 7 and 8 at Equine Sales Company in Opelousas, Louisiana.

© LQHBA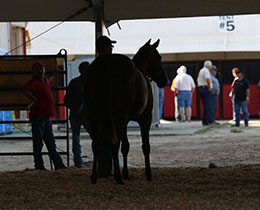 ALEXANDRIA, LA—JULY 17, 2020—
The 2020 LQHBA Yearling Sale will be held on Friday and Saturday, August 7 and 8 at Equine Sales Company in Opelousas, Louisiana.
Consignors are asked to have all yearlings checked in and stalled no later than 3:00 p.m. (CDT) Thursday, August 6th. Horses can enter the Equine Sales Company barns beginning at 6:00 a.m. (CDT) on Wednesday August 5th.
Sale officials ask for Consignors to contact the LQHBA Office by end of day Tuesday, July 21, 2020 if they have an OUT. The Consignor will be responsible for the original consignment fee.
All yearlings passing through the 2020 sale ring will be eligible for the 2021 $425,000-est. LQHBA Sale Futurity(RG1).