News
- Sales
October 26, 2021
---
Records Broken at LQHBA's Opening Yearling Session Thursday
Paragon Farms paid a record setting $200,000 for Hip 78 Jess A Fast Rogue in the opening session of the 2018 LQHBA Yearling Sale in Kinder, Louisiana.

© Amanda Glidden / Plugged In Equine Marketing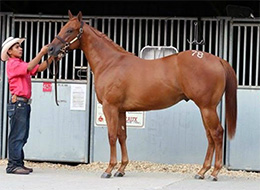 KINDER, LA—AUGUST 3, 2018—
A stronger-than-expected market at the LQHBA Yearling Sale's opening session held tonight (Thursday) at the Coushatta Casino Resort in Kinder, set records for opening gross sales, average price and the highest-selling Louisiana Bred yearling in history.
The fireworks began when Hip 78 Jess A Fast Rogue, a colt by leading sire Heza Fast Dash out of the Mr Jess Perry mare Miss Jess Rogue, sold for a record setting $200,000 to Paragon Farms.
Robicheaux Ranch, Inc., Agent for Triple M Farms, LLC consigned the brother to stakes winner Heza Fast Rogue and Jess A Rogue, as well the half-sibling to six addition black type runners.
Paragon Farms, a major buyer at Ruidoso the past couple of year, made a big splash by dipping their toe into the Louisiana-bred market.
"This has been an incredible evening and it gives us a fantastic start to our 2018 sale," LQHBA Executive Director Tony Patterson said late Thursday evening. "I am extremely proud of our consignors, agents and farms as they continue to do an amazing job."
The LQHBA opening session of 2018 put 142 state-bred yearlings through the sales ring, of which 110 sold for a $1,7717,600, compared to 83 yearlings sold in last year's opening session that grossed $777,300.
The average price of $15,615 is a 67% increase compared with last year's Thursday average of $9,365. The median enjoyed a 16% rise from $6,700 last year to $7,750 Thursday night.
Benny and Teri Jeter paid $90,000 for Thursday's second high-seller Hip 129 LSU Special, a colt by Game Patriot from the Oak Tree Special mare Eyema Special Candy. Consigned by Robicheaux Ranch, Inc., Agent for Simmons Racing, LSU Special is a half-brother to 2018 Ruidoso Futurity(G1) finalist Tempting Special.
Hip 42 TF Toast To Whiskey, a brother to Mardi Gras Derby winner T Boy C and restricted G1 3-year-old Tf El Whiskey was the third high-seller on Thursday. Runaway Racing LLC paid $85,000 for the Sir Runaway Dash colt from the RG3 winning Toast To Dash mare Toast To Mallard. Tate Farms, agent for Tate Farms and Ron L. Habetz was the consignor.
Paragon Farms, Benny and Teri Jeter and Runaway Racing LLC were the top three buyers on Thursday with one yearling each.
Robicheaux Ranch, Inc., Agent for Triple M Farms LLC led all consignors and agents by gross with the record setting yearling of $200,000. Grant Farms, LLC had four yearlings gross $111,000 and Robicheaux Ranch, Inc., Agent for Simmons Racing sold two yearlings for a total of $95,000.
Robicheaux Ranch, Inc., Agent represented two other consignors in Thursday's top-ten, Rodney or Phillip DeBenedetto who was 5th with two head for $85,000 and Danny Trahan Quarter Horses who was 8th with one yearling for $77,000.
Heza Fast Dash led first session sale sires (by average with two or more sold) with six yearlings averaging $58,000. Game Patriot had two for $49,000 and first-crop sale sire Apollitical Blood had three yearling average $24,667.
Heza Fast Rogue, a brother to the record setting yearling, was the #2 first-crop sale sire on Thursday with five head averaging 10,000.
CLICK HERE for preliminary sale results from Thursday's opening session, including hip-by-hip results.
Friday (Aug 3) the sale kicks off at 10:00 a.m. with Hips 151 thru 410 and Saturday's final session begins at 10 a.m. with Hips 411 thru 633.
A live webcast and catalog will continue on the association's website, lqhba.com, on Friday and Saturday.
Preliminary sale results, including hip-by-hip information, can be found on StallioneSearch.com in our Sales Section following each session.
For additional information call 337-738-7709, fax to 337-738-7481 or visit the association's website at lqhba.com.