News
- Sales
October 24, 2021
---
LQHBA Fall Mixed Hip and Stall Assignment Draw Set Friday
LQHBA will hold their Fall Mixed Sale hip and stall assignment draw on Friday.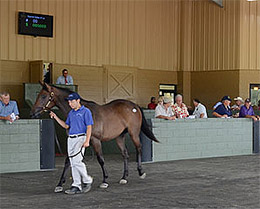 ALEXANDRIA, LA—SEPTEMBER 12, 2016—
LQHBA will hold their hip number and stall assignment draw for the 2016 LQHA Fall Mixed Sale on Friday at 10 a.m. in their office in Alexandria, Louisiana.
The annual Fall Mixed Sale will be held Saturday, October 29th at the Equine Sales Company of Louisiana in Opelousas. Only a five-minute drive from Evangeline Downs, the facility is located at 372 Harry Guilbeau Road.
Consignors or agents who have a particular need to be stalled with someone at the Fall Sale should notify the LQHBA office no later than Wednesday (September 14). Changes will not be accepted on the day of the draw.
The LQHBA office is located at 105 Carlyon Lane, three miles west of Rapides Parish Coliseum on Highway 28 West in Alexandria.
"All consignors are invited to attend the drawing but attendance is not mandatory," LQHBA Executive Director Tony Patterson said. "Persons who do not attend will be notified with their hip number draws via mail."
For additional information contact the LQHBA office at 318.487.9506 or visit the association's website at lqhba.com.