News
- Sales
October 26, 2021
---
41st Annual LQHBA Sale Kicks Off Thursday In Kinder
The 2018 LQHBA Yearling Sale gets underway Thursday in Kinder, Louisiana.

© Cover photos by Coady Photography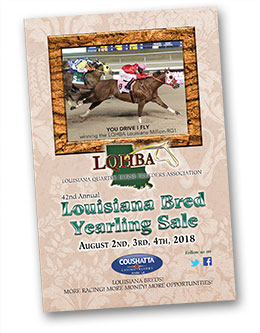 KINDER, LA—AUGUST 1, 2018—
The 42nd annual LQHBA Yearling Sale kicks off Thursday at the Coushatta Casino Resort in Kinder, Louisiana. The sale which has again been extended to three-days (Aug. 2-4) this year and will continue through Saturday.
The annual sale featuring 633 head will again be conducted in the Coushatta Casino Resort's air-conditioned Pavilion. All yearlings cosigned to the sale are currently eligible to the 2019 $1,000,000 RG1 Louisiana Million Futurity at Evangeline Downs.
The first session will get underway at 5 p.m. Thursday offering Hips 1 through 150. Friday the sale kicks off at 10:00 a.m. with Hips 151 thru 410 and Saturday's final session beginning at 10 a.m. with Hips 411 thru 633.
Nine qualifiers for the 2018 $700,000 Lee Berwick Futurity(RG1) were offered at the 2017 LQHBA Yearling Sale, including winner Eysa Jess Jumpn who sold for $11,500 and has earned earnly $373,000 in only five starts this season.
Louisiana-breds ran for more than $20 million in purse money in 2017 with a guaranteed minimum of 148 Quarter Horse race days annually conducted at Delta Downs, Evangeline Downs, Louisiana Downs and Fair Grounds Racecourse.
A number of special events will be conducted during this year's sale.
On Friday, immediately following Hip 250, LQHBA will auction LIVE a breeding to leading sire Jet Black Patriot. All proceeds from the sale of the breeding will benefit the LQHBA Youth Scholarship program. Jet Black Patriot has sired earners of more than $11 million and average earnings per starter of over $28,000.
Also on Thursday, LQHBA will sponsor $2 wine and cocktail drink specials during the sale, as well as $1 beer will available all three-sale days. Also on Thursday sale patrons can take advantage of free "jambalaya dinner" at 6 p.m. between the air chillers and the tent.
A live webcast and catalog will be available on the association's website, lqhba.com, on Thursday, prior to the sale starting.
For additional information visit the association's website lqhba.com or call 337-738-7709.
Preliminary sale results, including hip-by-hip information, can be found on StallioneSearch.com in our Sales Section following each session.
For additional information call 337-738-7709, fax to 337-738-7481 or visit the association's website at lqhba.com.