News
- Sales
October 26, 2021
---
2019 LQHBA Yearling Sale Hip Draw Conducted
Rowdy Tate draws for the 2019 LQHBA Yearling Sale as sale committee Chairman Butch Stevens holds box of numbered ping pong balls and LQHBA President Ryan Robicheaux notes locations on the stall chart.

© LQHBA Photo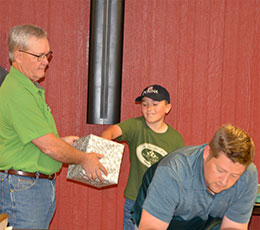 ALEXANDRIA, LA—JUNE 6, 2019—
LQHBA held their annual hip draw and stall assignments today at their associations' office in Alexandria.
The annual yearling sale will be held August 1 thru 3 at the Coushatta Casino Pavilion in Kinder, Louisiana.
CLICK HERE for a list of hip draws in consignment name order.
CLICK HERE for a list of hip draws by HIP # order.
Consignors who own two or more yearlings consigned to the LQHBA Yearling Sale are allowed to swap ONE of their hip numbers and must notify the LQHBA office in writing of their change request by 2 pm. Wednesday, June 12.
Hip changes must be sent via email or fax (no exceptions) to bsalard@lqhba.com or fax 318.487.6033. No changes will be accepted on the date of the draw.
Coggins and health papers for consignments are due to the LQHBA Office by Friday, July 12, 2019, along with any other outstanding paperwork for the sale.
Consignors or persons with sale questions contact Bruce Salard or Sonya Melder at the LQHBA office at 318.487.9506.