News
- Sales
October 27, 2021
---
LQHBA Fall Mixed Sale's Hip Draw Is Set Thursday
LQHBA officials will conduct the "hip draw" for the Fall Mixed Sale on Thursday.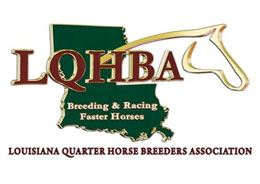 ALEXANDRIA, LA—SEPTEMBER 30, 2014—
LQHBA will conduct the "Hip Draw" for their annual Mixed Fall Sale on Thursday. The annual sale with more than 140 head of weanlings, yearlings, broodmares and horses-of-racing age will be conducted Saturday, November 8th at the Equine Sales Company of Louisiana in Opelousas.
The hip number draw will begin at 10:00 a.m. in the LQHBA offices located in Alexandria.
Trials for the $1 million LQHBA Breeders' Futurity(RG1) will be held the evening before the sale on Friday, November 7th at Evangeline Downs in Opelousas.
For additional information or sale catalogs contact LQHBA at 318.487.9506 or visit lqhba.com.