News
- Sales
October 27, 2021
---
LQHBA Fall Mixed Sale Kicks Off Saturday
The 2014 LQHBA Fall Mixed Sale will begin at 10:00 a.m. Saturday, November 8th at the at the Equine Sales of Louisiana, LLC pavilion in Opelousas.

Cover by Post Time Pedigrees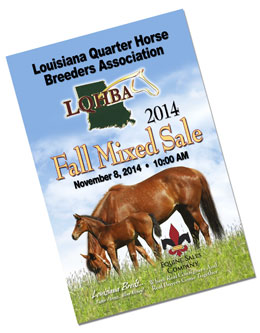 OPELOUSAS, LAŚNOVEMBER 6, 2014Ś
The Louisiana Quarter Horse Breeders' Association (LQHBA) will kick off their 28th annual Fall Mixed Quarter Horse Sale on Saturday (Nov. 8) at the Equine Sales of Louisiana, LLC pavilion. The sale will begin promptly at 10:00 a.m.
The catalog lists 142 horses with a wide range of offerings from weanlings and yearlings, to broodmares and horses of racing age. Since 1986, the sale has offered consignors an opportunity to close out their year with quality sales and buyers one more chance to spot a future racing and breeding prospect.
The 2014 event will have a change of venue from Kinder to the Equine Sales of Louisiana, LLC sale pavilion located at 372 Harry Guilbeau Road in Opelousas, Louisiana.
"Our board of directors chose to move the Fall Mixed Sale to Opelousas," said Tony Patterson, executive director of the LQHBA. "We are fortunate to have two quality venues to host our annual Yearling and Fall Mixed Sales."
Over 60 consignors in Louisiana are making final preparations to send their horses to Opelousas on Saturday.
Buyers and patrons planning to attend the Saturday's sale are urged to come the day before and attend the $1 milllion LQHBA Breeders' Futurity trials to be contested Friday evening (Nov. 7) at Evangeline Downs in Opelousas.
A total of 117 horses will compete in 13 trials, at the distance of 400 yards, with the first race to run at a special post time of 5:15 pm. The ten fastest qualifiers will return on Saturday, November 29 to vie for their share of the seven-figure purse, the richest Quarter Horse race in Louisiana.
The LQHBA Sale catalog can be downloaded online by CLICKING HERE.
Horsemen unable to attend the sale may watch a live webcast of the sale from the association's website www.lqhba.com.
Preliminary sales results can found in the Auction Leaders Section on StallioneSearch.com after the sale concludes on Saturday.
For additional information call 318.487.9506.