News
- Sales
October 26, 2021
---
S&E Prepping To Host Lunch Showcase on Thursday
The 39th annual LQHBA Yearling Sale will be held Friday and Saturday in the Coushatta Casino Resort Pavilion in Kinder, Louisiana.

© Cover Photo by Coady Photography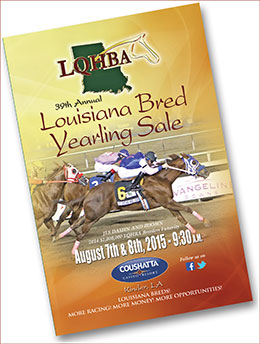 KINDER, LA—AUGUST 4, 2015—
S&E Prepping will host their first annual Quick Lunch Showcase of yearlings for the upcoming LQHBA Yearling Sale on Thursday in Kinder. The 39th annual LQHBA Yearling Sale is set for Friday and Saturday at the Coushatta Casino Resort
The annual sale featuring 599 head this year will kickoff in the Coushatta Casino Resort Pavilion with a new start time of 9:30 am both days. All yearlings cosigned to the sale are currently eligible to the 2016 $1,000,000 RG1 LQHBA Breeders' Futurity.
S&E will serve lunch and drinks Thursday and will preview roughly 50 head of yearlings for interested horsemen at noon (CDT) in front of Barn 1 at the Coushatta Sales Pavilion. The public is invited.
Thursday's presale activities will continue at 6:30 p.m. with Robicheaux Ranch's annual Consignment Preview and Cajun cookout (see related story).
To download an online version of the sale catalog CLICK HERE.
For additional information visit the association's website lqhba.com or call 318.487.9506.