News
- Sales
October 27, 2021
---
LQHBA Set to Draw Hip Numbers and Stall Assignments On Monday
Hip numbers and stall assignments will made on Monday at the LQHBA office in Alexandria.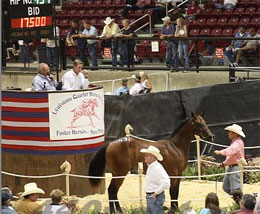 ALEXANDRIA, LA—JUNE 5, 2015—
The Louisiana Quarter Horse Breeders' Association will draw hip number and stall assignments for the 39th Annual Louisiana Bred Yearling Sale on Monday. The annual two-day event will be conducted August 7-8 at the Coushatta Casino Resort Pavilion in Kinder.
"We will begin drawing hip numbers at 10 a.m. Monday (June 8) at the LQHBA office in Alexandria," Tony Patterson, LQHBA Executive Director said. "We will have over 600 yearlings for our two-day sale that will begin at 9:30 AM both days," he added.
Catalogs for the annual sale are scheduled to drop in the early July. Persons wanting a catalog should contact the LQHBA office at 318.487.9506 or email Michelle Hatwig at mhatwig@lqhba.com.