News
- Sales
October 26, 2021
---
S & E Prepping LQHBA Online Yearling Preview Available
S & E Prepping released their online yearling preview for the LQHBA Yearling Sale today.

© Amanda Glidden/Plugged In Equine Marketing Solutions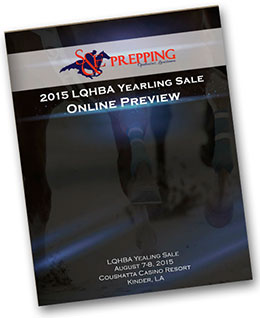 OPELOUSAS, LA—JULY 22, 2015—
S & E Prepping has released their online yearling preview for the upcoming 39th annual LQHBA Yearling Sale scheduled Friday and Saturday, August 7-8, in Kinder, Louisiana.
Yearling buyers will find photos and catalog pages for the 18 S & Prepping consignments in the Louisiana sale.
Make plans now to attend the first annual S & E cookout and yearling showcase, August 6th at 12:00 pm in the sales pavilion showcasing all of the S&E yearlings, plus a few outside consignments.
S & E Prepping, a division of Louisiana Center For Equine Reproduction, continues to grow and see success in the sale fitting industry under the guidance of Eddie Cramer, DVM and manager Stephen DeVille. In 2014, S & E Prepping sold the highest selling yearling during the Heritage Place Fall Mixed Sale.
"We are currently accepting consignments to all of the Heritage Place sales as well as the LQHBA Fall Mixed Sale," DeVille said.
Visit www.laequine.com for more details or CLICK HERE to view the S & E Prepping LQHBA online preview.