News
- Breeding
October 24, 2021
---
Multiple Grade 1-Winning Sprinter Imperial Hint Available To Quarter Horses In 2021
Imperial Hint winning the $350,000 Alfred G. Vanderbilt Handicap (G1) at Saratoga Race Course in a blistering 1:07.92, to set a new track record.

© Susie Raisher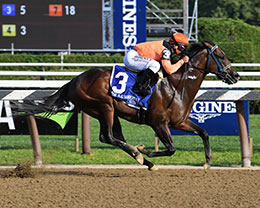 OPELOUSAS, LA—SEPTEMBER 19, 2020—
In a special agreement between Clear Creek Stud and
Louisiana Center for Equine Reproduction
(LACER) the Grade 1 winning Thoroughbred sprinter
Imperial Hint
will be available to Quarter Horse breeders in 2021.
For the past four years, the son of Imperialism made 25 starts across three countries for Raymond Mamone. Track records have been broken, grade 1 victories have been numerous, 19 races over 100 speed rating and more than $2.2 million in purses were earned.
Imperial Hint will kick off his stallion career on the Thoroughbred side at Clear Creek Stud in Folsom, Louisiana. Imperial Hint will be available to Quarter Horses through Louisiana Center for Equine Reproduction in Opelousas.
His Thoroughbred fee has been set at $2,500, payable September 1st and Quarter Horse fee is $2000. Imperial Hint is owned by the Imperial Hint Syndicate and shares are available through Clear Creek Stud.
"Imperial Hint will be here (Opelousas, LA) and available for viewing at our stallion showcase on November 20th," LACER Stallion manager Stephen Deville said today. "He will be back over at Clear Creek for their showcase in December/January, and will remain there for the season to cover Thoroughbred mares."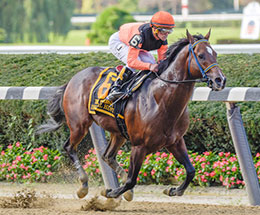 Imperial Hint drives to victory in the Grade 1 $350,000 Vosburgh Stakes at Belmont Park.
© Eric Kalet
According to Deville Clear Creek will collect
Imperial Hint
on LACER's collection schedule and have semen available to Quarter Horse mares. Calls to book breedings or order semen for Quarter Horse mares are to be made through LACER.
Bred in Florida by Shade Tree Thoroughbreds out of the Lahint mare Royal Hint, Imperial Hint has defied the odds of his pedigree and his stature at every turn of his career.
By champion sire Imperialism, Imperial Hint has won seven graded stakes. His biggest wins came in 2018 and 2019, when he won consecutive renewals of the Alfred G. Vanderbilt Handicap (G1) at Saratoga and Vosburgh Stakes (G1) at Belmont Park. Imperial Hint's 2019 Vanderbilt at Saratoga Race Course proved to be his crowning moment when, as one of the oldest runners in the field at 6, he made a three-wide surge on the turn that propelled him to victory in a blistering new track record of 1:07.92.
Imperial Hint and jockey Javier Castellano after winning the Grade 1 $350,000 Vosburgh Stakes at Belmont Park.
© Eric Kalet
In his final start, the 7-year-old
Imperial Hint
made his 2020 debut in Saudi Arabia where he finished off the board in the $1.5 million SaudiaCup Sprint. Shipped next to Dubai ahead of the World Cup, he was set to contest the Dubai Golden Shaheen Sponsored by Gulf News (G1). But as the COVID-19 pandemic began to spread and the race was canceled.
Imperial Hint
returned to the United States.
"Before we came home from Dubai the horse worked under Jose Contreras who was there as a rider for Mucho Gusto," said trainer Luis Carvajal Jr. "He gallops for Bob Baffert and he's worked so many good horses but he told me, 'I work so many good horses for Bob but when I worked your horse, I haven't felt anything like that in a long time. He is so fast.' He worked in :46 4/5 before the race was canceled.
After returning to the US, Imperial Hint went to Fair Hill Training Center in New Jersey to be turned out. He seemed to have started having some wear and tear and after consulting with his vet the decision was made to retire him.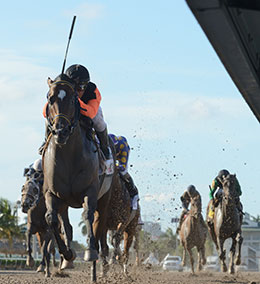 Imperial Hint, under jockey Javier Castellano, draws off to a 4¾ length win in the Grade 3 $250,000 Smile Sprint Stakes at Gulfstream Park.
© Eric Kalet
"He can probably race but I don't think he would be at the same level. I think this horse did great for us and he took us on a great journey. He is special to me and my family and Mr. Mamone. I don't think he deserved to run below his level," Carvajal told the
BloodHorse
earlier this year.
"I don't want to run him if he won't be competitive. I want everyone to remember Imperial Hint as one of the top sprinters in the country. We talked to Mr. Mamone and made the decision to retire him. He's sound and he can have a second career as a stud. This was always part of our plan if we thought he couldn't perform," Carvajal added.
Imperial Hint compiled a (25) 14-2-4 record and earned $2,209,055. His graded wins include the Alfred G. Vanderbilt Handicap (Gr. 1)-twice, Vosburgh Stakes (Gr. 1)-twice, True North Stakes (Gr. 2), General George Stakes (Gr. 3), and Smile Sprint Stakes (Gr. 3).
He was also second in the TwinSpires Breeders' Cup Sprint (Gr. 1) , third in the TwinSpires Breeders' Cup Sprint (Gr. 1), Dubai Golden Shaheen Sponsored By Gulf News (Gr. 1) and Mr. Prospector Stakes (Gr. 3).
Imperial Hint recorded triple digit Beyer figures eleven times in his career with a high of 114. He defeated such top runners as Eclipse Award Sprint Champion Mitole ($3,104,910), Grade 1 winner Firenze Fire ($1,955,750), Grade 1 winner Promises Fulfilled ($1,455,530), etc.
"Imperial Hint is 15.2 hands. But his great grandfather, Danzig, was also small. He wasn't a big horse either," Carvajal says.
Danzig became one of the world's most important sires. He led the U.S. sires list from 1991 to 1993 and topped the sire list in Spain and the United Arab Emirates. Danzig sired 188 graded stakes race winners and 10 champions. His foals have earned more than $100 million in purse money. Danzig was also a leading sire of sires.
For additional information or Quarter Horse breeding contracts contact Stephen Deville, LACER Stallion Manager, at (225) 202-2104. Thoroughbred breeders can contact Clear Creek Stud at (985) 796-5563.