News
- Breeding
October 27, 2021
---
Spring Hill Farms Adding a Stallion Roster for 2020
The foundation for the new stallion barn at Spring Hill Farms was set to pour the concrete pad early this week.

© Spring Hill Farms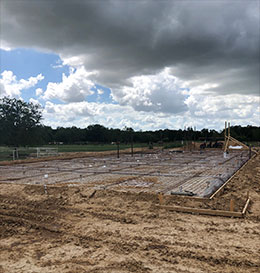 By Martha Claussen
KAPLAN, LA—SEPTEMBER 23, 2019—The sound of concrete pouring is only a temporary distraction to the tranquility of Spring Hill Farms, as the owners, David Dunn and Erin Chrisman add another facet to their business. They have just announced that they will be adding a stallion roster to their breeding operation.
Two stallions, Fast Prize Jordan (see related story) and Louisiana Jambalaya (see related story) will stand stud at Spring Hill Farms for the 2020 breeding season.
It is another milestone for the 115-acre property, which is steadily building a fine reputation in the state's Quarter Horse breeding industry. Construction of the stallion barn is underway and will house six stallion stalls, a large collection area, a semen lab, office and reception area.
Economics initially propelled the expansion, but the reputation of Spring Hill Farms certainly played a pivotal role.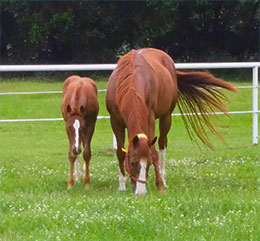 A mare in foal grazing in one of Spring Hill Farms paddocks.
© Spring Hill Farms
"It was something David and I had discussed as my barrel stallion and one of David's stallions were at another farm," explained Chrisman.
Dunn is a Mississippi native who began breeding Quarter Horses in 2011. He believes that having a strong broodmare band is essential and made a bold statement when Full Moon Dasher produced 2017 Lee Berwick Futurity champion, Dashnunder Afullmoon and Eysa Jess Jumpn, a daughter of Jess Jumpn, delivered a standout performance in the 2018 edition of the stakes. Both fillies were honored as LQHBA Champions at the LQHBA Awards Banquet earlier this year.
Believe it or not, Spring Hill Farms is not the only source of income for Dunn. He began surveying when he was still in high school and owns a surveying and mapping company, specializing in oil and gas industry. He grew up around horses and in 2011, began breeding Quarter Horses. With a hard-working team in place, he is building quite an impressive résumé and a rare accomplishment in breeding two fastest qualifiers and eventual winners of the $700,000 Lee Berwick Futurity (RG1) at Delta Downs.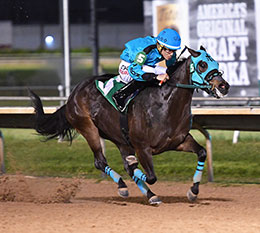 Dunn-bred Eysa Jess Jumpn winning the Grade 3 Sam Houston Derby at Sam Houston Race Park in May.
© Coady Photography
In addition to those two major races Dunn has also bred winners to the Lassie Futurity(RG2), Sam Houston Derby(G3), Louisiana Champions Day Juvenile(RG2)-twice, LQHBA Breeders Derby, Delta Downs LA Bred Derby, Billy Montgomery Stakes, and third in the LQHBA Louisiana Million Futurity since 2017.
At the heart of the team is Erin Chrisman, who grew up in Nebraska on a cattle ranch, recalling the days when she and her sister would ride their horses to the local grocery store. A riding accident in college derailed her career in the saddle, but ignited her interest in equine reproduction. She majored in biology and completed an internship in equine reproduction and equine ICSI under Dr. Rick Beck, DVM in Southern California. She oversees the breeding transfers for Spring Hill Farms and countless other duties for their operation.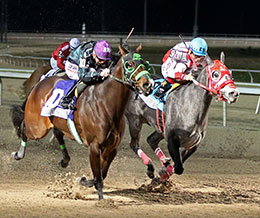 Dunn-bred Dashinunder Afullmoon winning the 2018
LQHBA Breeders' Futurity at Evangeline Downs.
© Coady Photography
Prior to the announcement regarding
Fast Prize Jordan
and
Louisiana Jambalaya
, Spring Hill Farms offered breeding, reproduction services, foaling, boarding and sale prepping, and will continue to offer these in the future.
Dunn owned Fast Prize Jordan, the Oklahoma-bred son of Pyc Paint Your Wagon, who retired at the end of 2013 and began his stud career at Robicheaux Ranch for the Fast Prize Jordan Syndicate. Dunn bought him back and his stud fee has been set at $1,250 for the 2020 season.
He has already produced ten stakes horses, most notably, Prize Dasher, who ran third in the LQHBA Louisiana Million and Hooked On Jordan, who won four consecutive races this year, including the Blue River Derby at Indiana Grand. He is currently the #3 Leading Third-Crop Sire of Money Earners for 2019.
"He is a well-mannered horse with classy conformation," stated Chrisman. "We've never seen an ugly Jordan and he has already produced some very successful runners."
The acquisition of Louisiana Jambalaya took a different route and one that further defines the essence of Spring Hill Farms.
The son of Jet Black Patriot had a very successful racing career in Louisiana, winning the LQHBA Sale Futurity (RG1) and Louisiana Champions Day Juvenile (RG2) at Fair Grounds for owner Carters Quarters LLC. Honored as LQHBA Champion 2-Year-Old Colt of 2014 and the LQHBA Champion 3-Year-Old Colt of 2015, he began his stallion career at Delta Equine in Vinton.
Roderick Carter of Baton Rouge, is an area operations director in the petrochemical business. His family has been in racing since 1983 and he purchased Louisiana Jambalaya at the 2013 LQHBA Yearling Sale.
"He is, by far, the most successful runner we have ever owned; our once in a lifetime horse," stated Carter. "For a Jet Black Patriot, he has always had a very calm temperament; nothing gets him riled up."
Carter sent his stallion to Delta Equine Center for three years as their veterinarians had cared for Louisiana Jambalaya throughout his racing career.
"My wife and I visited Spring Hill Farms and really connected with David and Erin," he explained. "They are great people and their body of work speaks volumes in the industry."
The decision was made to send the striking gray to Spring Hill Farms and he has settled in comfortably. His fee will be $2,000.
"We are very appreciative of the entire team at Delta Equine," explained Carter. "Caleb Findley understood our decision as Kaplan is much closer to our home. Our family will be able to visit Louisiana Jambalaya more often. We just felt this was the right move."
The relationship with Carter is special for the team at Spring Hill Farm "We are so excited about Louisiana Jambalaya," added Chrisman. "We were not procuring stallions, but when Roderick approached us, we felt he would be a great fit for us."
Breeding back-to-back Lee Berwick Futurity champions is an extraordinary accomplishment as well as breeding Moonocracy, the 2018 LQHBA Yearling Sale Topper.
The farm's broodmares include Full Moon Dasher, Jess Jumpn, Black Rosalita, Bipty Dash, Louisiana Blue Dream, Jet Black Rogue, Streakin Angelica, Annas Streakin Dash and First Prize Pearl.
Adding the stallion roster to Spring Hill Farms is a major undertaking, but one that will be embraced with the same emphasis on personal attention as their existing services.
"It's a new component for us and we are excited," stated Chrisman. "Our primary focus continues to be mare management. Doing a good job for each of our clients is of the utmost importance."
* * * * * * * * * * * * * * * * * * * * * *
Martha Claussen served as publicity director at Sam Houston Race Park for ten years. She continues to be active in writing and racing publicity in Texas, Louisiana, Indiana, Oklahoma and other regions in North America.