News
- Breeding
October 24, 2021
---
Tate Farms Alters Collection Days
Tate Farms announced today they will go to a Monday-Wednesday-Friday collection schedule to accommodate the Coronavirus pandemic.

© Courtesy Tate Farms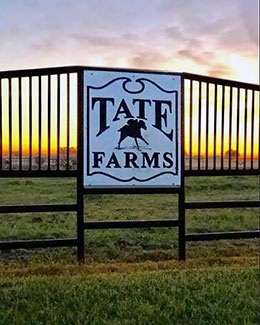 VILLE PLATTE, LA—APRIL 4, 2020—
Effective immediately
Tate Farms
will go to a Monday-Wednesday-Friday stallion collection schedule instead of the normal schedule because shipment issues due to the current COVID-19 pandemic.
"With flights being so limited and the distance from our farm to the airport we are unable to get shipments off on Saturday and Sunday," Stephen Tate Farm Manager said today. "Therefore we are adjusting our schedule to Monday, Wednesday and Friday for the remainder of this season."
Tate Farms, a longtime Louisiana-based Quarter Horse racing establishment, currently stands nine stallions for 2020.
"We apologize for any inconvenience this may cause and will try to accommodate every customer as best as we can," Tate added.
For more information please call Stephen Tate at 337-658-8283.