News
- Breeding
October 26, 2021
---
LQHBA Announces Expanded Breeders Awards


© Coady Photography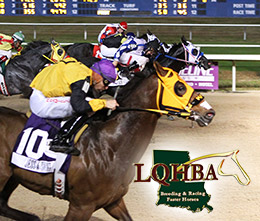 ALEXANDRIA, LA—JUNE 8, 2016—
The Louisiana Quarter Horse Breeders Association (LQHBA) is pleased to announce expanded Breeders Awards for its upcoming Louisiana-bred stakes.
Effective immediately, the LQHBA will beginning paying Breeders Awards through last place for all horses that qualify and earn purse money in all accredited Louisiana-Bred Futurity and Derby Finals as well as the three Louisiana Champions Day stakes.
This will add approximately $120,000 additional Breeders Awards paid to LQHBA members annually.
This latest increase was approved by the LQHBA Board of Directors and is another step in the continued goal of the association to reward horsemen for breeding in Louisiana. The Breeders Awards were increased in 2015 with a decision to pay awards to breeders of horses finishing in fourth and fifth place. This resulted in $380,000 additional revenue shared with LQHBA members in 2015.
With the latest changes to the awards program, the LQHBA is now paying approximately $500,000 more in Breeders Awards each year to its members
LQHBA is the official registry of accredited Louisiana-bred Quarter Horses. Louisiana is the leading state-bred program in the country with over $5 million dollars in mare and stallion awards. Purses paid at the four Louisiana racetracks exceeded $22 million in 2015.
"The Breeders Award program is an extremely important priority for our association," said Tony Patterson, executive director of the LQHBA "Rewarding horsemen for breeding their horses in Louisiana has been well-received by established farms as well as new operations. The end result is that our program continues to grow and produce exceptional racehorses."
For more information on the Louisiana Quarter Horse Breeders Association, visit their website at LQHBA.com or contact them at (318) 487-9506.