News
- Breeding
October 24, 2021
---
Louisiana Center For Equine Reproduction Updates Collection Days
Louisiana Center For Equine Reproduction announced today they have gone to a Monday-Wednesday-Friday collection schedule to accommodate the Coronavirus pandemic.

© Amanda Glidden / Plugged In Marketing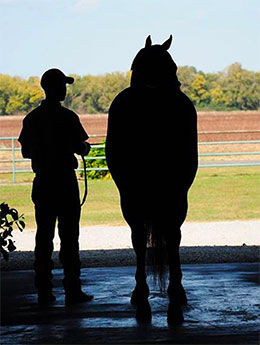 OPELOUSAS, LA—APRIL 2, 2020—
Louisiana Center For Equine Reproduction
(LACER) announced today they have gone to a Monday-Wednesday-Friday collection schedule instead of the normal every other day schedule our customers are accustomed to.
"We have had to make several adjustments based on the times, and are doing what we can to accommodate our customers," Breeding Manager Stephen Deville said today. "Due to the pandemic, flights are limited in our area, therefore the best solution for shipments at this time is FedEx."
LACER, a Louisiana-based Quarter Horse racing establishment, currently stands six Quarter Horse stallions in 2020.
"We apologize for any inconvenience this may cause and will accommodate every customer as best as we can," Deville says.
For additional information call 337-407-0708 or visit the LACER website laequine.com.