News
- Breeding
October 17, 2021
---
LQHBA Out Of State Mare Reports Due June 01
LQHBA Out-of-State mare reports are due to the association office on or before June 1 .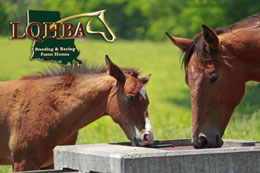 ALEXANDRIA, LAŚMAY 7, 2019Ś
By June 1 of each breeding season, all non-resident members of LQHBA, as defined in the LQHBA By-Laws, who are boarding mares in Louisiana must furnish the LQHBA a copy of each mares AQHA or Thoroughbred registration certificate (front and back) together with the geographical location and directions to locate the mare(s) boarded in the state.
CLICK HERE to download a 2019 LQHBA Out of State Mare Report form.
The form and a non-refundable application fee of $200 per mare must be received by the LQHBA office on or before June 1. Any forms received or postmarked after the June 1 date will incur a $200 penalty and late forms will be at a cost of $400.
Forms must be submitted to: LQHBA, 105 Carlyon Lane, Alexandria, LA 71303.
For additional information or questions visit the association website at lqhba.com or call the LQHBA office at 318-487-9506.