News
- Breeding
October 24, 2021
---
LQHBA Stallion Service Auction Open
Bidding for the 2019 LQHBA Stallion Service Auction kicked off yesterday and will continue through January 24.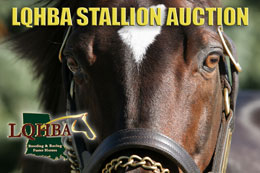 ALEXANDRIA, LA—DECEMBER 18, 2019—
Louisiana Quarter Horse Breeders' Association' annual Stallion Service Auction kicked off yesterday (Dec. 17) and will run through Friday, January 24 at 5:00 p.m. (CST). Seasons to more than 46 of the industry's top stallions are available for purchases.
CLICK HERE to review the list of stallions services offered for 2020 or to register and begin bidding.
All minimum bids include farm/chute fees (if any). The price bid is the TOTAL price breeders will pay if they are the winning bidder (unless otherwise noted in donors' conditions).
All proceeds (less any farm/chute fees) from the LQHBA Stallion Auction are used to benefit the association's youth scholarship program. Since its inception in 2001, the LQHBA scholarship program has earmarked over $600,000 for Louisiana students to attend a higher education institution.
For additional information contact the LQHBA office at (318) 487-9506 or visit the association website at lqhba.com.
* * * * * * * * * * *
LQHBA Stallion Auction Terms
Website Security. Your information and Credit Card information is Secure:
This website is secured with an SSL Certificate that encrypts all data sent through it. You can verify that by the https:// in the URL and the lock icon.
The credit card payment system uses Stripe.com and is 100% PCI Compliant.
The stallion services will be sold at auction to the highest bidder.
The auction will begin December 17, 2019 and continue through January 24, 2020 ending at 7:00 p.m. CST.If two or more people are bidding on the same stallion service within the last five minutes of the auction closing the bidding will automatically continue in increments of five minutes until only one person is bidding. All bids are final and all bidders accept the rules and regulations before submitting bid.
Successful bidders will be notified within 24 hours and all credit card payments will be run through within 48 hours.
All stallion services are sold in concurrence with the conditions and procedures of the farm at which the stallion stands, and purchaser agrees to abide by these conditions.
Please contact stallion owner for breeding contract and information.
The successful bidder of a stallion service must use the breeding during the current breeding season.
Semen collection and shipping is not included.
All fees associated with boarding, mare care, cooled or frozen semen, farm costs, and veterinary costs are between the successful bidder and the stallion owner.
The Association assumes no responsibility for any other business conducted between the stallion owner and the successful bidder. It is the responsibility of the service purchaser to make all necessary arrangements with the stallion owner regarding breeding and the availability of shipped semen.
Any stallion service which does not receive a minimum bid during the auction shall be available on a first come first serve basis (But It Now) for the minimum bid plus $100.