News
- Breeding
October 26, 2021
---
LQHBA Accepting Breedings for Annual Stallion Service Auction
Bidding for the 2021 LQHBA Stallion Service Auction will get underway on December 18.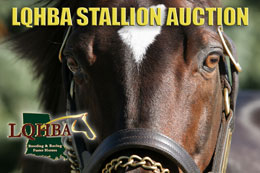 ALEXANDRIA, LAŚNOVEMBER 4, 2020Ś
Louisiana Quarter Horse Breeders' Association' is currently accepting breedings for their annual Stallion Service Auction set to "Go Live" on December 18th.
All proceeds (less any farm/chute fees) from the LQHBA Stallion Auction are used to benefit the association's youth scholarship program. Since its inception in 2001, the LQHBA scholarship program has earmarked over $635,000 for Louisiana students to attend a higher education institution.
CLICK HERE to download a 2021 LQHBA SSA breeding donation form.
Stallion owners or farm managers are asked to return their completed form to the LQHBA office by Friday, December 4th. Completed forms may be returned via email to bsalard@lqhba.com or fax to (318) 487-6033.
For additional information contact the LQHBA office at (318) 487-9506 or visit the association website at lqhba.com.