News
- Breeding
October 24, 2021
---
Fee For Champion Sire The Louisiana Cartel Reduced
AQHA Racing Champion Sire The Louisiana Cartel will stand for a fee of $4,000 is 2020.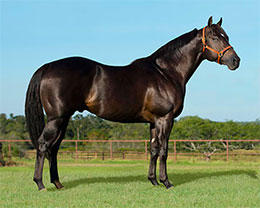 OPELOUSAS, LA—OCTOBER 31, 2019—
Louisiana Center For Equine Reproduction
(LACER) announced a reduction in the 2020 fee for
The Louisiana Cartel
. The AQHA Racing champion sire who stood for a fee of $6,000 last year will now be available to breeders for $4,000.
"The stallion market in Louisiana has become very competitive and we want to give breeders that support The Louisiana Cartel the best return on investment (ROI) possible," Jorge Haddad, owner of The Louisiana Cartel, said today. "Louisiana has the best state-bred program in the country and after adding a second million dollar futurity to the 2020 calendar it an excellent time for market breeders and or breeders for racing to breed in Louisiana."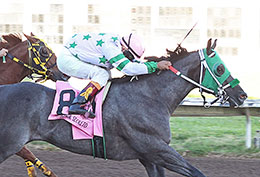 Mi Amor Secreto defeating the likes of champion Hold Air Hostage in the 2019 $300,000 Downs At Albuquerque Quarter Horse Championship(G1) on September 22.
© Coady Photography
LQHBA, in conjunction with Delta Downs, announced recently the Lee Berwick Futurity(RG1) purse would be increased to $1 million dollars in 2020. That along with the $1 million LQHBA Louisiana Million Futurity(RG1), the $430,000-est. LQHBA Sale Futurity(RG1), $370,000-est. Louisiana Laddie Futurity(RG2), the $340,000-est. Louisiana Lassie Futurity and the $300,000-est. Mardi Gras Futurity(RG2) provide more than $3.4 million in purse money for state-bred 2-year-olds.
The Louisiana Cartel's foals have proven they can compete and win in open stakes competition as well as the state-bred level.
Tf Kates Tlc winning the 2019 Rocky Mountain Futurity at Arapahoe Park on June 15.
© Coady Photography
The son of leading living sire
Corona Cartel
is coming off a great year in 2019 which includes siring stakes winners of the Downs at Albuquerque QH Championship(G1), Rocky Mountain Futurity, Sam Houston Stakes, Live Oak Stakes, Mixed Breed Derby as well as runner-up in the Remington Park Invitational Championship(G1), Remington Park Challenge Championship(G2), Firecracker Derby(G3), Eastex Stakes(G2), etc.
He also had a yearling sale average of $48,000 at the 2019 Ruidoso Select Yearling Sale.
From five crops to race The Louisiana Cartel has sired 134 winners, 33 stakes horses (14%), earners in excess of $5.1 million with average earnings per starter of over $20,900.
His top performers include AQHA Racing Champion 3-Year-Old Ec Jet One SI 104 (8 wins to 3, $1,370,385 All American Derby-G1, -South Florida Derby, etc.), Mi Amor Secreto SI 107 (4 wins to 4, $348,737 Downs At Albuquerque Quarter Horse Championship, 1st-Ruidoso Derby Challenge, etc.). Cartels Pop Pop SI 92 (2 wins to 3, $191,509 TQHA Sale Futurity-G2, etc.), Tlc Dale SI 108 (5 wins to 6, $189,502 -Sam Houston Derby-G3, etc.), Zoomin B Cartel SI 92 (4 wins to 3, $136,060 Miss Roxie Little Futurity, etc.), Carris Cartel SI 97 (3 wins to 4, $129,937 AQHA Juvenile Challenge Championship S.-G2, etc.), Anasttasia SI 104 (3 wins to 3, $127,671 Iowa Double Gold Futurity [R] , etc.), Sissy Cartel SI 101 (2 wins to 3, $123,343 2nd TQHA Sale Futurity-G2), etc.
For additional information or breeding contacts call Stephen Deville, LACERS Breeding Manger, at (225) 202-2104 or 337-407-0708.