News
- Breeding
December 9, 2022
---
Robicheaux Ranch Announces 2022 Fees; Apollitical Blood to $10,000, New Program For Five Bar Cartel
Robicheaux Ranch released their 2022 Stallion Fee schedule today.

© Amanda Glidden / Plugged In Marketing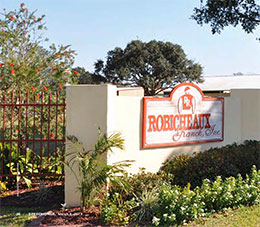 BREAUX BRIDGE, LAóNOVEMBER 23, 2021ó
Robicheaux Ranch
, Inc.'s 2022 stallion roster will be led by 2021 Leading Third-Crop Sire and #3 General Leading Sire of Money Earners
Apollitical Blood
, whose fee will go to $10,000 the Louisiana operation announced today.
The champion son of leading sire Apollitical Jess has sired 132 winners (73%), 42 black type (23%), earners of over $8 million with average earnings per starter in of more than $45,500 from three crops to race. In 2021 he had 22 yearlings average $22,822 at auction .
"Watching what Apollitical Blood has accomplished with only three crops to go to the track, is impressive," Farm Manager Ryan Robicheaux said. "Ranked among the best sires in the country, who have had many more crops to race, Apollitical Blood has sired multiple Graded Stakes winners and the earners of over $8 million, with a fraction of the starters. Comparing the numbers, itís just incredible."
Champion Five Bar Cartel will stand for $4,500 in 2022 and the ranch has announced a new "Five Bar Cartel Bounce Back Program" for 2022. Breeders who go to Five Bar Cartel in 2022 and nominate their 2023 foal to the Ruidoso Triple Crown can breed back to Five Bar Cartel in 2023 for half-price.
"With a large number of two-year-oldís for Five Bar Cartel next season, this should be a exciting year for him," Robicheaux said. "This will be the crop we bred after he was named leading freshman sire of the country. His bounce back program offers his breeders a great return on investment."
AQHA Racing Champion Aged Stallion Tarzanito will remain $3,500 for 2022. His first crop hit the ground this year (2021).
"Tarzanito first crop are as impressive now as short-yearlings as they were when they were born. We are excited for his future," Robicheaux says.
Grade 1 All American Derby winner Gold Heart Eagle V's fee will remain $4,500. The son of leading sire One Famous Eagle earned $530,883 while winning or placing in six of seven career starts.
"Gold Heart Eagle V is such a specimen to look at, we canít wait to see his first foals hit the ground in 2022," Robicheaux said.
AQHA Racing Champion Open Me A Corona will also remain $3,500 for 2022.
"Grade 1 sire, Open Me A Corona continues to put quality, great minded foals on the ground, and runners on the track. We look forward to another successful season in 2022," Robicheaux concluded.
Robicheaux Ranch 2022 Stallion Roster and 2022 Fee(s):
Apollitical Blood: $10,000
Five Bar Cartel: $4,500
Gold Heart Eagle V: $4,500
Open Me A Corona: $3,500
Tarzanito: $3,500
For additional information for breeding contracts to these stallions call Ryan Robicheaux at 337-845-5130 or 337-288-2421.
* * * * * * * * * * * *
Robicheaux Ranch, Inc. has provided the racehorse industry with first rate services youíve come to rely on for more than twenty years. Specialized reproduction, stallion management, and sales preparation are among the list of services provided by the Breaux Bridge, Louisiana breeding facility. For more information on Robicheaux Ranch, Inc. call 337-845-5130 or visit robicheauxranchinc.com.