News
- Racing
December 3, 2022
---
Apollitical Pence Makes It A Double Of Champion Of Champions Wins
Apollitical Pence, under jockey Armando Cervantes, becomes the first back-to-back Grade 1 $600,000 Champion of Champions winner since SLM Big Daddy got his second win in the Grade 1 race in 1998.

© Scott Martinez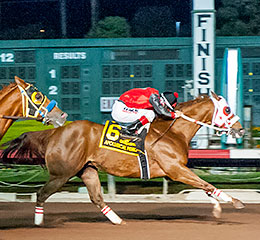 LOS ALAMITOS, CA—DECEMBER 11, 2021—
Dunn Ranch
's millionaire gelding Apollitical Pence became the first back-to-back winner of the Grade 1, $600,000 Champion of Champions since AQHA World Champion SLM Big Daddy in 1997-98 after a gate-to-wire ¾ length victory over Dutch Masters III's Los Alamitos Super Derby winner Flash Bak on Saturday at Los Alamitos.
Ridden by Armando Cervantes for trainer Monty Arrossa, Apollitical Pence brushed with multiple Grade 1 winner Powerful Favorite at the start but that did not stop him from surging forward and then continuing sharply from there to take a half-length lead at the halfway point of the 440-yard race.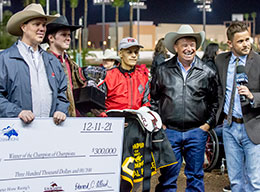 Winning owner Matt Dunn, Logan Dunn, jockey Armando Cervantes and trainer Monty Arrossa with TVG's Caleb Keller.
© Scott Martinez
The son of leading sire
Apollitical Jess
finished powerfully from there, increasing his lead in route to a history making win. Bred
Dunn Ranch
and Womack Cavender Farms, Apollitical Pence is only the fourth horse to win consecutive runnings of the sport' most prestigious race for older Quarter Horses. Apollitical Pence joins SLM Big Daddy, Refrigerator and Dash For Cash in this tremendous club of influential runners.
Winning the Champion of Champions from post number six just like he did in 2020, Apollitical Pence covered the distance in 21.352 – 9/100th of a second faster than last year. He earned $300,000 for the win to take his lifetime bankroll to $1,448,451 while improving to 12 wins from 29 starts with seven of 18 wins coming at the Orange County track.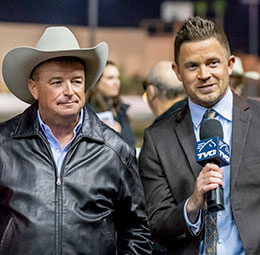 TVG's Caleb Keller interviews two-time Champion of Champions winning trainer Monty Arrossa.
© Scott Martinez
Dunn Ranch
, the connections were able to celebrate in the winner's circle unlike last year because of COVID-19 restrictions and guidelines.
"It was worth the wait," Matt Dunn said. "I came in with hope but not real expectations. I knew we had some good shots and at the same time you never know with these races and these good horses. I'm so glad we came out. I'm glad I made the trip and it was worth it all."
Dunn Ranch's Really First Down finished third, while Candy Blood, who Dunn Ranch purchased an ownership interest in from owner and breeder Rick Sumner, finished fourth.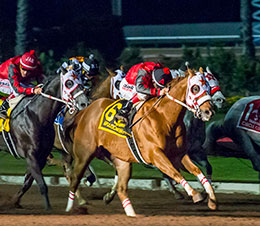 Apollitical Pence on his way to a repeat in the Grade 1 $600,000 Champion of Champions Saturday night at Los Alamitos Race Course.
© Scott Martinez
"I knew that Really First Down got a pretty good break and I knew that Apollitical Pence didn't break like he could," Dunn continued. "It was one of those deals just playing on emotions the whole way and just wondering who would step up. I can't be more proud of Pence. He's opened so many doors for me. I bought his mama (Send City) and ended up breeding her to
Apollitical Jess
and of course got Pence. The opportunities that he's made, he is the one that brought me to Los Al. I've had so many people, I can't even tell you, wanting to buy this horse. This is one horse that I would never sell. That's what he means to our family. He's going to live with us forever."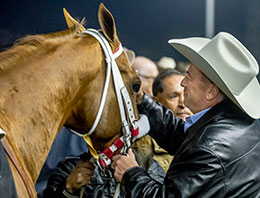 Trainer Monty Arrossa with two-time Champion of Champions winner Apollitical Pence.
© Scott Martinez
Arrossa, who won the Champion of Champions with Zoomin For Spuds in 2016, is the ninth trainer with multiple victories in this race. For the trainer, Apollitical Pence was in a perfect situation going into the Champion of Champions after impressive win in the Z. Wayne Griffin Directors Trials on November 14. He earned his presumptive berth to this race thanks to his Z. Wayne Griffin trial win.
"I hoped that we would just qualify to the Champion of Champions." Said Arrossa about his expectations. "I'm really superstitious so he had won the Champion of Champions last from post number six, so when I had the chance (in the post position selection show), I called Matt before and told him 'If I can take the six with Pence, I'm taking the six.' He's an amazing horse and I can't thank my team enough, his groom Juan Argueta, my assistant Jessie Castillo, and the others that were really excited about this weekend. A groom who used to work for me and had moved to New Jersey, he used to take care of Apollitical Pence, he was here tonight. He flew in, Juan Gomez, to be here. I was proud to have him here. He escorted Pence as a 2-year-old in all three of the million-dollar race and the Super Derby. It was fun that he was here as well."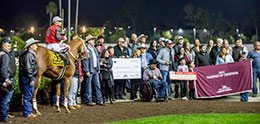 The winning connections of Apollitical Pence in the Champion of Champions winner's circle Saturday at Los Alamitos Race Course.
© Scott Martinez
After Apollitical Pence, Flash Bak and Really First Down, Sumner and Dunn's Candy Blood was fourth followed by Powerful Favorite, Circle City, You Can Run, Cat Daddys Little Girl and Reason To Fly MV. Nomadic was scratched after rearing back in the starting gate.
Cervantes, the ninth jockey to win both the Champion of Champions and Two Million, credited Apollitical Pence for being cool and collected in starting gate after the delay because of to the scratch.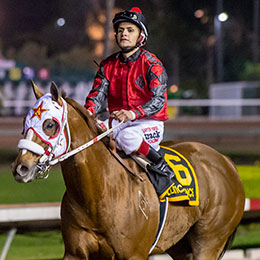 Apollitical Pence and jockey Armando Cervantes return after winning their second consecutive Champion of Champions(G1) Saturday at Los Alamitos Race Course.
© Scott Martinez
"I knew the horse has always been quiet at the gate," he said. "This time he got a little bit antsy because of what happened in the starting gate (with Nomadic). We took him out and as soon as he went back in, he stayed like a champ. He didn't break as he could break, but 100 yards into it he just started rolling. I didn't see no one until the finish line. I saw one coming close at the end but by then we were already at the wire and had won it. It's just amazing to be able to ride that horse. I'm just so glad to ride this horse. Just to have two years here and to be winning great races like this, it's just amazing and I have no words."
Dutch Masters III's Flash Bak made his usual huge late run to move up from sixth to second. Ridden by Oscar Peinado for trainer Jaime Gomez, Flash Bak earned $96,000 to take his bankroll over the $1 million mark.
The Moonin The Eagle gelding has now made $1,042,015 in his 16 starts. He's finished third or better in 13 of those outings.
Dunn Ranch's homebred Really First Down, a gelding by First Down Dash, picked up $60,000 for running third for Arrossa and jockey Ramon Sanchez, while Sumner and Dunn's Candy Blood earned $42,000 for running fourth.
Rosenthal Ranch's Powerful Favorite was in position to challenge early on before giving way late to run fifth by a nose ahead of Circle City. With Eduardo Nicasio up for trainer Chris O'Dell, Powerful Favorite earned $30,000 to lift his career bank account to $1,095,097.
Ed Allred's stakes winning Circle City added $21,000 to his earnings while Steve Burns' You Can Run earned $15,000 and Jimmy Vazquez and Jimmy Negrete's Cat Daddys Lil Girl and Paulo Otavio Freire Macedo's Reason To Fly MV each earned $12,000.
* * * * * * * * * * * * * *
For more info, please contact larace@losalamitos.com. Follow us on Twitter or Instagram at @losalracing or visit us online at www.losalamitos.com.