News
- Preview
September 27, 2023
---
Louisiana Downs To Host 19 Quarter Horse Schooling Races On Saturday
Nineteen schooling races for 2-Year-olds will get underway at 11 a.m. Saturday in Bossier City, Louisiana.

© Hodges Photography / Ann Switalski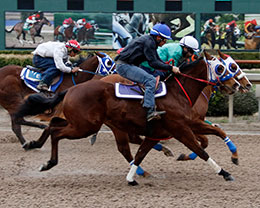 BOSSIER CITY, LA—FEBRUARY 7, 2022—
The 2022 Quarter Horse racing season at Louisiana Downs continues this week and will include schooling races Saturday, February 12 in addition to the regularly scheduled races on Tuesday and Wednesday.
The schooling races will be contested at the distance of 220-yards and are open to 2-year-olds paid into the first official futurity of the year, the $100,000-added Mardi Gras Futurity (RG2). A total of 19 heats will get underway at 11:00 am on Saturday, February 12. These will not be televised and are non-parimutuel events.
Trainer Trey Ellis spoke about the importance of schooling races for young 2-year-old Quarter Horses.
"Up to this point, none of these babies have had experience preparing them for their first start," explained Ellis. "The walk to the saddling paddock, breaking from the gate and dealing with the noise all play a part. Even more important is how they will react when they are surrounded by multiple horses." Ellis notes that the schooling race experience is valuable for each 2-year-old, but also for the conditioners to see which runners will need more training prior to their first out.
"These are young, immature horses and many do not have a clue," he adds. "As a trainer, I will watch carefully to see how they handle themselves. Some might need blinkers or a flipping halter or some other equipment change. Others simply may not be ready and might have to wait until the Delta Downs meet to make their first start."
Other horsemen with multiple entrants in the schooling races include Lanny Keith, Martin Trejo, Wendy Garcia, Rosendo Valdez, Jr., Kenny Roberts, Jose Barron, Orlando Orozco, Kenneth Weeks, Jose Sanchez and Eliseo Celestino.
Saturday will be a big day for the trainers of these 2-year-olds, as well as Louisiana Downs starter Jimmy Cordell and his assistants. With his 16-year-tenure at Louisiana Downs, Cordell knows that the schooling races are just part of the steps that young horses must take to be successful on the racetrack.
"Some horses had done their early training on a farm and others right here on the racetrack," said Cordell. "Running fast is what comes naturally but adjusting to a starting gate requires practice. My starters try to get them to relax; first by hand opening the starting gate; several times if need be. Once they are more comfortable with that process, the load, standing in the gate, hearing the bell and the break from the gate is added."
A complete list of entries with sires, dams, owners, trainers, jockeys and sale information (if applicable) will posted on StallioneSearch.com later this week.
Louisiana Downs will also offer schooling races for 2-year-olds paid into the Louisiana Downs Futurity on Saturday, February 19.
Louisiana Downs Trainer, Jockey and Owner Standings
Through February 7, Lanny Keith tops the trainer standings with ten wins. Martin Trejo has saddled nine winners and Manuel Pizana is third with seven trips to the winner's circle. Last year's leading conditioner Jose Carrizales follows with five wins.
Ubaldo Luna is off to a blazing start in the jockey standings with 16 winners since the meet began on January 10. Everardo Rodriguez, who topped all Quarter Horse riders in 2021with 147 wins, is second with 12 wins. Arturo Alvarez is third with 11 victories and last year's Louisiana Downs leading rider David Alvarez, rounds out the top four with eight winners.
Joseph Landreneau and Manuel Pizana share the lead in the owner standings as each have won five races. Rosendo Valdez, who was honored as leading owner in the 2021 Louisiana Downs Quarter Horse season, follows with three winners. Ten horsemen are tied for third place with two wins each.
Louisiana Downs 2022 Quarter Horse Racing Season
The 46-day Quarter Horse meet began on Sunday, January 10 and continues through Wednesday, April 6. Live racing is conducted Monday, Tuesday and Wednesday with one Thursday race card added on March 31. Post time will be 1:00 p.m. (Central), except for Mardi Gras Futurity trials on Saturday, March 5 and Sunday, March 6, which will begin at 11:00 am.
* * * * * * * * * * * *
About Louisiana Downs
Located near Shreveport in Bossier City, Louisiana, Louisiana Downs opened in 1974 and is now owned by Rubico Acquisition Corporation. With annual Thoroughbred and Quarter Horse racing seasons, the track is committed to presenting the highest quality racing programs paired with its 150,000 square foot entertainment complex offering casino gambling, dining and plasma screen televisions for sports and simulcast racing.