News
- Preview
October 26, 2021
---
Fastest Qualifier El Camino Cl Leads Competitive Field In $315,166 Mardi Gras Futurity Saturday
Fastest qualifier El Camio Cl will head a strong field in the going for a record Mardi Gras Futurity purse on Saturday at Harrah's Louisiana Downs.

© Hodges Photography / Ann Switalski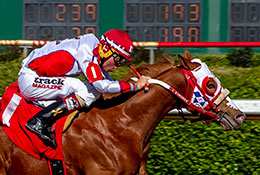 BOSSIER CITY, LA—MARCH 9, 2020—
An outstanding afternoon of racing is set for Saturday, March 14 at Harrah's Louisiana Downs. The nine-race card gets underway at 1:00 p.m. (Central) and will be highlighted by the first "official" futurity of the year, the $315,166 Mardi Gras Futurity (RG2).
Fourteen trials, at the distance of 300 yards for accredited Louisiana-bred 2-year-olds, were completed on Saturday, February 22. Delfino Lozano, IV's homebred El Camino Cl set the fastest time of the day, winning his trial in :15.561 seconds under jockey Eddie Sanchez.
Sired by Heza Fast Dash out of the Mr Jess Perry mare Eying Miss Perry, he was a schooling race winner here on January 31 and was sent off as the favorite in his trial. He has been installed as the 2-1 morning line choice for Saturday's final. Trainer Jose Sanchez, III reports that both El Camino Cl and stablemate Boxcar are ready for their greatest test to date.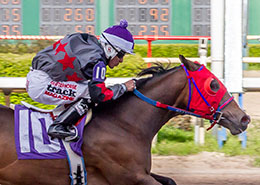 One Sweet Filly. Ricardo Hernandez, Jr., posted the second fastest time in the trials.
© Hodges Photography / Ann Switalski
El Camino Cl had no difficulty with his rail post position in his trial and Sanchez looks for a good effort from his colt, who will break from post position two in the final.
"He handled the inside post, and continues to impress us with his professionalism," he said. "Both of our horses came out their trials well and have been back on the farm. (Younger brother) Eddie had his choice of who to ride in the final and stood both El Camino Cl and Boxcar this week. I left the decision to him; he just really like the way Camino felt."
J. & J. Stable LLC will return to the final again this year with their homebred, One Sweet Filly, winner of the 11th trial in :15.597 seconds. The daughter of One Sweet Jess is trained by Jose Carrizales and was ridden to victory by Ricardo Hernandez, Jr., setting the second-fastest qualifying time. She did not run in schooling races, so her trial performance was a very pleasant surprise for Carrizales.
"We felt she was a nice filly but had no idea what to expect," he said. "She broke well and got away from the gates quickly, which the rest of the field did not. That helped because she ran a little green down the track, but our jockey did a good job with her."
Carrizales is just 23-years-old and took out his trainer's license last year. He and Hernandez are leading in the Harrah's Louisiana Downs trainer and jockey standings; the victory on Saturday would be the biggest win of his career.
"I'm not nervous yet, but probably will be on Saturday," acknowledged Carrizales. "We like her post and feel that if she leaves the gates as sharp as she did in her trial, she has a great chance."
Trainer Wendy Garcia conditioned 2018 Mardi Gras Futurity winner Guidry Pride II, and has a solid contender this year with third-fastest qualifier Denalia Sweet Jess. Bred by Russell Mowad, the daughter of One Sweet Jess, owned by Jose Rodriguez, crossed the wire in :15.608 under rider Modesto Pina, who is Garcia's husband.
"I was really impressed with his trial," said Garcia. "He ran nose to nose with El Camino Cl in their schooling race. At this point, these babies are still learning, but he is doing well. We sure hope that we will win our second Mardi Gras Futurity with another gray horse!"
Boxcar, a son of by multiple grade 1 sire Freighttrain B, is the second qualifier for Sanchez. The sorrel colt is owned by Mario and Julio Ramirez and won his trial in :15.667 seconds. He was an impressive schooling race winner and followed it up with a solid maiden-breaking score by a margin of one length and a speed index of 89. He was bred by Chad Hart and Bobby D. Cox and was sold at the 2019 LQHBA Yearling Sale for $16,000. As Eddie Sanchez opted to ride the fastest qualifier, jockey Jorge Linares has the call aboard Boxcar.
"He's a strong rider and has won some big races (including the 2019 LQHBA Louisiana Million aboard Mardi Gras Paint)," stated Sanchez. "The owners won the (2018) LQHBA Sale Futurity with Amending the Bar; Jorge rode her in the final."
Feelin Right won the seventh trial for 2018 LQHBA Champion owner Rogelio Marquez, Jr., who signed a ticket for $29,500 at last year's LQHBA Yearling Sale. The colt by Jet Black Patriot out of the Country Chicks mare Jesiacountrychick was bred by Wild N Fast Racing LLC. With two posted works at Retama Park, Feelin Right won his trial in :15.660 seconds. Trainer Alberto Solis will give a leg up to rider Francisco Calderon, who guided the colt to his trial victory. Calderon won the 2017 Mardi Gras Futurity with longshot Blue Eyed Fance.
El Camino Cl will have to reverse the recent history of favorites faltering in the Mardi Gras Futurity. In 2016, Rdd Lajollanfastdash won as the favorite, but upsets have ruled in six of the last seven editions of the championship.
Veteran horseman Kenneth Roberts, Sr.is not unnerved that his entrant, Sarahs Patriot made the final as the tenth-fastest qualifier. Owned and bred by Perform Stable Inc., the daughter of Game Patriot ran second to El Camino Cl in her trial.
"She was gaining with every jump," said Roberts. "She has Thoroughbred breeding on the bottom, so I wasn't sure she would run well at the shorter distances, but if she can leave well, she has a shot. We like the way she is training and know she can go longer for the futurities later this year."
Since its first running in 1988, the Mardi Gras Futurity launched the career of many of Louisiana's greatest Quarter Horse champions. Vals Fortune won the 2003 edition of the Mardi Gras Futurity for owner Teddy Abrams, Jr. and trainer Heath Taylor. The striking chestnut went on to win 20 of his 23 starts, becoming the first Louisiana-bred millionaire. He will be inducted into the LQHBA Hall of Fame in this year's annual induction ceremony slated for Friday, April 3.
Five years later, Jet Black Patriot, bred and owned by Richard and Janelle Simon, stamped his name in the record books, winning the Mardi Gras, Lee Berwick and LQHBA Breeders Futurity, with a runner-up finish in the All American Futurity (G1) at Ruidoso Downs as well.
The $315,166 Mardi Gras Futurity (RG2) will run as the eighth race on the card, with an approximate post time of 3:48 pm (Central). Here is the field, in post-position order, including jockey assignments and odds:
Sharks Jess Jumpn (Noe Villatoro), 20-1
El Camino Cl (Eddie Sanchez), 2-1
Lil Jess Rogue (Luciano Duenez), 20-1
Boxcar (Jorge Linares), 10-1
Denalia Sweet Jess (Modesto Pina), 4-1
Sarahs Patriot (Noe Castaneda), 20-1
One Sweet Filly (Ricardo Hernandez, Jr.), 7-2
Sheza Freighttrain T (Rolando Pina), 10-1
Jessa Louisiana Dash (Ubaldo Luna), 12-1
Feelin Right (Francisco Calderon) 6-1
In addition to the running of the Mardi Gras Futurity, Harrah's Louisiana Downs will also present the final of the $123,790 Mardi Gras Derby and two divisions of the $15,000 Leverne Perry Memorial Stakes. An advance on those features and the Mardi Gras Day festivities will be sent in a separate press release early this week.
* * * * * * * * * * * * * * * * * *
About Harrah's Louisiana Downs
Located near Shreveport in Bossier City, Louisiana, Louisiana Downs opened in 1974 and was purchased by Caesars Entertainment in December 2002. With annual Thoroughbred and Quarter Horse racing seasons, the track is committed to presenting the highest quality racing programs paired with its 150,000-square foot entertainment complex offering casino gambling, dining and plasma screen televisions for sports and simulcast racing.