News
- Preview
October 27, 2021
---
Early Post Set Saturday For Fourteen Mardi Gras Futurity (RG2) Trials at Harrah's Louisiana Downs
Harrah's Louisiana Downs will host 14 trails Saturday for the $100,000-added Mardi Gras Futurity (RG2). A special first post has been set for 11 a.m. (CST).

© Hodges Photography / Ann Switalski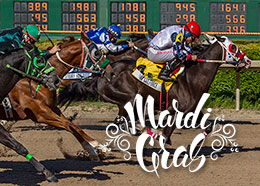 BOSSIER CITY, LA—FEBRUARY 18, 2020—
Harrah's Louisiana Downs will host an action-packed weekend on Saturday and Sunday. Saturday's post time has been moved up to 11:00 am (CT) to accommodate the fourteen trials for the $100,000-added Mardi Gras Futurity (RG2).
The Mardi Gras Futurity is the first official futurity of the year, and once again, interest was high for owners of accredited Louisiana-bred juveniles. The top ten qualifiers from the 300-yard trials will advance to the final on Saturday, March 14.
Louisiana Downs hosted 13 schooling races on Friday, January 31, giving 2-year-olds eligible for the Mardi Gras Futurity some additional experience and preparation for their first career start.
There were many standouts that day with the fastest time set by Jessa Louisiana Dash, a $25,000 LQHBA Yearling Sale graduate owned by Eleazar Martinez, Sr. With jockey Ubaldo Luna in the irons, the daughter of Heza Fast Dash won her 220-yard schooling race in a swift :12.147 seconds.
Jessa Louisiana Dash, a $25,000 LQHBA Yearling Sale graduate, under jockey Ubaldo Luna, won her 220-yard schooling race in a swift :12.147 seconds.
© Hodges Photography / Ann Switalski
Trained by Martin Rubalcava, she will reunite with Luna and drew post position six in Saturday's 12th trial at odds of 3-1.
Trainer Jose Sanchez, III has entered 19 juveniles and reports that each of his schooling participants came out of those races in good order.
His schooling race winners include Boxcar, who posted the third-fastest time of :12.248 seconds. The son of Freighttrain B was purchased for $16,000 at the LQHBA Yearling Sale by Mario and Julia Ramirez. He will run in Saturday's fifth race under jockey Eddie Sanchez, who is Sanchez's younger brother. Rising Starr, owned by Jose Fabian Hernandez and Cruz Nava's Rl Prize Freight are also sired by Freighttrain B. In addition, his other schooling race returnees include El Camino Cl, a colt by Heza Fast Dash owned by Delfino Lozano, IV and Jorge Meraz's TTT Eileithyia, a filly by Mr. Einstein.
"All of them came out fine after their schooling races," he said. "We brought them back to the farm and stood them in the gates on Monday (February 17). We will load up and head back to Louisiana Downs on Friday."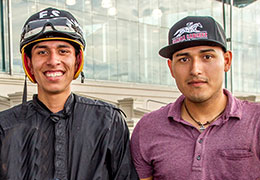 Trainer Jose Sanchez III will saddle 19 futurity trialists with
a number to ridden by his brother jockey Eddie Sanchez.
© Hodges Photography
Sanchez, who is the trainer of Trump My Record, 2019 AQHA Champion 2-Year-Old Gelding, explained why he likes to run in the Mardi Gras and Harrah's Entertainment Futurities at Harrah's Louisiana Downs.
"To start the year running 300 yards is good for quick horses," he said. "It gives us a chance to see what we have and figure out which horses can go 400 yards when the competition gets tougher."
It will be a long, but hopefully rewarding weekend for Sanchez and his team.
"Joe Garza broke some of our babies and we have had many with us from the beginning," added Sanchez, who will give a leg up to his brother as well as riders Francisco Calderon and Victor Urieta, Jr. "At this point, we have some ideas on which have talent, but we're ready for the big day and seeing how they all run."
Trainer Wendy Garcia, who won the 2018 Mardi Gras Futurity with Guidry Pride II, was also prominent in the schooling races with five winners. Apollitcal Bye, a colt by Apollitical Blood posted the second fastest clocking of :12.191 under jockey Modesta Pina. He was a $23,500 LQHBA Yearling Sale purchase by owners Omar, Omar & Maurico Tovar. Garcia has eight juveniles entered in Saturday's trials.
Well-represented sires to watch in addition to the aforementioned Freighttrain B include Apollitical Blood, Five Bar Cartel, Heza Fast Dash, Jess Louisiana Blue, Jet Black Patriot, Mr Piloto, Sir Runaway Dash and Tee Cos.
The Mardi Gras trials will also mark the debut of the first-crop progeny of Ivan James, winner of the Sam Houston Futurity (G2) and Heritage Place Futurity (G1) finalist, BP Wagon Train.
* * * * * * * * * * * * * * * * * *
Six 400 yard trials for the $50,000-added Mardi Gras Derby will be run on Sunday (see related story).
* * * * * * * * * * * * * * * * * *
Road to Kentucky Handicapping Contest Continues This Saturday
Harrah's Louisiana Downs is hosting an exciting on-track handicapping contest called the Road to Kentucky Handicapping Contest. It began on Saturday, January 18 with major stakes races, including key Kentucky Derby prep races featured each week through May 2. Fans can register at the contest table adjacent to the program stand with weekly prizes awarded and points accumulated toward the $1,000 grand prize.
Louisiana Downs Dates and Post Times
The 2020 Quarter Horse racing season at Harrah's Louisiana Downs continues through March 18. The 46-day meet includes 12 stakes highlighted by the first official championship for 2-year-olds, the $100,000-added Mardi Gras Futurity on March 14. Live racing will take place Saturday, Sunday, Monday and Tuesday with a 1:00 p.m. (Central) post time.
* * * * * * * * * * * * * * * * * *
About Harrah's Louisiana Downs
Located near Shreveport in Bossier City, Louisiana, Louisiana Downs opened in 1974 and was purchased by Caesars Entertainment in December 2002. With annual Thoroughbred and Quarter Horse racing seasons, the track is committed to presenting the highest quality racing programs paired with its 150,000-square foot entertainment complex offering casino gambling, dining and plasma screen televisions for sports and simulcast racing.