News
- Preview
October 24, 2021
---
Special 11 AM Early Post Sets For Saturday's Mardi Gras Futurity Trials at Louisiana Downs
Escandalo, who set the fastest schooling race time, will head 15 trials on Friday at Louisiana Downs for the $100,000-added Mardi Gras Futurity (RG2).

© Hodges Photography / Ann Switalski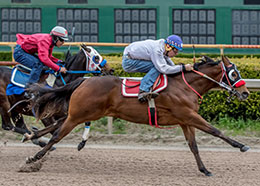 BOSSIER CITY, LA—FEBRUARY 19, 2019—
Harrah's Louisiana Downs will host an exciting weekend of racing on Saturday, February 23 and Sunday, February 24. Saturday's post time has been moved up to 11:00 am (CT) to accommodate the fifteen trials for the $100,000-added Mardi Gras Futurity (RG2).
The Mardi Gras Futurity is the first official futurity of the year, and once again, interest was high for owners of accredited Louisiana-bred juveniles. The top ten qualifiers of the 300-yard trials will advance to the final on Saturday, March 16.
Louisiana Downs hosted 14 schooling races on Friday, February 1, giving 2-year-olds eligible for the Mardi Gras Futurity some additional experience and preparation for their first career start. Several juveniles stood out by winning their heats, and will be closely watched on Saturday.
Escandalo set the fastest time of the day, covering 220 yards in :12.262 seconds under jockey Eddie Sanchez. Bred by her owner, Delfino Lozano IV, she is a daughter of first-crop sire Apollitical Blood out of the Mr Jess Perry mare Eying Miss Perry. The bay filly, trained by Arturo Davila, III, will break from the far outside post in Saturday's third trial.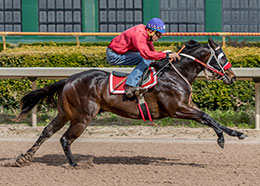 Tahur, a son of leading sire Heza Fast Dash, posted the second fastest schooling races at Louisiana Downs February 1.
© Hodges Photography / Ann Switalski
Davila also trains Tahur, a son of
Heza Fast Dash
, who set the second fastest time in schooling races. Owned by Emmanuel Villarreal, Tahur won his heat in :12.349 seconds. Sanchez has the mount in the fourth trial of the afternoon.
Jetn Smoothn, a daughter of Jet Black Patriot, scored by 2-¼ lengths in her schooling race to secure the fourth fastest clocking of :12.382 seconds. Eliseo Celestino conditions the filly owned by Richard Mendoza, who will run in the 13th trial under jockey Mario Trujillo.
Conditioners Josue Huitron and Arturo Davila, III will be the busiest of all horsemen on Saturday with 12 and 13 juveniles, respectively, entered in the trials. Huitron, who won the Lassie, Lee Berwick and LQHBA Louisiana Million futurities last year, knows what it takes to navigate a challenging trial day.
"You have to be prepared," he acknowledged. "We organize for this well before trial day. My brother, Joel, and I have added another three workers for the day to keep things running smoothly."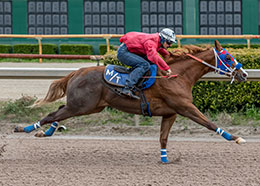 Jetn Smoothn, a daughter of Jet Black Patriot, scored by 2-¼ lengths in her schooling race.
© Hodges Photography / Ann Switalski
Trainer Wendy Garcia, who won last year's Mardi Gras Futurity with Guidry Pride II, will saddle five juveniles in the trials, including schooling race winners Politically Correct and Princess Kali T. She is looking forward to the first starts of each of her juveniles, and spoke about the role of schooling races.
"They are very helpful," stated Garcia. "The schooling races teach them how to compete in a group, which is much different than what they learn in their morning works."
The victory by Guidry Pride II last March was the biggest win for Garcia, who has been training since 2011.
"It was a very special win for me and my family," added Garcia. "We are very excited about Saturday; it will be a long day, but qualifying for a futurity is a huge accomplishment."
Seven trials for the $50,000-added Mardi Gras Derby trials will be contested on Sunday (see related story) aftertoon at Louisiana Downs.
Nice Score for Larry Robideaux, Jr. and Richard Eramia on Monday at Oaklawn Park
Louisiana Downs-based Thoroughbred trainer Larry Robideaux Jr. and jockey Richard Eramia won the first race on Monday's major stakes card at Oaklawn Park. Oochie, a 3-year-old filly by Double Irish, split foes in dramatic fashion in the first race on the card, a $88,000 maiden special weight. With a confident ride from Eramia, she drew off by two lengths at odds of 11-1, besting 11 rivals in the six-furlong race. Robideaux served as the stall supervision at Louisiana Downs from 2012 through the end of the 2018 Thoroughbred meet.
"Larry has been such a loyal supporter of our racing program at Louisiana Downs and has so many friends here," said David Heitzmann, director of racing. "We were thrilled for him and Richard to get a nice win on such a big day at Oaklawn Park."
Louisiana Downs Trainer, Jockey and Owner Standings
Through February 19, Manuel H. Macias and Lanny Keith are tied for the lead in the trainer standings with 13 wins each. Kenny Roberts is second with 12 winners this meet and Willie Simien, Jr. and Josue Huitron follow closely with 11 victories.
Everardo Rodriguez is well on his way in defending his 2018 leading rider title. He remains at the top of the leader board with 27 trips to the winner's circle and an impressive 68% top three mounts hitting the board statistic. John Hamilton is second in the standings with 16 wins, followed by Donald Watson who has won 11 races to date. Guadalupe Lucio, Jr; Noe Castaneda; Ricardo Hernandez, Jr. and Juan Torres are tied for fourth with nine wins each.
Jose O. Barron tops the leader board in the owner standings with eight wins from 17 starters since the 2019 Louisiana Downs Quarter Horse meet began on January 5. Gladney 1 LLC is second with a solid record of five wins from six starts. Josue Huitron; Lanny Keith and Martin Trejo are tied with three wins each.
* * * * * * * * * * * * * * * * * *
Road to Kentucky Handicapping Contest Begins on January 19
Harrah's Louisiana Downs is hosting an exciting on-track handicapping contest called the Road to Kentucky Handicapping Contest. It began on Saturday, January 19 with major stakes races and Kentucky Derby prep races featured each Saturday through May 4. Fans can register at the contest table adjacent to the program stand with weekly prizes awarded and points accumulated toward the $1,000 grand prize. For more information, For more information, CLICK HERE.
Louisiana Downs Dates and Post Times
The 2019 Quarter Horse racing season at Harrah's Louisiana Downs got underway on Saturday, January 5. The 46-day meet includes 12 stakes highlighted by the first official championship for 2-year-olds, the $100,000-added Mardi Gras Futurity on March 16. Live racing will take place Saturday, Sunday, Monday and Tuesday with a 1:00 p.m. (Central) post time and will continue through March 20. To see a complete list of the stakes schedule, including trial dates CLICK HERE.
* * * * * * * * * * * * * * * * * *
About Harrah's Louisiana Downs
Located near Shreveport in Bossier City, Louisiana, Louisiana Downs opened in 1974 and was purchased by Caesars Entertainment in December, 2002. With annual Thoroughbred and Quarter Horse racing seasons, the track is committed to presenting the highest quality racing programs paired with its 150,000-square foot entertainment complex offering casino gambling, dining and plasma screen televisions for sports and simulcast racing.