News
- Preview
October 24, 2021
---
Dream of a Lifetime Awaits the Winning Connections of the LQHBA Louisiana Million
The richest Quarter Horse Race in Louisiana is set Saturday (DEC)15) at Evangeline Downs.

© Coady Photography


by Martha Claussen
OPELOUSAS, LA—DECEMBER 10, 2018—The excitement is building for Saturday night's card at Evangeline Downs in Opelousas, Louisiana. Seven stakes will be contested, highlighted by the LQHBA Louisiana Million (RG1), the richest race in Louisiana. To win a race of that magnitude is a dream of a lifetime for a breeder, owner, trainer and jockey. On Saturday night, one of the connections will celebrate with incredible joy as they accept the trophy and winner's check of $445,000.
Fastest Qualifier Mpshinning Drew the Rail
Fourteen trials were run on Friday, November 16 and Mpshinning, owned by Larry J. Boudreaux and trained by Josue Huitron, won the third trial, covering 400 yards in :19.646 seconds.
The son of All American Futurity champion Mr Piloto out of the First To Shine mare, Shinningperrydash was bred by Jon and Donna McPherson (Grant Farms). Boudreaux, an oil and gas inspector who resides in Sulphur, Louisiana, has owned Quarter Horses since 1990. He had some prospects on his radar at the 2017 LQHBA Yearling Sale, and teamed up with trainer Chip Goutierrez to look over a few yearlings. Mpshinning was definitely one of the ones he wanted.
"I liked what I saw," recalled Boudreaux. "He was a big, strong colt; already over 15 hands as a yearling. Donna and Jon would have bought him back if he didn't bring $25,000 and they have bred some pretty nice horses."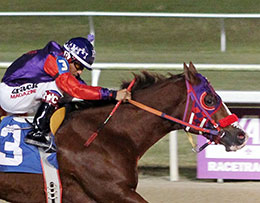 Second fastest qualifier Achievopiloto will start from post 7 in Saturday's Louisiana Million Futurity(RG1).
© Coady Photography
Boudreaux purchased Mpshinning for $27,000. He made his debut in trials for the Lee Berwick Futurity at Delta Downs on June 16, finishing ninth.
"He was green and had no idea what he was doing," Boudreaux said. "But just three weeks later, he came back and broke his maiden."
With Luis Vivanco in the saddle, Mpshinning won his trial and the $154,000 Gillespie County Futurity in August and then shipped to Lone Star Park and ran second in the $404,585 Dash For Cash Futurity (G2) on October 6.
He was sent off as a heavy favorite in his LQHBA Louisiana Million trial, and did not disappoint, earning a career-high 100 speed index.
A win in the final would be the biggest for Boudreaux, Vivanco and Huitron.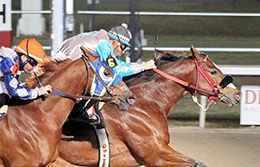 Third fastest qualifier Tetris B defeated RG2 winner Shakesakeshakeit in the November16th.
© Coady Photography
Vivanco, 36, was born in Veracruz, Mexico and was one of the leading jockeys in Texas with leading rider titles in each of the four tracks. He shipped his tack to Louisiana earlier this year, a move he made to improve his business. His success here far surpassed his expectations, and he headed into December as the leading Quarter Horse rider in the country by wins. He won four LQHBA Louisiana Million trials, qualifying three, but did not hesitate in choosing Mpshinning as his mount for the final.
This year was also the best in the career of Huitron, who won the $283,715 Lassie Futurity (RF2) with Im For Real and the richest race of the Delta Downs Quarter Horse meet, the $700,000 Lee Berwick Futurity (RG1) with Eysa Jess Jumpn. That speedy filly also captured the $100,000 Louisiana Champions Day Juvenile on December 8 at Fair Grounds.
The second fastest qualifier, Achievopiloto, ran in the final trial of the evening, covering 400 yards in :19.776 seconds under Rolando Cabrera. Also sired by Mr Piloto, Grant Farms bred the gelding from the Achievement mare Achieve The Splash. Kathi Carter and Rancho Herrandura, LLC purchased him for $11,000 at the LQHBA Yearling Sale. Trained by Barbara Alcantara, he made his first start at Louisiana Downs and competed in trials for both the Laddie and Lee Berwick Futurity. He ran his career-best effort on November 16.
Tetris B is owned by Double H Racing Investment LLC and trained by Santiago Riojas, Jr. The $9,500 LQHBA Yearling Sale graduate was bred by Bielau Oaks and ran fourth in the $434,358 LQHBA Breeders Sale Futurity at Fair Grounds. His time of :19.841 seconds with J.R. Ramirez in the irons, was the third-fastest of the 14 trials.
In addition to Grant Farms, Jumonville Farms also bred multiple finalists, with fifth-fastest qualifier His Louisiana Dream and Dasha Blue, who qualified with a clocking of :19.871 seconds. Both were sired by Jess Louisiana Blue; His Louisiana Dream is owned by Jagger Horse Racing and trained by Miguel Rodriguez. Ricky Ramirez, 2016 AQHA champion jockey, picked up the mount for the final. Noe Castaneda qualified Dasha Blue for owners Eduardo and Christine Morales and will ride the gray filly, who is trained by Eduardo.
Established and New Trainers Vie for the Trophy
For Huitron and Alcantara, the victory would be their first seven-figure championship. Huitron, 26, has been training on his own for just four years, has saddled more winners in 2018 than the combination of his first three in the business. His younger brother, Joel, is his assistant.
"Winning three futurities in one year is something I never imagined," he said. "To win my first million-dollar final would be a dream come true!"
Veteran conditioner Kenneth Roberts, Sr. will be seeking his eighth title in the stakes with seventh-fastest qualifier, Barjaxs. Last year, he capped an exceptional year with a victory by Richard and Janelle Simon's homebred, You Drive I Fly, who left the gate as the third-fastest qualifier and won convincingly. Roberts was honored as both 2017 AQHA and LQHBA champion trainer.
He and jockey Donald Watson will team again with Ed Peters' Barjaxs, a son of Jess Louisiana Blue, bred by Gini Crawford. Still a maiden, the sorrel gelding has just made two starts this year.
"We had some bad luck in the starting gate in trials for the Lee Berwick Futurity," explained Roberts. "He suffered an eye injury and needed surgery. The trial for the Million was his first race back, and he ran well. I like our draw; we won out of the eight hole last year!"
Louisiana conditioner Trey Ellis branched out in 2018, sending a string to Ruidoso Downs with considerable success, running third in the $3 million All American Futurity (G1) with No Mires El Luna and a very close second in the $1 million Texas Classic Futurity (G1) at Lone Star Park with Eagles Fly Higher.
He will saddle Lrh Mojo Rising, a filly by Heza Fast Dash, bred and owned by Jetty and Donald Lemaire of Gueydan, Louisiana.
"She's the soundest 2-year-old I've ever had," stated Ellis. "Donald and Jetty have been there for me since day one; they raise five to six every year. I would be thrilled to win it for them."
Post time for Saturday's card is 5:35 pm with seven stakes on the program. The LQHBA Louisiana Million runs as the ninth race of the evening, with an approximate post of 9:15 pm.
The field, in post position order, with jockeys and morning line odds:
Mpshinning (Luis Vivanco), 9-5
Tetris B (J. R. Ramirez), 6-1
His Louisiana Dream (Ricky Ramirez), 10-1
Prize Dasher (Raul Ramirez, Jr.), 10-1
Shakeshakeshakeit (Antonio Alberto), 5-1
Dasha Blue (Noe Castaneda), 15-1
Achievopiloto (Rolando Cabrera), 8-1
Barjaxs (Donald Watson), 20-1
Five Bar Jewel (James Flores) 20-1
Lrh Mojo Rising (John Hamilton), 4-1
Two Powerhouse Fillies Top the Field for the $266,560 LQHBA Breeders Derby
Trials for the $266,560 LQHBA Breeders Derby were run on Saturday, November 17 and two distinguished fillies have been installed as the favorites in the 400-yard final.
Crown Horse Racing LLC's Shesa Diamond Diva won her trial in a final time of :19.697 seconds, the fastest time of the three trials. Bred by Paul Fontenot, the daughter of Strutting to Beduino out of the Heza Fast Dash mare Sheza Fortune, is trained by Jose Sanchez, III.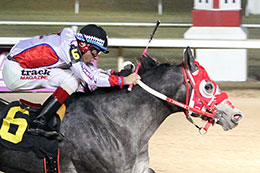 Fastest qualifier Shesa Diamond Diva will start from post 9 in Saturday's LQHBA Breeders' Derby.
© Coady Photography
Lightly raced this year, the $9,000 LQHBA Yearling sale purchase has earned $328,022 in her ten career efforts; the biggest check coming last December, when she ran second in the 2017 LQHBA Louisiana Million (RG1).
Fontenot had no knowledge of racing until a few years ago. A neighbor of his in Ville Platte had horses, so he bought a riding horse. Through his friendship with Stephen Tate, he purchased two mares and bred Sheza Fortune to one of Tate Farms's stallions, Struttin to Beduino.
"Paul's a good guy and it figured we would have a good racehorse with Heza Fast Dash on the bottom, she's crossed with pretty much everything," said Tate.
However, he laughs when he shares the story about almost having Shesa Diamond Diva sold prior to the 2016 LQHBA Yearling Sale.
"An owner came to the farm and offered $10,000," Tate explained. "She was a very gentle filly but when I went to the pasture to catch her, she ran away. I went for help and got eight workers chasing her with no success. After one hour, the prospective buyer thanked me, but had to leave. I guess we saw how fast she was that day!"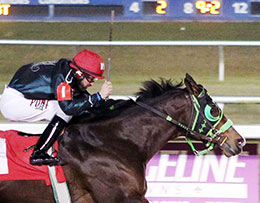 Multiple graded -winner Dashnunder Afullmoon will start from post 10 in Saturday's LQHBA Breeders' Derby.
© Coady Photography
Her trainer Jose Sanchez, III, looks for a good effort from Shesa Diamond Diva.
"She's a great filly," said Sanchez. "She is easy to train; a very happy filly who just does everything right."
Dashnunder Afullmoon has been the pride and joy of owner Rogelio Marquez, Jr. since the day he signed a $44,500 sale ticket at the 2016 LQHBA Yearling Sale. The daughter of Heza Fast Dash, from the Dash Ta Fame mare Full Moon Dasher was bred by Bred by D & S Racing LLC.
She began last year with victories in both the Lassie and Lee Berwick Futurities at Delta Downs and added a win in the $100,000 Louisiana Champions Day Juvenile at Fair Grounds. Her only blemish was in her trial for the LQHBA Louisiana Million. She was side-swiped out of the gate, but recovered and came running to finish third. Sadly, she did not qualify for the final.
"That was so tough to watch," admitted Marquez. "That was one of the few disappointments for us with this filly, who has been a blessing."
Dashnunder Afullmoon, now trained by Josue Ponce, was honored as 2017 LQHBA Champion 2-year-old filly. She has earned $593,332 to date and will be ridden by Raul Ramirez, Jr.
Marquez and his family will be at Evangeline Downs Saturday rooting for their champion filly, and may have a celebration later in the card when Prize Dasher, a half-brother to Dashnunder Afullmoon runs in the LQHBA Louisiana Million.
"He had surgery after his Laddie Futurity trial, and was off for six months," reported Marquez. "We were really surprised that he ran so well off the layoff. He definitely has room for improvement and we're excited to see both horses run on Saturday."
As far as drawing side by side with Dashnunder Afullmoon, that's fine with Sanchez, who will give a leg up to younger brother, Eddie.
"It's great," he added. "Better to be next to the fastest horse in the final."
Far from being a two-horse race, trainer Kenneth Roberts, Sr. will saddle three finalists, including Pete Scarmardo's Fabulously Black, who was the fourth-fastest qualifier; Gunna Be Alright for owner Gladney 1 LLC and Cant Catchacorona, the 2016 LQHBA Yearling Sale topper for TM Ranch.
The LQHBA Breeders Derby will run as the fifth race on the card, with the winner earning $118,619. The field, in post position order, with jockeys and morning line odds:
Cant Catchacorona (Gilbert Ortiz), 12-1
Gunna Be Alright (Randy Edison), 12-1
Featuring Fast Jess (Noe Castaneda), 5-1
Ima Gone Reba (John Hamilton), 6-1
Jrs Taylors Runnaway (Manuel Gutierrez), 6-1
Sting Lika B (Luciano Duenez, 15-1
Fabuously Black (Donald Watson), 8-1
Eye Am Sizzlin (Ricardo Hernandez, Jr.), 8-1
Shesa Diamond Diva (Eddie Sanchez) 3-1
Dashnunder Afullmoon (Raul Ramirez, Jr.), 7-2
* * * * * * * * * * * * * * *
Martha Claussen served as publicity director at Sam Houston Race Park for ten years. She continues to be active in writing, fan education and Quarter Horse racing publicity in Texas, Louisiana and other regions in North America.