News
- Preview
October 24, 2021
---
Im Mighty Fast Sets Sights On $15,000 Marathon Stakes at Louisiana Downs
Im Mighty Fast will try to repeat in the Magnolia Stakes on Saturday at Louisiana Downs.

© Coady Photography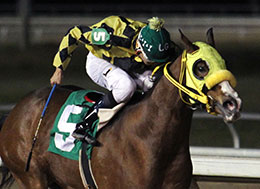 BOSSIER CITY, LA—JANUARY 2, 2018—
The 2018 Louisiana Downs Quarter Horse meet is underway with an exciting victory by Scoopies Leaving You in the $15,000 Harrah's Dash on opening day.
This week's feature is the $15,000 Marathon Stakes with Im Mighty Fast, owned by Triple M Racing Stables, LLC, leading the field of eight in the 870 yard stakes.
The 5-year-old son of Mighty Corona out of the Beat the Feet (TB) mare Sheza Fast Doll has an impressive distance resume' Bred by Brent Cody Leblanc in Louisiana, Im Mighty Fast will be making his 34th career start this weekend, with 11 victories at 870 yards.
He took the 2017 Magnolia Stakes here last February and most recently, ran second in the IP 870 Stakes on December 17 at Evangeline Downs. The bay gelding made 13 starts last year, with five wins, three seconds and two thirds. He was one of five distance specialists nominated for AQHA Racing Champion Distance honors.
Im Mighty Fast, who has career earnings of $149,570, has been in the barn of trainer Jesus Garrido for one year.
"He's a very sound horse and has a big heart," said Garrido. "I like the two, three or four hole and he drew post position two. With a clean break, I believe he will win another stakes race."
Randy Edison has the return call on Im Mighty Fast with Garrido giving a leg up to Alfonso Lujan aboard entrymate Struttinmviejewelsoff.
The 4-year-old son of Struttin To Beduino will be seeking his sixth win from 15 starts. His last victory came in optional claiming company on October 5 at Evangeline Downs.
Kevin Nobles' Streak of Music is another top contender in the Marathon Stakes. The 7-year-old son of Miracle Streak, bred in Louisiana by Leonard Haven, has won seven of his 27 starts for trainer Ray Robbins.
He won his last two optional claiming races at Evangeline Downs and will be ridden by Donell Blake. The respected distance pilot guided Eyesa Shoofly Dandy to victory in the 2017 Marathon Stakes.
Here is the field, in post position order including jockey assignments and morning-line odds:
Big Boy Agouti (Jose Rodriguez), 8-1
Im Mighty Fast (Randy Edison), Even
Agoutis Snowplow (Juan Marquez), 6-1
Zoomins Jewel (Donald Watson), 15-1
Hez Toast (Ubaldo Luna), 6-1
Streak of Music (Donell Blake), 3-1
Jw Who Dat (Antonio Alberto), 15-1
Struttinmyjewelsoff (Alfonso Lujan), Even
Im Mighty Fast, Struttinmyjewelsoff will run as a coupled entry
Kenneth L. Roberts Sr. Named Finalist for AQHA Champion Trainer
A prominent Louisiana-based conditioner is one of the finalists for the title of 2017 AQHA Racing Champion Trainer. Kenneth L. Roberts, Sr. finished the year as the leading Quarter Horse trainer in North America with 116 wins and was ranked fourth in earnings with $2,847,909.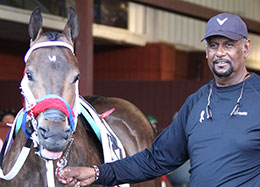 Louisiana-based trained Kenneth Roberts, Sr. is among the 2017 finalist for AQHA Champion Trainer for 2017.
© Coady Photography
He won 13 stakes throughout the year, capped by an impressive victory by You Drive I Fly in the LQHBA Louisiana Million on December 16. He was moved to tears in the trophy presentation ceremony, flanked by owners Richard and Janelle Simon, jockey Donald Watson and a massive crowd of family, friends and supporters.
"The people that surrounded me brought out the emotion that night," explained Roberts. "My entire team works so hard, every day. It was a year filled with a lot more ups than downs!"
Roberts was a high school athlete at Kashmere High School in Houston, Texas, and his work ethic in basketball and football gave him valuable insights into training Quarter Horses.
"My coaches taught me the importance of never quitting," he said. "I was on one of the best high school football teams in Houston and I am grateful for everything I learned. It definitely gave me a foundation for what I do now."
But make no mistake about Roberts also being a "hands on" horseman. Check out the many times in the saddling paddock when it is Roberts, and not his groom, who hand walks a nervous runner. Sometimes you will see him simply stand beside the horse, often, without words, calming the athlete in his own special way.
"I've got horses that give my grooms trouble," said Roberts. "But by me being tall, I look them in the eye, and the majority know not to do anything crazy."
Roberts was born in Lafayette, and was one of the top horsemen in Texas before setting up shop in Louisiana. He applauds the efforts of the Louisiana Quarter Horse Breeders Association (LQHBA) and the state's lawmakers who have fought for extended meets at three of the four racetracks in the state. He continues to be a loyal supporter of Louisiana breeding as well as racing.
"I've had new owners approach me about buying Louisiana-breds," said Roberts. "The incentives are really good. For me, why do I want to go anywhere else when I can run in my home state and make a very good living?"
Tony Patterson, executive director of the LQHBA, is grateful to Roberts for his dedication to the state's racing program annual yearling sale.
"Kenny is an extremely talented and dedicated horseman who is a tremendous ambassador for Louisiana Quarter Horse racing," said Patterson. "On top of that, he is one of the nicest guys you will ever meet! Regardless of the outcome, we are very proud of Kenny's nomination."
This would be the first AQHA Champion trainer title for Roberts, who has saddled over 12,000 Quarter Horses since beginning his career in 1986. Finalists this year include Paul Jones, who has been honored 14 times; Eddie Willis, Jimmy Padgett, Monty Arrossa and Wes Giles. Fellow Louisiana horsemen Lanny Keith and Eusevio Huitron were also on the ballot.
"It's an honor to be named as a finalist," stated Roberts. "There are a lot of great horsemen in the industry. People have been calling me and wishing me luck. I will be very happy if I win, but if I don't, it's okay. We put up a good fight and had a great year!"
The winners will be announced Wednesday, January 17 at Heritage Place in Oklahoma City. The Racing Champions Ceremony will be aired via live webcast at aqha.com/racing beginning at 6:00 pm (Central).
Louisiana Downs Dates and Post Times
The 2018 Quarter Horse racing season at Harrah's Louisiana Downs got underway on Saturday, January 6. The 46-day meet includes 12 stakes highlighted by the first official championship for 2-year-olds, the $100,000-added Mardi Gras Futurity on March 17. Live racing will take place Saturday, Sunday, Monday and Tuesday with a 1:00 p.m. (Central) post time and will continue through March 21.
To see a complete list of the stakes schedule, including trial dates, CLICK HERE.
* * * * * * * * * * * * * * * * * *
About Harrah's Louisiana Downs
Located near Shreveport in Bossier City, Louisiana, Louisiana Downs opened in 1974 and was purchased by Caesars Entertainment in December, 2002. With annual Thoroughbred and Quarter Horse racing seasons, the track is committed to presenting the highest quality racing programs paired with its 150,000-square foot entertainment complex offering casino gambling, dining and plasma screen televisions for sports and simulcast racing.