News
- Preview
October 26, 2021
---
Talented Field Set for the LQHBA Louisiana Million
Shesa Diamond Diva, under jockey Eddie Sanchez, has been installed at the 5-2 morning line favorite for Saturday's LQHBA Louisiana Million(RG1) at Evangeline Downs.

© Coady Photography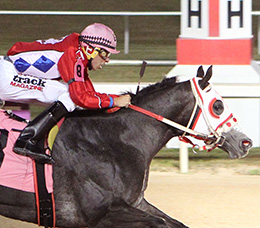 By Martha Claussen
OPELOUSAS, LA—DECEMBER 11, 2017—Evangeline Downs held 15 trials for the LQHBA Louisiana Million (RG1) on November 17. Formerly run as the LQHBA Breeders Futurity (RG1), it was renamed this year to showcase its status as the richest Louisiana-bred stakes in the state.
Ten finalists will return to action on December 16 with a $445,000 first-place check to be awarded to the winner.
Breeding Success for Paul Fontenot and Tate Farms
Shesa Diamond Diva, a filly owned by Cruz E. Nava, scored an impressive victory in the eighth trial, covering 400 yards over the fast track in :19.743 seconds with jockey Eddie Sanchez in the irons.
Paul Fontenot, who was born in Ville Platte, LA, bred Shesa Diamond Diva with his good friend Stephen Tate of Tate Farms.
Fontenot purchased her dam, Sheza Fortune at the 2009 LQHBA Fall Mixed Sale for a modest $3,200. She has produced six foals, but Fontenot never imagined that one of her offspring would make it to a seven-figure final, let alone, enter as the fastest qualifier.
"It was awesome watching her trial," he admitted. "She's been great all year; winning her schooling race at Louisiana Downs and qualifying to the Mardi Gras Futurity. We are all excited about the final."
Fontenot had no knowledge of racing until a few years ago. A neighbor of his in Ville Platte had horses, so he bought a riding horse. Through his friendship with Tate, he purchased two mares and bred Sheza Fortune to one of Tate's stallions, Struttin to Beduino.
"Paul's a good guy and it figured we would have a good racehorse with Heza Fast Dash on the bottom, she's crossed with pretty much everything," said Tate.
However, he laughs when he shares the story about almost having Shesa Diamond Diva sold prior to the 2016 LQHBA Yearling Sale.
"An owner came to the farm and offered $10,000," he explained. "She was a very gentle filly but when I went to the pasture to catch her, she ran away. I went for help and got eight workers chasing her with no success. After one hour, the prospective buyer thanked me, but had to leave. I guess we saw how fast she was that day!"
Cruz E. Nava signed a $9,000 sale ticket for Shesa Diamond Diva at the 2016 LQHBA Yearling Sale.
Fontenot had to move to Alice, Texas, for business and told Tate to sell his mares. Tate suggested that he keep the mares at Tate Farms and they would share ownership of both the mares and offspring.
No one could be happier with that decision than Fontenot, who will be accompanied by family members and friends on Saturday when Shesa Diamond Diva enters the starting gate for the LQHBA Louisiana Million.
"I'll be honest," said Fontenot. "I owned a pleasure horse, met Stephen, sold my pleasure horse and invested in a racehorse. I had no idea what a bloodline was, and thanks to Stephen, I bred a potential futurity champion. To make it this far is extraordinary!"
Tate Farms was the owner and breeder of last year's winner, Tf Racee Runaway, and shares Fontenot's excitement for Saturday night.
"To do it two years in a row would really be something," added Tate. Saul Ramirez, Jr. will give a leg up to Sanchez this Saturday night. She will break from post position nine as the 5-2 morning line favorite. Both trainer and rider report that Shesa Diamond Diva came out of her trial in good order.
"I feel she will run a good race," said the 19-year-old jockey. "We drew a great post; the past few winners have done it from the outside; I like our chances!"
Other prominent finalists include second fastest qualifier, Diamondinthefront, owned and bred by F and K Partnership, and trained by Frank Cavazos. Randy Edison will guide the daughter of Game Patriot, a $13,000 repurchase at the LQHBA Yearling Sale. She broke her maiden at Evangeline Downs on October 19 and will be making her seventh career start on Saturday night.
LQHBA champion trainer Kenneth Roberts, Sr. will be seeking his seventh title in the stakes with third-fastest qualifier, You Drive I Fly. Despite breaking slowly, the son of Jet Black Patriot closed gamely under jockey Donald Watson to win the second trial by 1-¾ lengths and post the third fastest time of :19.805 seconds. Bred and owned by Richard and Janelle Simon, the sorrel colt has won three of four starts already in his 2-year-old campaign.
Jumonville Farms is the only breeder with multiple finalists, with fifth-fastest qualifier Featuring Fast Jess, a gelded son of Heza Fast Dash and Eye Am Sizzlin, a colt by Sizzlin Cartel, who qualified with a clocking of :19.973 seconds.
Post time for Saturday's card is 5:35 pm with seven stakes on the program. The LQHBA Louisiana Million runs as the eighth race of the evening, with an approximate post of 8:55 pm.
The field, in post position order, with jockeys and morning line odds:
Diamondinthefront (Randy Edison), 4-1
Featuring Fast Jess (Noe Castaneda), 10-1
Ima Gone Reba (Raul Ramirez, Jr.), 8-1
Fpj Blazen Fast Ryon (Rolando Cabrera), 15-1
Jrs Taylors Runaway (Jorge Linares), 5-1
Stormy T (Rodrigo Vallejo), 12-1
Eye Am Sizzlin (Santiago Mendez), 6-1
You Drive I Fly (Donald Watson), 6-1
Shesa Diamond Diva (Eddie Sanchez), 5-2
Rf Shez Leaving You (Damian Martinez), 20-1
CLICK HERE for bios on all of the LQHBA Million(RG1) qualifiers.
Jls Mr Bigtime to Lead the Post Parade
One very special addition to this year's event is the announcement that. Jls Mr Bigtime, bred and owned by Jls Speedhorse Ranch, will lead the post parade for the LQHBA Louisiana Million.
Jls Mr Bigtime is a homebred son of Bigtime Favorite out of the Osceola Warrior mare Psalmist.
Owned and campaigned by JLS Speedhorse Ranch, Inc., he made his racing debut in trials for the 2010 Mardi Gras Futurity at Louisiana Downs, and went on to run second in the Lee Berwick Futurity (RG1).
Trainer Darrel Soileau sent the sorrel gelding to Ruidoso Downs, where he won his trial for the $2 million All American Futurity (G1) under the legendary rider Jacky Martin. He set the fastest qualifying time in 20 trials, returning to the track on Labor Day, with a contingent of over 125 LQHBA members in support. He finished second, by a nose, to longshot Mr Piloto. Despite the loss, there is no doubt that his performance gave a tremendous boost to Louisiana breeding and racing.
He was honored by AQHA as the 2010 champion 2-year-old gelding. Jls Mr Bigtime went on to capture the 2010 LQHBA Breeders Futurity and made 35 career starts, winning 12 races before retiring in 2016 with earnings of $1,031,147.
Fittingly, it was his runner-up finish in the 2014 Louisiana Champions Day Classic at Fair Grounds, that vaulted the intrepid gelding over the $1 million-dollar earnings mark.
His regular rider, Patrick Watson, who has courageously battled lung cancer, will ride Jls Mr Bigtime as he leads the field onto the racetrack for the LQHBA Louisiana Million.
LQHBA Scholarship Drawings
Since 2001, the Louisiana Quarter Horse Breeders Association (LQHBA) scholarship program has provided financial aid for students. The scholarship program was the vision of the late Jim Mitchell and Executive Director Emeritus Leverne Perry, and is supported strongly by the LQHBA, its board members and many generous sponsors. Over $500,000, has been earmarked for this program since its inception.
Louisiana students and their families will be able to enjoy the racing and festivities on LQHBA Louisiana Million night. They must be present and register from 5:00 – 7:00 pm on December 16. A registration table will be located on the main level of the racetrack. Following the running of the fifth race of the evening, five scholarships, totaling $11,000, will be presented.
Awarding scholarships at racetracks on major racing events has become a tradition for LQHBA.
"Our board of directors is committed to helping high school students and funding our scholarship program," said Tony Patterson, LQHBA executive director. "Recently we have expanded the participant base to not only graduating high school seniors, but to those that have already graduated and are pursuing higher education. The feedback from students and their parents has been very positive."
* * * * * * * * * * * * * * * * * * * * * *
Martha Claussen served as publicity director at Sam Houston Race Park for ten years. She continues to be active in writing, fan education and Quarter Horse racing publicity in Texas, Louisiana and other regions in North America.