News
- Preview
October 26, 2021
---
One Hot Flame Leads Exceptional Group In $323,488 LQHBA Sale Futurity
One Hot Flame (#5) battles Tf Racee Runaway for the top qualifying mark in the August 17th LQHBA Sale Futurity(G1) trials at Fair Grounds Race Course.

© Lou Hodges Photography / Amanda Hodges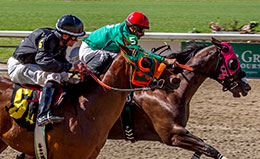 By Martha Claussen
NEW ORLEANS, LA—AUGUST 28, 2016—New Orleans is dubbed "The Big Easy", but it's safe to say that winning the $323,488 LQHBA Sale Futurity (RG1) on Saturday, September 3 will be far from simple.
That's because each of the ten accredited Louisiana-breds that qualified from trials run on August 17 at Fair Grounds, have solid chances to take the trophy. The $323,488 LQHBA Sale Futurity (RG1) headlines a stakes-filled closing day card, which gets underway at 12:30 pm (CT).
The top two qualifiers, One Hot Flame and Tf Racee Runaway, came out of the ninth of 12 trials, each at 350-yards, contested on opening day.
Bred by Margie Loup, from the Finance The Cat (TB) mare Rump Shakin, One Hot Flame, a son of Fast Prize Dash crossed the wire of his trial in :17.580 seconds, earning a 92-speed index.
It was a proud moment for Loup, of Mount Herman, Louisiana. She owns Rump Shakin, who Loup claimed for $3,500 at Louisiana Downs in 2010. Once the mare was retired from racing, she was first bred to Heza Fast Dash, but Loup wanted to help her brother-in-law, Wade Loup, by breeding to Fast Prize Dash.
Loup, who sale preps each of her horses, gelded One Hot Flame before the 2015 LQHBA Yearling Sale.
"He was a good looking individual, but a big yearling," said Loup. "Everyone at the sale told me he was too big, but he still sold for $10,500."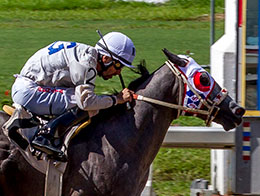 Already a graded winner in the Mardi Gras Futurity, Rdd Lajollanfastdash will be looking her his second career stakes win on Saturday.
© Lou Hodgns Photography / Amanda Hodges
Owners Double H Racing Investments LLC liked what they saw and so far, One Hot Flame has not disappointed them with earnings of $50,000 heading into Saturday's final.
This would be the second LQHBA Sale Futurity champion bred by Loup as Dashin Gage won the 2012 edition of the stakes, which was run at Evangeline Downs. Dashin Gage, a son of Oak Tree Special by Dash Lady Love has earned over $340,000 for owner Doug Traylor. You can be sure that the breeders' awards checks have arrived many times in the Loup mailbox!
She credits the support of her husband, Chad, who has seen his wife spend countless hours at the barn, caring for her five broodmares.
"I couldn't do this without him," stated Margie. "I'll be really nervous watching the race, but winning a big race like this makes it worth all the hard work!"
One Hot Flame will break from the rail and trainer Adrian Huitron will give a let up to rider Manuel Gutierrez.
"He came out of his trial well," said the 26-year-old Huitron. "This is a very nice, laid back horse. He's gained weight and muscle this year. We have high expectations for him in the final."
It's been a good year for the young trainer, who has 55 horses in training in the family's farm in Bastrop, Texas.
Tf Racee Runaway finished second under jockey John Hamilton to get the second fastest time of :17.605 seconds. Lanny Keith trains the gelded son of Sir Runaway Dash for owner Tate Farms.
Teddy Berry bred Tf Racee Runaway from the Streakin La Jolla mare Racee Rainbows. Third in the Laddie Futurity RG2) in April, the bay gelding ran ninth in the Lee Berwick Memorial Futurity(RG1). He will make his sixth career start, under rider John Hamilton, out of the three hole.
"He's been a good horse all year," said Keith. "He broke his maiden in the Mardi Gras trials, but did not qualify for the final. Got nosed out in his Lee Berwick trial and had some bad racing luck in the final."
It would be hard to dismiss Rdd Lajollanfastdash, winner of the Mardi Gras Futurity (RG2) for owner Miguel Aguilar. Bred by Richard Dale Domingue, the son of top Louisiana sire, Heza Fast Dash, has won four of his five career starts this year.
His only loss came in the Lee Berwick Futurity, but he rebounded nicely in trials for the LQHBA Sale Futurity, recording the third fastest time of :17.689 seconds. Regular rider Raul Ramirez, Jr. will ride Rdd Lajollanfastdash for trainer Jose Sanchez.
Trainer Trey Ellis has a little less pressure this year than one year ago when he readied fastest qualifier Micmac Warrior for an ownership group named We All In Racing, LLC. Ellis' good friend Ryan Robicheaux put together the group, who paid $22,000 for Micmac Warrior at the 2014 LQHBA Yearling Sale.
In the very competitive final, Micmac Warrior lost by a nose to the very talented filly, Telarosa, also owned by Doug Traylor.
"It was a tough loss in the final last year," admitted Ellis, "The New Orleans condition book has a photo of last year's final on the cover. I told Ryan that if he had a better trainer he would have won the final. Ryan responded with 'glad you said it first'! Maybe this year, we'll fly under the radar and win as a longshot!"
His finalist this year is Msm Runaway Dash, a son of Sir Runaway Dash, bred by Michael S. Mowad and owned by Carter's Quarters LLC. The sorrel gelding is still a maiden, but headed in the right direction, according to his conditioner. "He showed potential earlier this year," noted Ellis. "He was all over the track at Delta, but was much more mature in his trial at Fair Grounds. He didn't win (was second to Tf Ms Perrys Runaway), but dug in and showed a lot of heart."
Lucas Constantin, who was the winning rider in the 2015 LQHBA Sale Futurity has the mount and will break from post position seven.
The LQHBA Sale Futurity had its first running in 1984 with a $87,970 purse; this year the winner will receive a check in the amount of $129,395. The six-figure final is another incentive for horsemen purchasing a Louisiana-bred at the annual LQHBA Yearling Sale. Each yearling sale graduate is eligible to run in both the LQHBA Sale Futurity and the $1 million LQHBA Breeders Futurity (RG1) at Evangeline Downs, which is run in November.
"We are proud of the rich tradition and quality past winners of the LQHBA Sale Futurity," said Tony Patterson, executive director of the LQHBA. "Our association has tremendous support from Louisiana breeders and the lucrative purses for our Sale Futurity and Breeders Futurity would not be possible without the backing of so many dedicated horsemen. We wish all the best to each of the connections and know that the final will be a very exciting race."
Saturday's card will also include the $35,943 LQHBA Sale Invitational Stakes for 2-year-olds that ran in the opening day trials, but did not record the ten fastest times.
Here is the field, in post position order, with riders, for the LQHBA Sale Futurity (RG1) to be run at Fair Grounds on Saturday, September 3:
One Hot Flame/ Manuel Gutierrez
Jls Shakem Tee Cos/ Damian I Martinez
Tf Racee Runaway/ John Hamilton
Rdd Lajollanfastdash/ Raul Ramirez, Jr.
Tf Ms Perrys Runaway/ Jorge Linares
Fired Up Perry/ J. R. Ramirez
Msm Runaway Dash/ Lucas Constantin
Lightemupwithcharm/ Antonio Alberto
Tellem Im Pumped/ Joe Badilla, Jr.
Gone Swingin/ David Alvarez
* * * * * * * * * * * * * * * * * * *
Martha Claussen served as publicity director at Sam Houston Race Park for ten years and continues to be active in writing, fan education and Quarter Horse racing publicity in Texas, Louisiana and other regions in North America.