News
- Preview
October 26, 2021
---
Trials Set Saturday for Record $300,502 Mardi Gras Futurity
Hemps Jumpn Lajolla,a $7,200 LQHBA Yearling Sale graduate, won last year's $281,514 Mardi Gras Futurity (RG2).

© Lynn Roberts / Lou Hodges Photography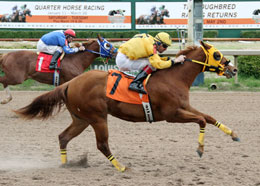 By Martha Claussen
BOOSIER CITY, LA—FEBRUARY 20, 2014—There is a lot of Quarter Horse racing on the calendar this year in Louisiana. The show gets started on Saturday, February 21 at Harrah's Louisiana Downs with trials for the first official futurity of the year. A total of 147 accredited Louisiana-bred Quarter Horses will compete in 16 trials for a record purse in the $300,502 Mardi Gras Futurity (RG2).
Last year's final went to longshot Hemps Jumpn Lajolla, a 2-year-old son of Jumpn, who captured the $281,514 Mardi Gras Futurity (RG2) in gate-to-wire fashion under jockey Raul Ramirez Jr. The champion was owned and trained by Miguel Rodriguez, who spotted him at the LQHBA Yearling Sale and signed the ticket for $7,200.
The horseman is hoping for good fortune again in 2015. Last year, Rodriguez, who calls Mission, Texas home, had 16 juveniles in trials for the Mardi Gras. This year, he has 17 entered.
"We are ready," states Rodriguez. "I have six guys and have hired some extra help. You have to be organized on trial day."
That might be a fairly big understatement as Rodriguez has the daunting task of managing 17 untested runners.
"It's hard to say which will run their best on Saturday," admits the horseman. "They have all worked and had at least one schooling race, but you don't want to push them too much this early in the year."
J. E. Jumonville is a prominent Louisiana breeder who is looking forward to the trials on Saturday.
"As a breeder, you strive to mate your mares to get the best cross and to have foals born in January and February so they will be at least a year old for the first futurity," said Jumonville. "I'd prefer to have an early foal, but a late foal is better than no foal!"
Jumonville served as state senator from 1976-1992 and was instrumental in getting legislative support for the Louisiana racing industry. In the '70's total breeder awards were $84,000; heading into 2015, annual stallion and mare incentives now exceed $4.6 million.
"Seeing 16 trials on Saturday is very good for our industry," states Jumonville. "Louisiana has the only trials recognized by the AQHA prior to March of each year. The Mardi Gras Futurity is a great start to the Louisiana-bred Quarter Horse program."
Louisiana Downs has stepped up to the plate to accommodate trainers hoping to have their horses ready to compete in trials for the first major futurity of the season. They allow stable access, training hours and schooling races for 2-year-olds.
"We are looking forward to a great day," said Trent McIntosh, director of operations at Louisiana Downs. "It's a long day for the horsemen, but having so many trials definitely creates excitement for our fans."
The ten fastest qualifiers from Saturday's trials will return to the track on March 14 with $135,225 going to the winner.
"We couldn't be prouder of the record purse for the Mardi Gras Futurity," said Tony Patterson, executive director of the Louisiana Quarter Horse Breeders Association. "It is a gratifying way to start the year and we thank our breeders and horsemen for their support and Louisiana Downs for their efforts in running schooling races for the 2-year-olds."
The draw is set and post time for Saturday's action has been moved up to 11:00 a.m. (CT). For those unable to attend the races in person, live streaming of all the trials will be available on Q-Racing Video: www.qracingvideo.com.
"To win one of these takes a consistent, sound racehorse with a solid team in place," summarized Jumonville. "It is quite a blessing."
The weekend will also include four trials for the $93,898 Mardi Gras Derby on Sunday, February 22. Post time is 1:00 p.m. with LQHBA Breeders Futurity champion, JLS Dashn And Zoomn, gunning for his fifth consecutive victory. Trained by Brenda Foster, the son of Sir Runaway Dash already has a win to begin his 3-year-old campaign for owners Jose and Yolanda Guzman.
* * * * * * * * * * * * * * * * * * * * * * * * * * * * * * * * * * * * * * * * * * * * * * * * * * *
Martha Claussen served as publicity director at Sam Houston Race Park for ten years. She continues to be active in writing, fan education and Quarter Horse racing publicity in Texas, Louisiana and other regions in North America.
* * * * * * * * * * * * * * * * * * * * * * * * * * * * * * * * * * * * * * * * * * * * * * * * * * *
Just the Facts:
Trials for the $300,502 Mardi Gras Futurity (RG2)