News
- Headlines
December 5, 2023
---
Alvarez, Martinez and Marquez, Jr. Take Leading Horsemen Honors During Fair Grounds at Delta Season
Arturo Alvarez earned him his first leading rider title at Delta Downs.

© Coady Photography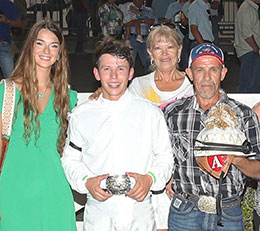 VINTON, LA–SEPTEMBER 5, 2023– Delta Downs conducts 46 days of live American Quarter Horse racing annually, but for the second consecutive year that season was followed by 15 additional days of straight-line action that concluded on Saturday.
The extra race days came from Fair Grounds Race Course & Slots in New Orleans, who transferred their dates to the Vinton, Louisiana oval.
On Saturday night the Fair Grounds at Delta Downs season came to a close with a 10-race card the featured five stakes. During the program the leading horsemen honors were presented in the winner's circle.
The battle for leading rider came down to the final night of racing as the top three jockeys were separated by just two wins in the standings when the card began.
After the dust settled, a riding double by talented young reinsman Arturo Alvarez earned him his first leading rider title at Delta Downs. Alvarez rode a total of 15 winners during the meet and his mounts earned $281,626, which ranked second to Ubaldo Luna's total of $314,654.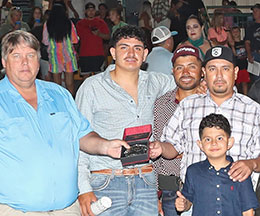 Guillermo Martinez picked up his second leading trainer title this year..
© Coady Photography
Following Alvarez in the standings in terms of wins were Ubaldo Luna (13), Leonardo Rodriguez (12), Guadalupe Lucio, Jr. (10), David Alvarez (10), Juan Garcia, Jr. (9), Arnulfo Gutierrez (8), Rene Hernandez (8), Ricardo Hernandez, Jr. (7), and Victor Urieta, Jr. (7).
The only title that was wrapped up before the night began was for leading trainer. Guillermo Martinez notched 13 wins during the meet to lead all trainers after earning his first leading trainer title during the regular 2023 Delta Downs season that ended on July 15. Martinez's starters scored $331,603 in total earnings to lead all trainers in that category as well.
Rounding out the top 10 trainers in terms of wins were Dwayne Breaux (7), Dale Keith (7), Justin Powell (5), Jesus Marquez (4), Jose Carrizales (4), Martin Trejo (4), Danny Hoda (4), Katie Carlos (4), and Willie Simien, Jr. (4).
And finally, the race for leading owner went to Rogelio Marquez, Jr., who saw four of his starters make it to the winner's circle. Marquez's runners earned $93,411, which ranked second to Brian L. Gunder's $204,247. Most of Gunder's total came when One Cool Corona captured the $448,771 Louisiana Quarter Horse Breeders Association Sale Futurity on closing night.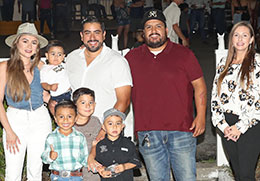 Rogelio Marquez, Jr. won the leading owner title.
© Coady Photography
Marquez won his first leading owner title at Delta Downs in 2017. He also won the crown during the regular 2023 Delta Downs Quarter Horse season earlier this year. Overall, he has been the leading Quarter Horse owner at Delta Downs four times including the Fair Grounds dates.
Following Marquez in the standings were Rolando Pizana (3), Jose Ortiz (3), Juan Galicia (3), BM AQ Racing, LLC (3), Black Diamond LLC (3), Dewey Kendrick, III (2), Luis Armando Castellanos (2), Jose H. Rodriguez (2), and Jose P. Sanchez (2).
Delta Downs will now prepare for its 2023-24 Thoroughbred season which runs from October 6 through February 24. The track will conduct 76 live racing programs most Wednesdays through Saturdays starting at 5:15 pm. There will be six daytime programs starting at 12:55 pm during the weeks of Thanksgiving and Christmas as well as six three-day race weeks in January and February.
For more information about racing at Delta Downs visit the track's website at www.deltadownsracing.com or on the Facebook page, 'Delta Downs Racing'. The track's Twitter handle is @deltaracing.
* * * * * * * * * * * * * * * * * * * * *
About Delta Downs
Delta Downs Racetrack Casino and Hotel, a property of Boyd Gaming Corporation (NYSE:BYD), features exciting casino action, live horse racing and fun dining experiences. Delta Downs is located in Vinton, Louisiana, on Delta Downs Drive. From Lake Charles, take Exit 7 and from Texas, take Exit 4. For more information about the season, visit the track's website at www.deltadownsracing.com.