News
- Archives
July 12, 2020
---
Nominations Due for 2019 Louisiana Million Futurity
The $100 nomination payment for the 2019 Louisiana Million Futurity(RG1) are due on Saturday.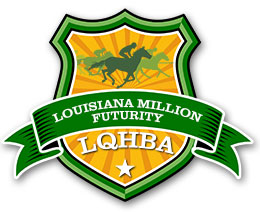 ALEXANDRIA, LA—JULY 13, 2017—
Nominations are due Saturday (July 15) for the $1 million-est. 2019 Louisiana Million Futurity, foals Louisiana-bred foals of 2017.
Horsemen and women who would like to nominate to the Restricted Grade 1 race need to send a $100 nomination payment with their nomination form to: LQHBA, 105 Carlyon Lane, Alexandria, LA 71303.
All owners must be a current member of The Louisiana Breeders Quarter Horse Association.
CLICK HERE to download or print a 2019 Louisiana Million Futurity(RG1) nomination form.
Horses must be nominated to the Louisiana Million Futurity and paid to date through the February 15, 2018 payment (or the late payment by May 15, 2018) to be eligible for the 2018 LQHBA Yearling Sale.
For additional information visit the association's website at lqhba.com or call (318) 487-9506.