Hall of Fame
- People
March 21, 2023
---
The Louisiana Quarter Horse Breeders' Association Hall-of-Fame showcases the many horses and people who have earned the distinction of becoming part of Quarter Horse Racing history in Louisiana. To be part of the Hall-of-Fame, horses and people must have been outstanding over a period of years in a variety of categories. They must have brought exceptional visibility and/or contribution to Quarter Horse Racing and the State of Louisiana.
Hall-of-Fame inductees are chosen each year by a selection committee and are honored at the annual LQHBA Awards Banquet. The inaugural inductee class were announced in January 2016. On April 9, 2016, Leverne Perry and Claude and Bessie Lea Jeane, Oh Black Magic, Rocket's Magic and Royal Bushwhacker were inducted into the Louisiana Quarter Horse Breeders Association (LQHBA) inaugural Hall of Fame. The ceremony was held in conjunction with the 50th anniversary of the association. Owner-breeder Claude W. Boutte, Jr. and Grade 1 winner and industry leading sire Feature Mr Jess were inducted in 20121.
Outstanding Louisiana Quarter Horse trainer Phillip Calais, Sr. and iconic stallion Heza Fast Dash will be honored in the 2022 class.
A special thank you to Martha Claussen for research and writing bios and to Speedhorse and TRACK magazines for helping track down photos of these inductees from their archives.
The inductees have each played a significant role in Louisiana Quarter Horse industry. Inductees into the Louisiana Quarter Horse Breeders' Association Hall-of-Fame are:
PEOPLE
Claude W. Boutte, Jr.
Claude & Bessie Jeane
Dale Rogers
J.E. Jumonville, Jr.
Leverne Perry
Lee Berwick
W.A. Darling
HORSES
Feature Mr Jess
Go Vicki Meyers
Hemp Meyers
Hesajoy
Mr Jess Perry
Oh Black Magic
Rockets Magic
Royal Bushwhacker
Streakin La Jolla
Vals Fortune
Below are photos of each Hall of Fame member inducted in 2021. Click their photo or name in the left toolbar to read their biographical information. To view previous Hall-of-Fame member bios click on "PEOPLE" or "HORSES" in the left tool bar.
J. E. Jumonville, Jr
Inducted into the LQHBA Hall of Fame in 2019
J.E. Jumonville, Jr.
John Enoul Jumonville, Jr., known as J.E., is one of the most influential and longstanding members of the Louisiana racing and breeding industry. The 76-year-old owns and operates Jumonville Farms in Ventress. Louisiana. J. E. and his wife, Bunny are proud parents of three sons: J.E. "Tres" III, Dutcher and Clayton.
Since its inception in 1965, Jumonville Farms has been regarded as one of the top breeders in Louisiana. Their stallion roster includes LQHBA and AQHA Racing champion stallion Jess Louisiana Blue, a son of LQHBA Hall of Fame inductee, Mr Jess Perry; Sizzlin Cartel; Jess Louisiana Blue, now 21, has produced 16 crops, whose earnings have surpassed the $17 million dollar mark. His top producer was Jessa Louisiana Zoom, who won both the Lassie and Lee Berwick Futurities at Delta Downs, earning $637,531 in her 13 lifetime starts. Jumonville Farms has posted solid numbers, both on their own and in multiple racing partnerships. He and Bunny bred Jess a Saint, a son of Jess Louisiana Blue out of the Vindication mare Laughing Saint. Trained by Miguel Rodriguez, he won six of his 15 starts including the 2015 edition of the richest Quarter Horse race in Louisiana, the LQHBA Louisiana Million. His winnerís check of $445,000 vaulted his career earnings over the half-million dollar mark.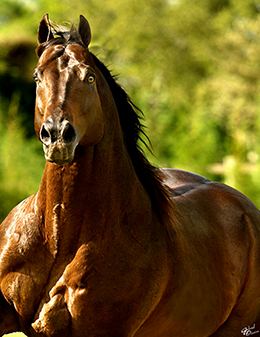 Jess Louisiana Blue has surpassed the $17 million dollar mark in sire earnings.

© Gabriel Oliveira

In addition to Jess Louisiana Blue and Jess A Saint, Jumonville Farms has bred multiple Grade 1 champions, Magic Dozen, Feature Mr Jess, A Stoi Mate and Sompinlikaglass.

They also owned Feature Mr Jess, who won the 2000 Rainbow Futurity (G1) at Ruidoso Downs and returned the next year to capture the Rainbow Derby (G1). The son of Mr Jess Perry died at just 10-years-old, but a limited number of ICSI breedings are available from Jumonville Farms.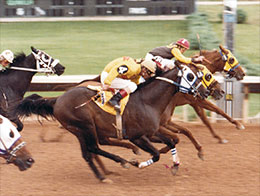 Dashingly and Justanold Love run 1-2 in the Grade 1 All American Gold Cup at Ruidoso Downs.

© Ruidoso Downs

Always one of the top consignors in the annual LQHBA Yearling Sale, Jumonville Farms continues to send a quality group of well-bred prospects to the August event in Kinder, Louisiana. Jumonville Farms has also been the high-seller and high-buyer at the Ruidoso Select Yearling Sale.

Jumonville Farms has won five Grade 1 races at Ruidoso including the 1982 All American Derby with Justanold Love, the 1983 All American Gold Cup with Dashingly (Justanold Love ran second), 1985 Rainbow Derby with Indigo Illusion and 2000 Rainbow Futurity and 2001 Rainbow Derby with Feature Mr Jess.

Dashingly was named the 1983 AQHA Racing World Champion.

In the mid-eighties Jumonville Farms broodmare band included such mares as Champion Dashingly, Grade 1 winner Justandold Love, champion Queen For Cash, Champion Leading Star, champion Lady Juno, champion Little Blue Sheep and multiple champion producer Marketina.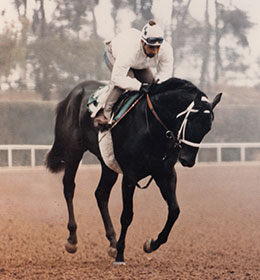 J.E. Jumonville purchased Louisiana Slew for the $2.9 million at the 1982 Keeneland Select July Yearling Sale in Lexington, Kentucky.

In 1982 J.E. bought Louisiana Slew, a son of Triple Crown winner Seattle Slew, for $2.9 million at Keeneland July Select Yearling Sale in Lexington. Trained by Hall of Fame trainer D. Wayne Lukas, Louisiana Slew captured the Sunny Slope Stakes at Santa Anita Park and was twice stakes-placed.

Louisiana Slew entered stud in 1987 and is the dam sire of Jumonville's champion stallion Jess Louisiana Blue.

Jumonville has always gone the extra mile in promoting Quarter Horse racing. With a longtime involvement in cutting horse competition, he persuaded Dave Brian, the director of shows for the National Cutting Horse Association, to come to Ruidoso Downs to enjoy the races and attend the 2008 Ruidoso Select Sale. Dave Brian professed to have no interest in owning a racehorse, but studied the catalog and even bid $70,000 on Apollitical Jess. The consignors would not take less than $150,000, and the fine yearling turned into an incredible racing champion and sire.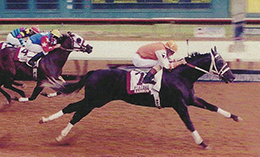 Feature Mr Jess, under jockey Jacky Martin, winning the 2000 $629,543 Rainbow Futurity(G1) at Ruidoso Downs.

© Ruidoso Downs

Brian followed the career of Apollitical Jess with interest and asked J.E. if he had a mare they could breed as a partnership. Of course he did; a homebred named The Louisiana Girl. The foal was named Dutcher, after his middle son, Dutch, who runs the familyís breeding farm. A partnership was structured with Jumonville Farms and Brian Ranch owning two-thirds and the remaining shares divided between 27 folks in the cutting horse world. In each of Dutcherís 24 career starts, the cutting horse part-owners were invited to attend the races and more than 20 were on hand when Dutcher ran second in the 2015 Texas Classic Derby(G1) at Lone Star Park. J.E. personally escorted them to the paddock to give them a personal view of the racing experience.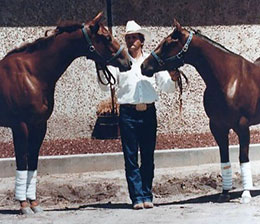 J.E. Jumonville with Dash For Cash daughters Justanold Love and Queen For Cash.

ca. 1982

In addition to his excellence in breeding horses, J.E. also served as a Louisiana senator from 1976-1992. He was one of the leading forces in legislative efforts and contract negotiations with Thoroughbred and Quarter Horse racing associations in Louisiana. The end result was a significant amount of gross handle allocated to horsemen in the form of purses and breeders awards.

"He worked very hard to make the Louisiana breeders program what it is," said Dutch Jumonville. "Dad had the guts to stick up to those who said no and the persistence to keep fighting. He knew his efforts would grow the industry and help so many people."

In 2015, AQHA honored J.E.Jumonville, Jr. as a Legacy Award Winner. He joined a select group of breeders who have registered at least one foal for 50 consecutive years.

Dutch Jumonville agrees that it is virtually impossible to "sum up" the vision and accomplishments of his dad, but knows one thing for sure.

"My dad loves this industry," he said proudly. "He traded a bull for his first racehorse and will always have a genuine love for the Quarter Horse."